Minute Steak with Honey-Roasted Apples & Blue Cheese Mash
Prep: 10 mins
Cook: 30 mins
This recipe is part of our partnership with The Sunday Times and Florence Knight. Florence says: "Resting the meat alongside the apples makes a wonderful, rich sauce. Whether you're a big fan of blue cheese or find it a challenge you can add as much as you like to the mash, though 30g will balance the flavours of the steak and the honeyed apples without being overpowering."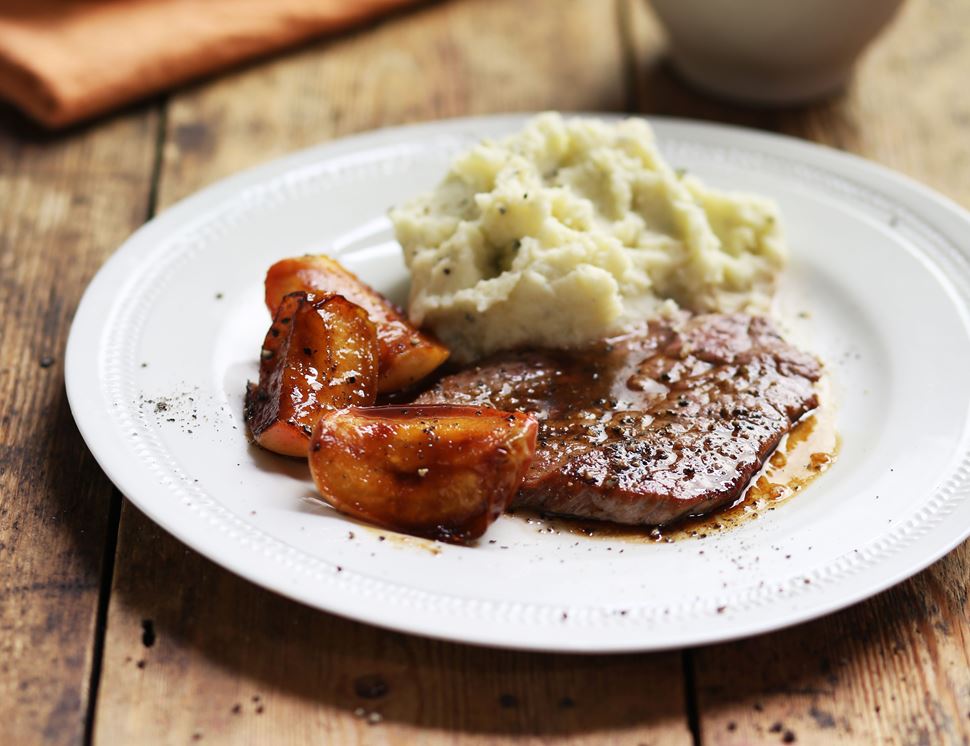 Ingredients you'll need
450g potatoes
100ml whole milk
2 x 45g butter
30g Perl Las blue cheese
2 apples
40g honey
2 top rump minute steaks
From your kitchen
1 tbsp salt + 1/2 tsp + extra for seasoning
1 tbsp olive oil
Freshly ground pepper
Step by step this way
1.

Heat your oven to 220C/Fan 200C/Gas 8.

2.

Peel and slice the potatoes. Place them in a pan, cover with cold water and add 1 tbsp salt. Set over a high heat to come to the boil. Once boiling, reduce to a rolling boil and cook gently for 10 mins. Drain well and return to the pan, over a low heat, cover, and allow to steam for 3-5 mins.

3.

Quarter the apples, discard the core, and place in a roasting tray. Spoon over the honey and a pinch of salt. Place in the oven to bake for 10 mins.

4.

Melt together 45g butter and 100ml milk in a small pan. Lightly mash the potatoes, add the melted butter and milk and mash again until smooth. Cover and set aside in a warm place.

5.

Place the apple's roasting tin on the hob over a medium heat for a couple of mins so that each quarter caramelizes, without burning the honey. Set aside.

6.

Heat a heavy-bottomed frying pan. Rub 1 tbsp oil over the steaks with a inch of salt and pepper. Place into the hot frying pan. Don't overcrowd the pan, so cook one by one if necessary. Leave the steak to cook for 1-2 mins, without moving. Turn the steaks over, top with the remaining butter and cook for a further 3 mins for medium-rare. Lift the steaks from the pan into the apple's roasting tray, tipping in any of the cooking juices, and swirl to combine.

7.

Crumble 30g Per Las into the hot mash and fold through. Divide between the plates with quarters of apple, steak and a spoon of the resting juices.