Minute Steak & Chips with Red Pepper Jam
Prep: 15 mins
Cook: 50 mins
Homemade sweet and spicy red pepper jam is the perfect side for chips (also homemade) and top rump minute steaks – as quick and easy as their name suggests.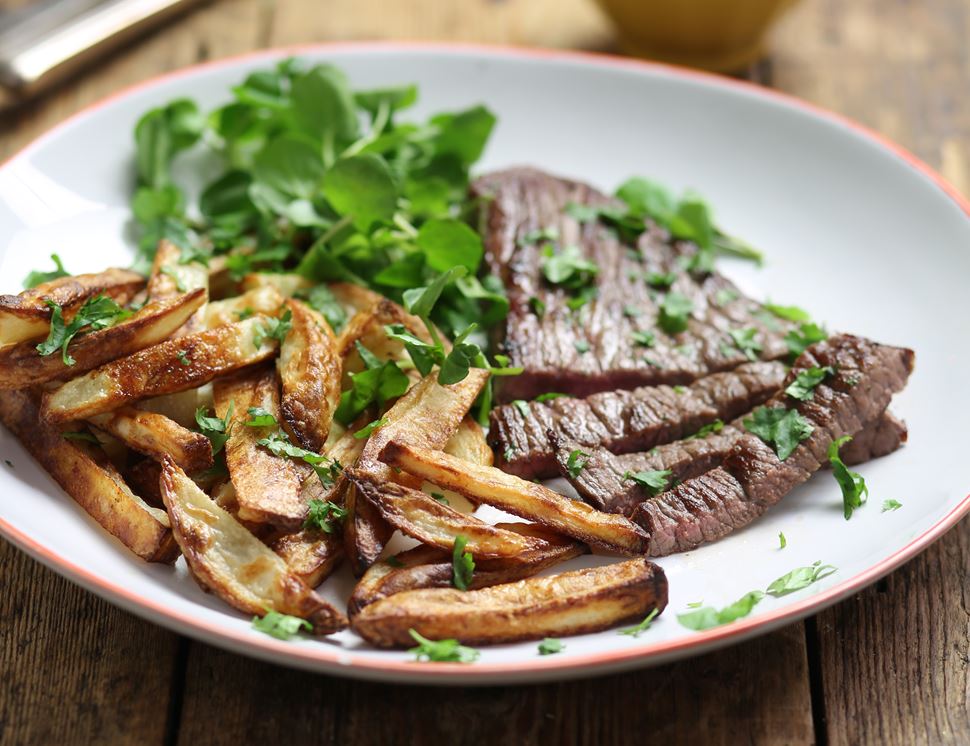 Ingredients you'll need
2 red peppers
500g potatoes
2 shallots
1 garlic clove
1 tsp smoked paprika
1 tbsp soft brown sugar
2 tbsp cider vinegar
2 top rump minute steaks
A handful of flat leaf parsley, leaves only
50g watercress
From your kitchen
1 tbsp + 3 tsp olive oil
Sea salt
Freshly ground pepper
3 tbsp water
Step by step this way
1.

If you have a gas hob, turn two medium hobs on and lay the peppers directly on top, so they are resting directly on the frames. Char on the flames for 15 mins, turning the peppers with tongs so they are black all over. No hob? You can pop the peppers under the grill for 15 mins, turning often till charred.

2.

While the peppers char, heat your oven to 200°C/Fan 180°C/Gas 6. Peel the potatoes. Slice them into chips about as big as your little finger. Pop them in a bowl. Toss with ½ tbsp oil and some salt.

3.

Spread the chips out on the baking tray you just took out of the oven. Slide back into the oven. Bake the chips for 40 mins till golden brown and cooked through.

4.

When the peppers have charred all over, pop them in a bowl and cover with cling film. Leave for 5 mins. Peel and finely chop the shallots. Peel and crush or grate the garlic.

5.

Warm a small pan over a low heat for 1 min. Add the shallots with ½ tbsp oil and a pinch of salt and pepper. Cook, stirring now and then, for 8-10 mins till the shallots have softened and picked up a nice brown colour. While the shallots cook, peel the skin off the peppers. Finely chop them.

6.

Stir the garlic into the shallots. Stir in the pepper. Add 1 tsp smoked paprika, 1 tbsp brown sugar, 2 tbsp vinegar and 3 tbsp water. Cover. keep the heat low and simmer for 10 mins till the peppers are soft. Use a hand-held blender to blitz them, or leave them chunky. Spoon out into a bowl and set aside.

7.

Set a griddle or frying pan over a high heat. Rub 1 tsp oil into each steak and season with a pinch of salt and pepper. When the pan is hot, add the steaks. Fry for 2-4 mins on each side, depending on how well-done you like your steaks and how thick they are.

8.

Take the steaks out the pan. Pop them on a board or warm plate. Loosely cover with foil and rest for 5 mins. Finely chop the parsley leaves. Toss the watercress with 1 tsp olive oil and a pinch of salt and pepper.

9.

Serve the steaks with the chips, watercress and red pepper jam, garnished with the chopped parsley leaves.