Middle Eastern Roast Chicken
Prep: 15 mins
Cook: 1 hr 20 mins
Far be it for us to say that the classic Sunday roast needs improving in any way, but try it with this Middle Eastern twist of sumach and sorrel and you won't be sorry.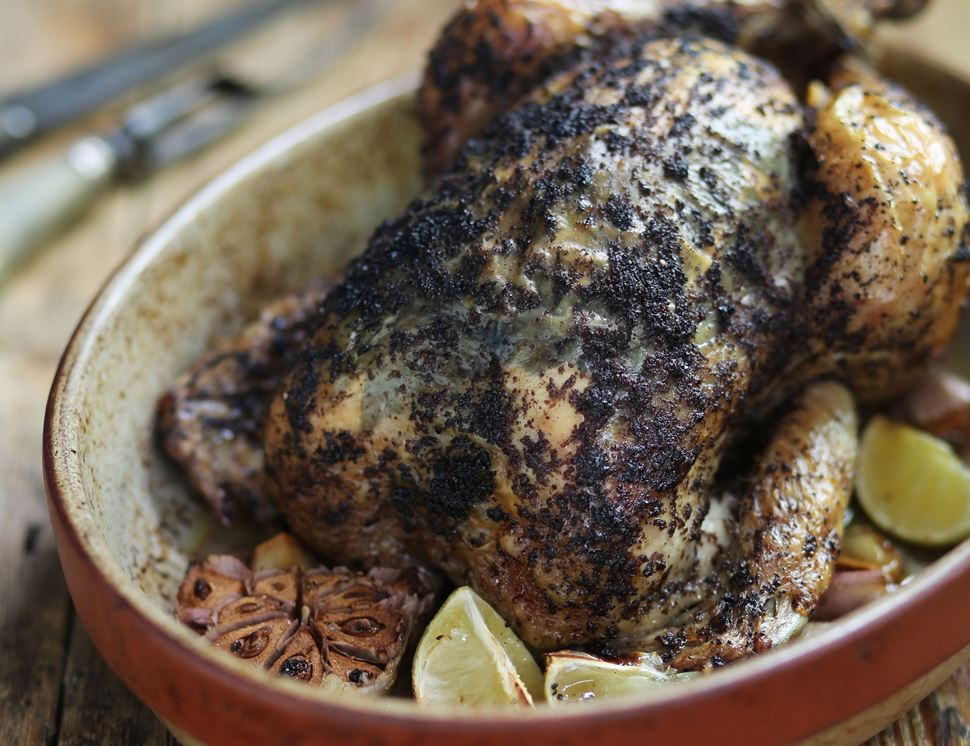 Ingredients you'll need
1.6kg whole free range chicken
A large handful of sorrel
A bulb of garlic
A 15g jar of sumach
3 limes
From your kitchen
1 tbsp olive oil
Sea salt
Freshly ground pepper
You'll need
Step by step this way
1.

Heat your oven to 180°C/Fan 160°C/ Gas 4. Unwrap your chicken. Remove the giblets (see our tip below). Put the chicken in a roasting tin. Find the neck opening by the breast of the chicken. Slide your fingers under the skin. Gently push them up so you loosen the skin away from the breast meat. Push 2-3 sorrel leaves under the skin so they cover the breast meat. Let your chicken get up to room temperature.

2.

Slice the garlic in half along the circumference of the bulb so you have two rounds. Pop these in the roasting tin with the chicken.

3.

Tip the sumach into a bowl. Zest and juice 1 lime. Stir that into the sumach with 1 tbsp olive oil and some salt and pepper. Rub the sumach mix all over the chicken. Wrap your chicken tightly with foil. Roast in the oven for 1 hr.

4.

Remove the chicken from the oven. Crank the oven temp up to 220°C/Fan 200°C/Gas 7. Uncover the chicken. Baste with the juices from the tin. Slice the other lime into wedges and pop them in the tin. Return to the oven for 15-20 mins or till golden and the juices on the fattest part of the leg run clear when poked with a skewer or knife. Cook a little longer if the juices aren't clear.

5.

Pop the chicken, lime wedges and garlic on a board. Loosely wrap in foil. Let the chicken rest for a good 30 mins to 1 hr before carving. Pour the pan juices into a jug. Let them cool. When the fat rises to the top, scoop it off. Warm the pan juices for 1-2 mins and serve them with the carved chicken, garlic and roast lime wedges.
Tip

Leftovers
Stir spare shredded chicken into cooked pearl barley with a mix of salad leaves, herbs and salad vegetables, like radishes, spring onions and diced tomatoes. Dress with lemon or lime juice and olive oil.

Tip

While the chicken roasts, make a giblet stock. Rinse the giblets. Add them to a pan with some aromatics, such as sliced carrot, celery, onion, shallots, garlic, peppercorns, bay, parsley, thyme or rosemary. Pour in 1 ltr water. Cover. Bring to the boil. Turn the heat down. Simmer for 1 hr. Strain. For gravy, whisk into the pan juices with a spoonful of flour mashed with butter. Great for soups and risottos.