Mexican Steak Salad with Tropical Salsa
Prep: 20 mins
Cook: 5 mins
Ay caramba! Juicy, organic mango in a traditional tomato salsa gives it a fresh, fruity flavour that's gorgeous with our high welfare steaks.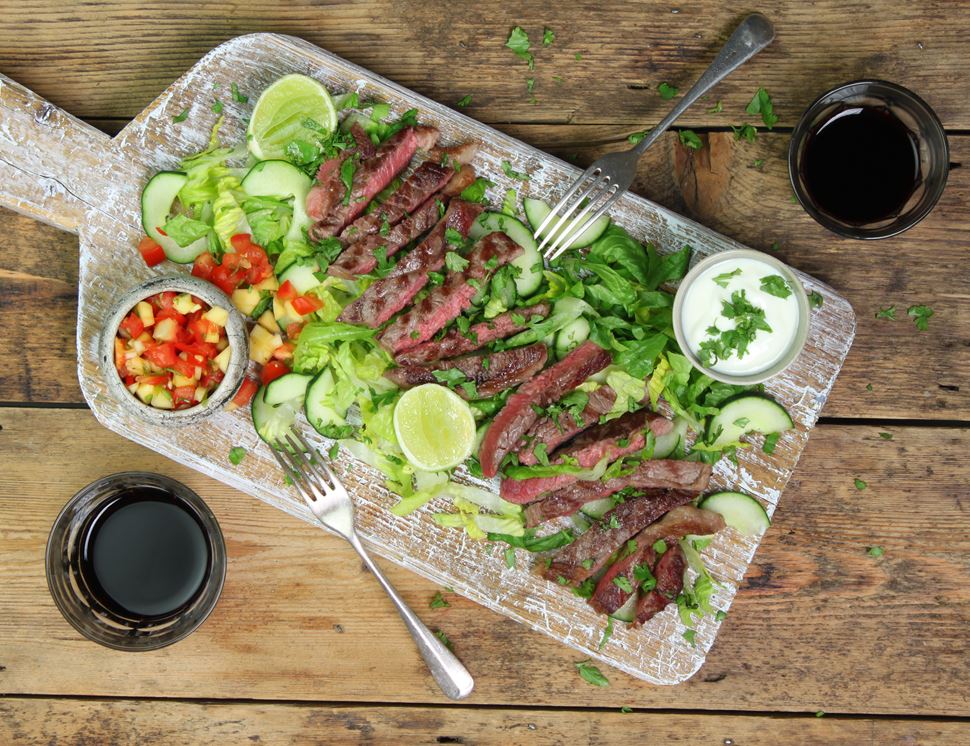 Ingredients you'll need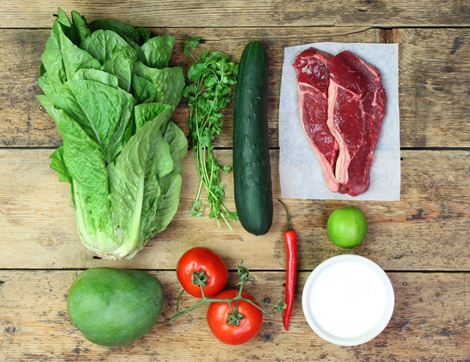 2 vine tomatoes
1 ripe mango
1 chilli
A handful of coriander
1 lime
½ lettuce
1 cucumber
2 sirloin minute steaks
A 150g pot of yogurt
From your kitchen
Sea salt and freshly ground pepper
4 tsp olive oil
You'll need
Bowl
Frying or griddle pan
Step by step this way
1.

Finely dice the tomatoes. Pop them in a bowl. Slice the fat cheeks off the mango. Score a criss-cross into the mango flesh on the cheeks, then turn the cheeks inside out and slice off the mango flesh. Add to the tomatoes.

2.

Slice the thinner sides off the mango and chop them, too. Slice any more flesh you can off the mango stone. Dice the flesh and add it to the bowl.

3.

Finely chop the chilli. If you don't want too much heat, halve the chilli and slice out the seeds and white bits. Finely chop the coriander stalks (keep the leaves). Add the chilli and stalks to the bowl with some salt and pepper.

4.

Finely grate or pare the zest from the lime. Add them to the tropical salsa. Stir to mix. Pop it to one side to mellow. Slice the lime into wedges for later.

5.

Shred half the lettuce, rinsing the leaves and patting them dry. Halve the cucumber lengthways and scoop out the seeds with a teaspoon. Slice it. Arrange them on two plates or a board.

6.

Brush each steak with 1 tsp olive oil on each side and season with salt and pepper. Heat a griddle or frying pan over a high heat. When it's smoking, add the steaks.

7.

Fry for 1-3 mins each side, depending on how well done you like your steaks. Slice them and serve on top of the lettuce with the salsa, lime wedges and spoonfuls of yogurt. Garnish with the coriander leaves.
Tip

Mango fandango
If your mango is a little hard when you unpack your box, pop it in a paper bag or loosely wrap it in newspaper and leave it in your fruit bowl for a day or two to ripen.