Mexican Pork Fajitas
Prep: 10 mins
Cook: 12-15 mins
Fajitas date back to the 1930s where they were cooked on campfires in the ranch lands of Texas. We advise cooking yours on the hob, but we aren't ones to get in the way of artistic expression.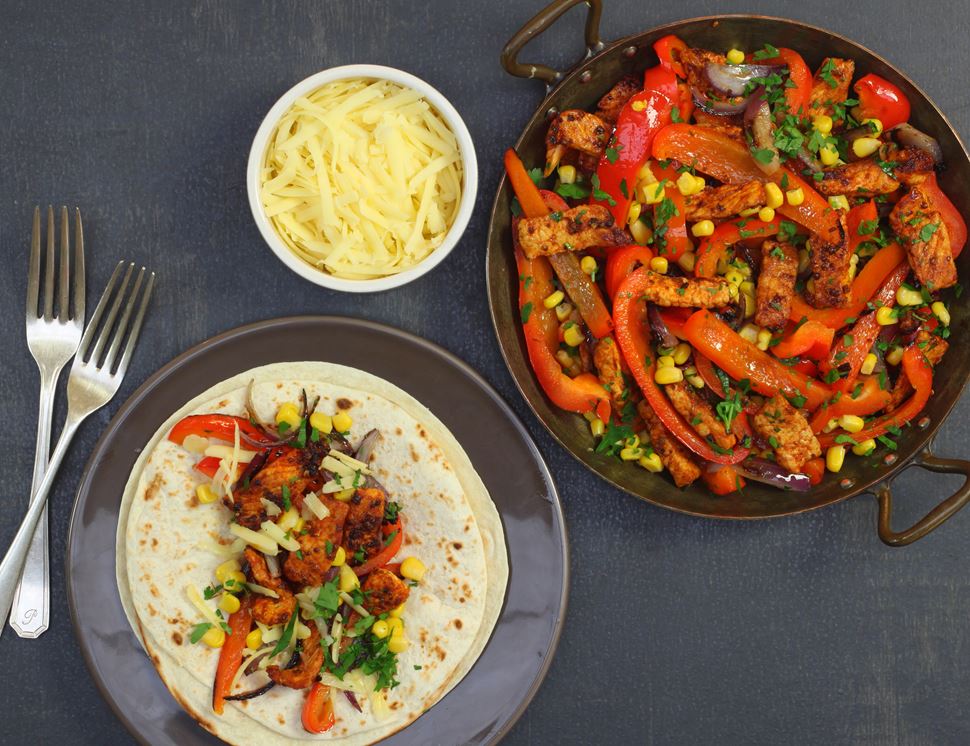 Ingredients you'll need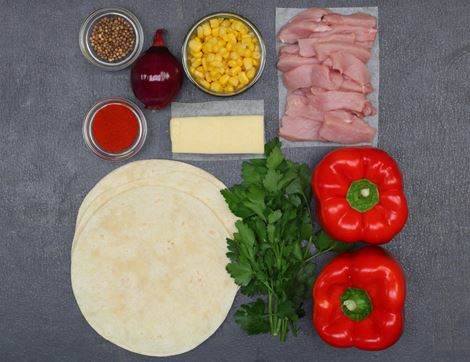 1 tsp coriander seeds
1 tsp smoked paprika
A pack of pork stir-fry strips
2 peppers
1 red onion
4 tbsp sweetcorn
A chunk of Cheddar
A handful of flat leaf parsley
A pack of white tortillas
From your kitchen
1 tbsp olive oil
Sea salt
Freshly ground pepper
You'll need
Pestle and mortar or rolling pin and small bowl
A couple of bowls
Griddle pan (optional)
Frying pan
Kitchen paper
Clean tea towel
Step by step this way
1.

Roughly crush 1 tsp of the coriander seeds in a pestle and mortar. If you don't have a pestle and mortar, use the end of a rolling pin to crush the seeds in a small bowl.

2.

Stir 1 tsp of the smoked paprika into the coriander seeds. Pop the pork stir-fry strips in a bowl. Add the spice mix and ½ tbsp olive oil. Season with salt and pepper. Turn to coat. Put to one side.

3.

Rinse the peppers and halve them. Scoop out the seeds and white bits. Slice them into finger lengths. Peel the onion and slice it into thin wedges. Pop the veg in a bowl with ½ tbsp olive oil. Stir to mix them together.

4.

Warm a large griddle or frying pan over a medium-high heat. Add the peppers and onions. Stir and fry for 5 mins till the veg are tender and lightly charred. Lift out of the pan. Pop onto a plate.

5.

Add the pork to the pan. Stir fry for 3-5 mins till browned. Return the peppers and onions to the pan. Add 4 tbsp of the sweetcorn. Cook and stir for 1-2 mins till everything is warmed through. Take off the heat. Pop on a lid to keep everything warm.

6.

Grate the cheese. Rinse the parsley and pat it dry. Finely chop the leaves. Pop them in bowls.

7.

Warm a dry frying pan. Add the wraps, one at a time. Warm the wraps for 30 secs on each side so they are soft and pliable. Pop on a plate and cover with a clean tea towel to keep them warm.

8.

Serve the tortillas with the pork fajita mix, chopped parsley and grated cheese – wrap everything up and tuck in.