Lamb Steaks with Roasted Fennel & Sage Butter
Prep: 10 mins
Cook: 40 mins
This recipe is part of our partnership with The Sunday Times and Florence Knight. Florence says: "Lamb steaks are often overlooked in favour of chops and cutlets, but make a welcome change to beef. The gentle creaminess of haricot beans pairs well with the richness of the meat and crisp, buttery sage."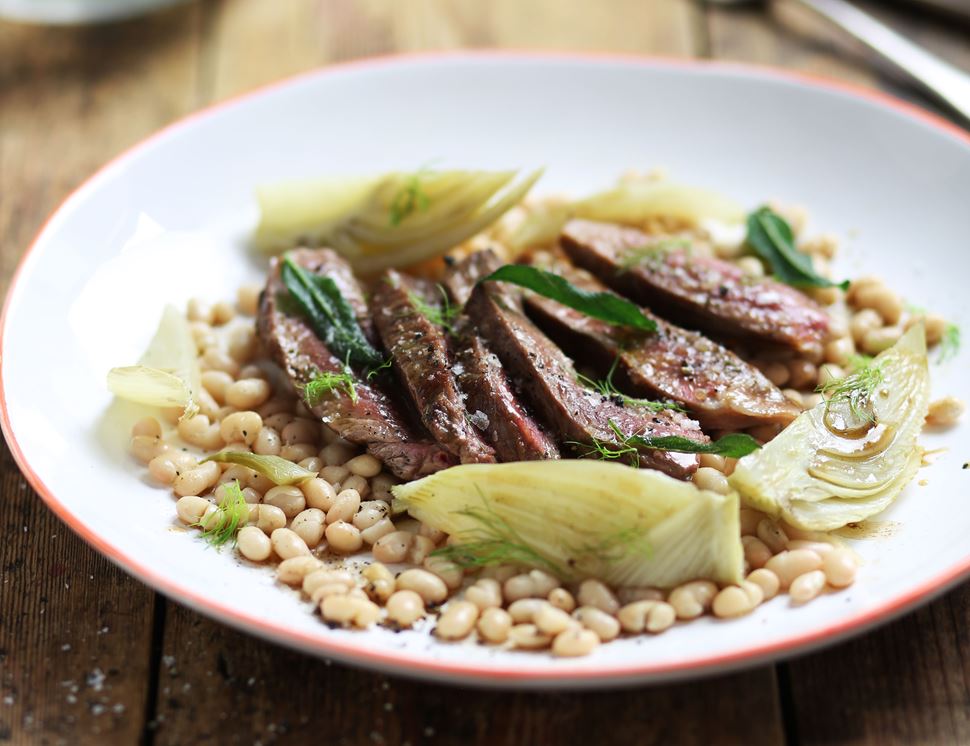 Ingredients you'll need
1 fennel bulb
1 lemon
1 garlic clove
400g tin of haricot beans
2 lamb leg steaks
45g butter
A handful of sage
From your kitchen
180ml water
Sea salt
2 tbsp + 2 tbsp olive oil
Freshly ground pepper
Step by step this way
1.

SAGE ADVICE Leftover sage leaves are moreish fried in butter until crisp and scattered over pasta or spiced pumpkin soup.

2.

Heat your oven to 220°C/Fan 200°C/Gas 7. Cut the fennel in half, from top to bottom. Peel off the tough outer layer. If the bulb is young and tender, you can leave this layer on. Lay the halves flat and cut out the root, leaving enough to keep the fennel intact, then cut each half into 4 wedges lengthways.

3.

Place the 8 fennel pieces in a roasting tin. Add 180ml water, a pinch of salt and 2 tbsp olive oil. Slice half the lemon, bruise the garlic clove and add both. Cover the tray tightly with foil and bake for 15 mins. Remove from the oven and turn the fennel pieces over, cover with foil and cook for a further 15 mins, or till they're tender and cooked through. Once the fennel is cooked turn the oven down to 120°C/Fan 100°C/Gas 1/2.

4.

Meanwhile, drain the haricot beans and rinse under cold running water for a few mins. Pick 6 sage leaves from the stalks.

5.

Fold the beans through the hot fennel, cover again with foil and leave in the oven to keep warm.

6.

Heat a heavy-based frying pan over a high heat. Rub 2 tbsp oil over the lamb leg steaks with 1/4 tsp salt and some pepper. Place into the hot frying pan. Don't overcrowd the pan, cooking one by one if necessary. Leave the steaks to cook for 2 mins, without moving. Turn the steaks over, top with the butter and sage leaves and cook for a further 2 mins for medium-rare, basting the steak and sage in butter till crisp. Remove the pan from the heat, squeeze over a little lemon juice and allow the meat to rest for a minimum of 4 mins.

7.

Spoon the braised fennel and haricot beans onto plates and top with the warm lamb leg steaks, crisp buttery sage leaves and a good spoonful of the resting juices.