Lamb Curry with Homemade Naan Breads
Prep: 25 mins
Cook: 40 mins
Make your own fluffy naan breads in minutes and dunk them into a gently spiced lamb curry made with high welfare British lamb and super kale.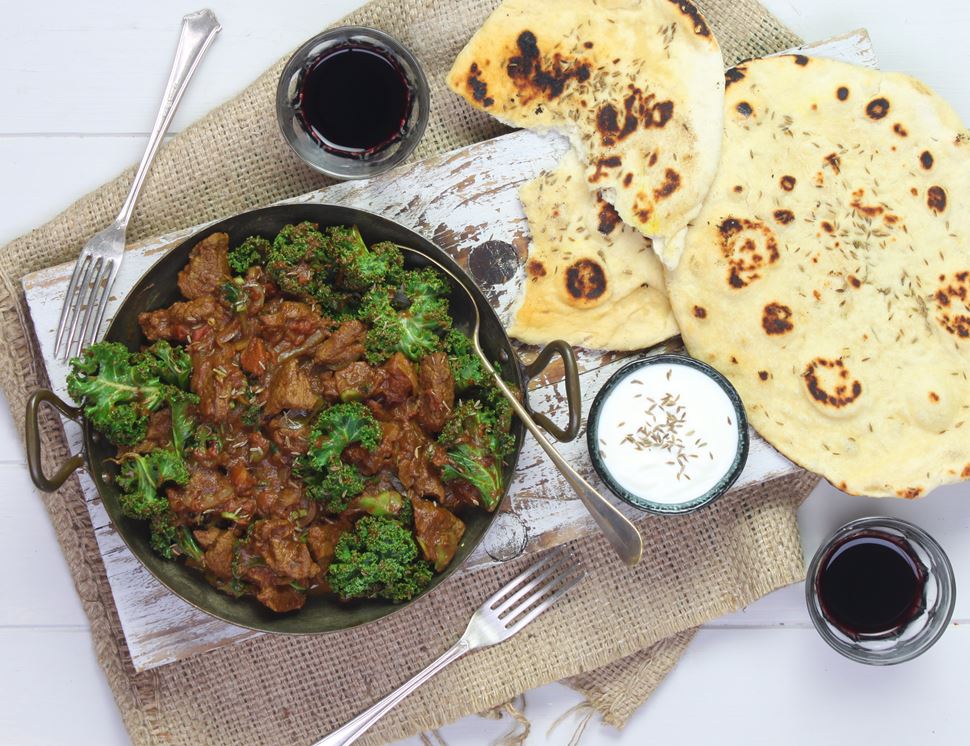 Ingredients you'll need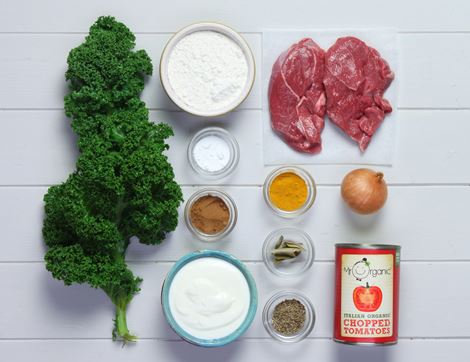 2 lamb leg steaks
1 onion
1 tsp garam masala
1 tsp turmeric
A handful of curry leaves
A 400g tin of chopped tomatoes
A 100g bag of kale
A 150g pot of plain flour
1 tsp baking powder
A 150g pot of yogurt
2 tsp cumin seeds
From your kitchen
5 tsp olive oil
Sea salt and freshly ground pepper
50ml cold water
You'll need
Large pan with a lid
A couple of bowls
Rolling pin
Pastry brush
Frying pan
Tea towel
Step by step this way
1.

Cut the lamb leg steaks into small, bite-sized cubes. Warm a large pan for 1 min over a mediumhigh heat. When warm, pour into 2 tsp oil. Add in the lamb and cook for 5-6 mins, stirring till browned on all sides. Lift the lamb out of the pan using a slotted spoon and pop in a bowl. Take off the heat.

2.

Peel and thinly slice the onion. Add 1 tsp more oil into the pan. Add the onion, season and cook for 3-4 mins till just softened. Add the curry leaves and 1 tsp each garam masala and turmeric. Cook for a further 1 min till the pan smells spicy.

3.

Tip the lamb back into the pan along with any resting juices. Pour in the tin of chopped tomatoes. Half fill the can with water and add that in too. Season. Stir to mix. Pop on a lid and simmer for 25 mins.

4.

While the curry is simmering, tear the kale leaves from the stems. Finely chop the stems. Set the leaves and stems aside for later.

5.

Tip the flour into a bowl, saving 1 tbsp for later. Add in 1 tsp baking powder and a pinch of salt. Stir. Spoon in 2 tbsp yogurt and 1 tsp oil. Pour in 50 ml water. Stir together and knead for 5 mins.

6.

Stir the kale into the lamb and simmer for another 5 mins. Finish making your naans: sprinkle the reserved flour onto the work surface. Divide the dough into 2 balls. Press ½ tsp cumin seeds into each ball. Roll out into a thinnish oval shape. Brush each naan with ½ tsp oil.

7.

Heat a frying pan over a medium heat. Place a naan in the hot pan and cook for 2 mins on each side. It should be golden with some bubbles. Place on a plate and cover with a tea towel while you repeat with the remaining naan.

8.

Taste and season your lamb curry. Spoon into warm bowls. Top with spoonfuls of yogurt and a sprinkle of the remaining cumin seeds. Scoop up the fragrant curry with the fluffy naans.