Lamb Chops with Smoked Aubergine Salad
Prep: 15 mins
Cook: 30 mins
High welfare Yorkshire lamb chops meet organic smoked aubergine for one night only. (Although, we reckon you'll want to make this again and again.)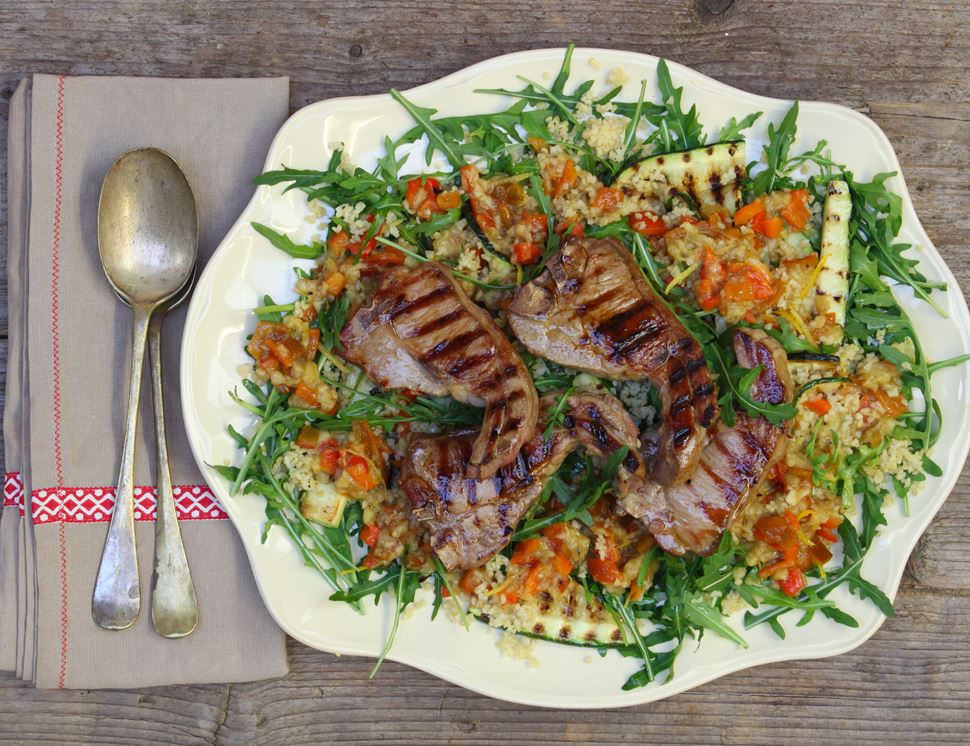 Ingredients you'll need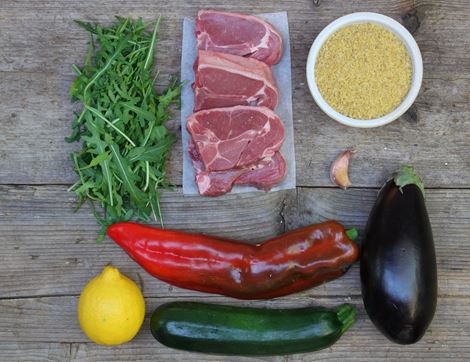 1 aubergine
1 red pointed pepper
A large handful of rocket
4 lamb loin chops
A bag of bulgar wheat
1 garlic clove
1 lemon
1 courgette
From your kitchen
250ml hot water
2 tbsp olive oil
Sea salt
Freshly ground pepper
You'll need
Salad spinner or kitchen paper
Small pan with lid
Freezer or sandwich bag
Bowl
Griddle pan
Colander
Step by step this way
1.

Heat your grill to its highest setting. Wash the aubergine. Slice it in half, lengthways. Score a crisscross pattern in the flesh. Rinse the pepper and halve it. Scoop out the seeds and white bits. Grill both, skin-side up for 15-20 mins till the skin is blackened and the flesh is soft.

2.

Peel and grate or crush the garlic. Grate or pare the zest of the lemon. Juice it. Rinse and slice the courgette into 3, then slice each length into 4-5 strips. Pop on a plate to one side. Wash the rocket. Dry it in a salad spinner or pat dry with kitchen towel.

3.

Fill a kettle and boil it. Tip the bulgar wheat into a pan. Pour in 250ml hot water from the kettle. Add a pinch of salt. Bring to the boil. Turn the heat right down. Cover and simmer for 8-10 mins.

4.

Pop the aubergine and pepper in a plastic freezer bag. The steam will make it easier to remove the skin. Cool for a few mins then scrape the charred skin off. Finely chop them. Pop them in a bowl. Add the garlic, half the lemon juice and 1/2 tbsp oil. Season.

5.

Heat a griddle pan till very hot. Toss the courgette in 1 tbsp olive oil to coat. Season. Add to the hot pan and griddle on a low heat for around 5 mins, turning once, till softened and charred. Pop on a plate.

6.

Pat the lamb chops dry with kitchen paper and pop on a plate. Rub 1/2 tbsp olive oil into them. Add them to the pan. Turn the heat up to medium. Griddle for 6-8 mins, turning once, for medium-rare. Pop on the plate with the courgette.

7.

While the lamb is cooking, drain the bulgar wheat. Pop it back in the empty pan. Pour over the rest of the lemon juice and add the zest. Toss to mix. Spread the rocket on a large platter or two small plates.

8.

Pile the bulgar wheat on top of the rocket. Arrange the courgette and smoked aubergine salad on top. Serve with the lamb chops.