Jerk Pork & Broccoli Rice
Prep: 10 mins
Cook: 20-25 mins
Our nice and spicy organic jerk seasoning, with allspice, cayenne pepper, cinnamon and nutmeg, comes from family-run Steenbergs in Yorkshire. Lovely with veg-in-disguise, broccoli rice.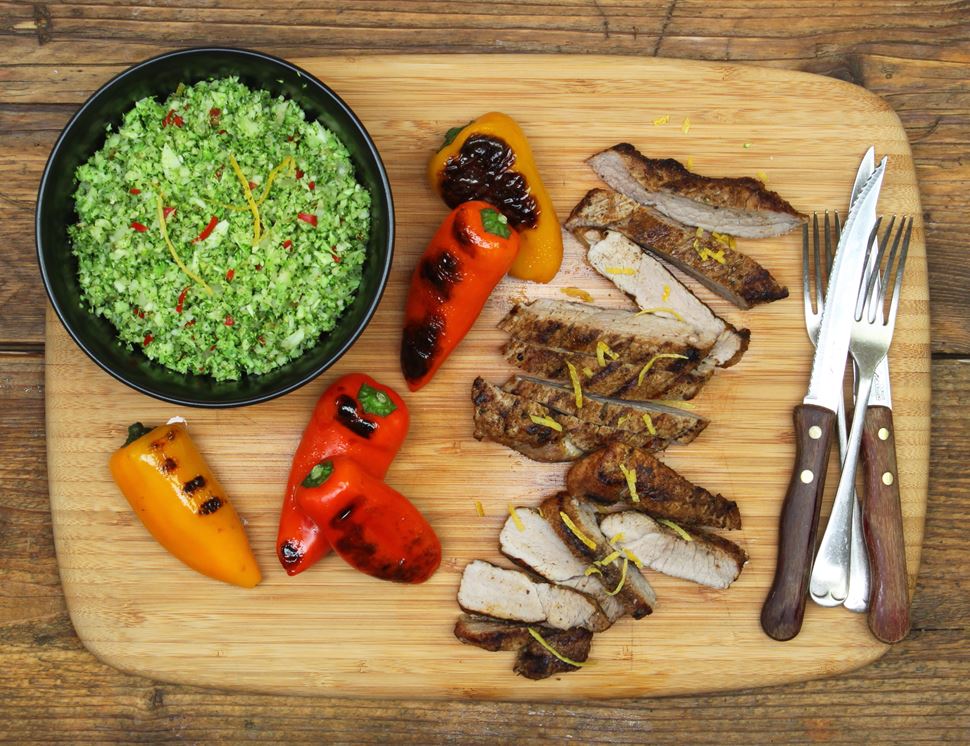 Ingredients you'll need
2 pork escalopes
2 tsp jerk seasoning
A head of broccoli
1 onion
1 chilli
1 lemon
A bag of sweet bite peppers
Step by step this way
1.

Pop the pork escalopes onto a plate. Rub 1 tsp jerk seasoning into each escalope. Put to one side.

2.

Roughly chop the broccoli. Pop it into a food processor. Pulse a few times till you have fine 'grains'. No processor? Finely chop the florets and coarsely grate the stalk.

3.

Peel and finely chop the onion. Halve the chilli. Scrape out the seeds and white bits for less heat. Finely chop the chilli. Finely grate the zest from the lemon.

4.

Pop the onion in a pan. Add 2 tbsp cold water. Season with salt and pepper. Cook over a very low heat for 5-6 mins till the onion is soft but hasn't picked up any colour.

5.

Stir most of the lemon zest and all the chilli into the onion. Cook and stir for 1 min till the pan smells aromatic and spicy.

6.

Add the broccoli rice to the pan with another 2 tbsp water. Stir and cook over a medium heat for 8-10 mins till the rice is warmed through. Take off the heat. Cover. Put to one side.

7.

Warm 1 tbsp olive oil in a frying or griddle pan. Add the pork escalopes. Fry over a medium-low heat for 4-5 mins. Turn. Fry for another 3-4 mins till the pork is golden and cooked through. Pop on a plate. Cover with foil to rest.

8.

Add the sweet bite peppers to the griddle or frying pan. Fry for 2-3 mins. Turn every so often till they are lightly charred. Serve the pork with the broccoli rice and sweet bite peppers, sprinkled with the last of the lemon zest.