Jassy's Fish Pie Gratin
Prep: 15 mins
Cook: 30 mins
Le gratin refers to the "upper crust" of Paris society. Here you're hobnobbing with sustainably sourced fish pie mix from Richard Murray and these lovely organic vegetables.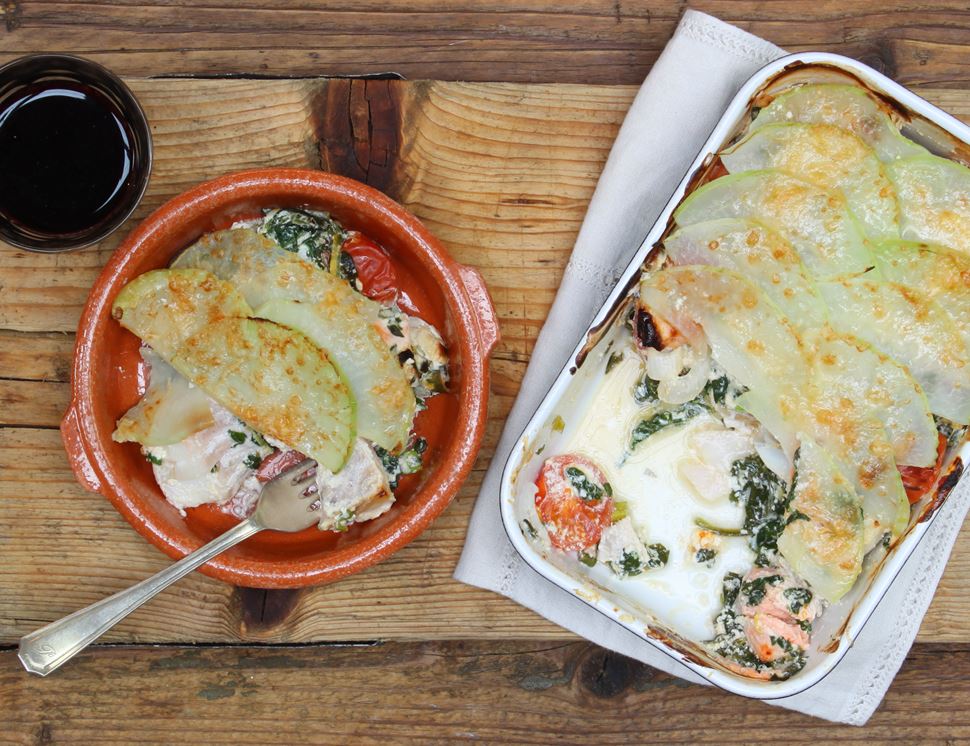 Ingredients you'll need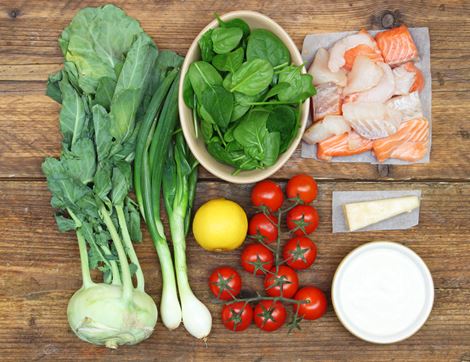 1 kohlrabi
2 large handfuls of baby leaf spinach
A punnet of cherry vine tomatoes
2 spring onions
1 lemon
A pack of fish pie mix
A pot of 0% fat crème fraîche
1 tsp grated Parmesan
From your kitchen
2 tbsp hot water
Sea salt
Freshly ground pepper
You'll need
Pan with a lid
Colander
Bowl
Heatproof dish
Step by step this way
1.

Fill a kettle and boil it. Trim the leaves and stalks from the kohlrabi. Peel it. Slice it into thin rounds. Pop in a pan. Cover with hot water from the kettle. Cover. Bring to the boil. Simmer for 5 mins. Drain.

2.

Pop the spinach in the hot pan. Add 2 tbsp hot water. Cook over a lowish heat for 2 mins till the spinach wilts. Drain. Press the spinach in the colander with the back of a spoon to squeeze out as much water as possible.

3.

Roughly chop the spinach. Halve the tomatoes. Trim and finely slice the spring onions. Finely grate the zest from the lemon.

4.

Pop the spinach, tomatoes, spring onions and lemon zest in a bowl. Add the fish pie mix and some salt and pepper. Stir in the crème fraîche.

5.

Heat your grill to high. Spoon the gratin mix into a heatproof dish. Grill for 8-10 mins till the gratin starts to bubble and picks up a little golden colour.

6.

Take the gratin out from underneath the grill. Layer the kohlrabi slices over the top of the gratin.

7.

Grate a little of the Parmesan so you have 1 tsp. Sprinkle this over the top of the gratin.

8.

Put the gratin back under the grill for another 8-10 mins till the gratin is golden, bubbling and cooked all the way through. Serve with the lemon, sliced into wedges, for squeezing.