Indian Daal with Spiced Roast Potatoes
Prep: 15 mins
Cook: 40 mins
This cosy daal is flavoured with an aromatic mix of spices and topped with crisp roast potatoes and broccoli.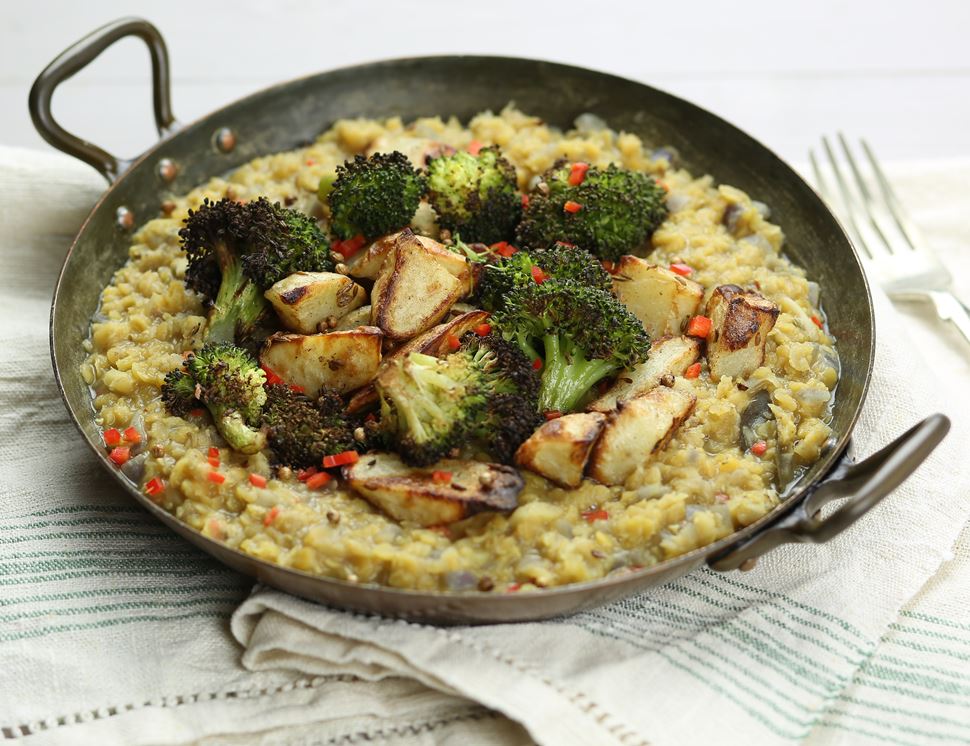 Ingredients you'll need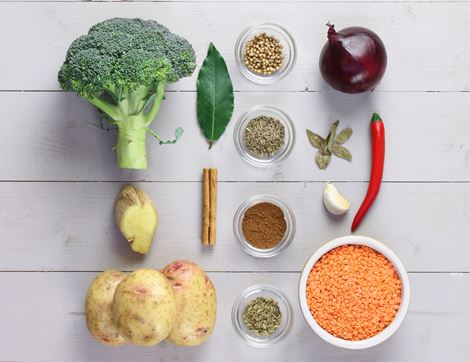 A 150g bag of dried red lentils
A 400g bag of potatoes
A head of broccoli
1½ tsp coriander seeds
1½ tsp cumin seeds
1½ tsp fennel seeds
2 tsp garam masala
1 red onion
1 garlic clove
A thumb of ginger
1 chilli
A pinch of curry leaves
1 cinnamon stick
1 bay leaf
From your kitchen
1½ tbsp olive oil
Sea salt and freshly ground pepper
400ml boiling water
You'll need
A couple of bowls
Roasting tin
Sieve
Pan with a lid
Measuring jug
Step by step this way
1.

Tip the lentils into a bowl and cover with cold water. Set aside to soak. Heat your oven to 200ºC/Fan 180ºC/Gas 6. Pour 1 tbsp oil into a roasting tin and slide into the oven to heat.

2.

Peel the potatoes and chop them into small chunks around 3 cm across. Tip them into a bowl. Measure out ½ tsp each of the coriander, cumin and fennel seeds and add to the bowl with 1 tsp garam masala and some seasoning.

3.

Toss the potatoes and spices together. Tip into the roasting tin, making sure they are well spread out. Roast for 20 mins. While the potatoes roast, break the broccoli into small florets. Add to the tin after 20 mins and roast for 15-20 mins more.

4.

While the veg roast, peel and finely chop the onion. Warm a pan over a low heat for 1 min. Add ½ tbsp oil and the onion. Season with a little salt and pepper. Cover and sweat for 5 mins.

5.

While the onion cooks, peel and grate the garlic. Peel and grate the ginger. Halve the chilli. For less heat, flick out the seeds and white bits. Finely chop.

6.

Drain the lentils and add to the onion. Stir in the garlic, ginger and chilli. Add 1 tsp each of the cumin, coriander and fennel seeds along with 1 tsp of the garam masala. Tip in the curry leaves. Add 1 cinnamon stick and 1 bay leaf.

7.

Pour in 400ml boiling water. Cover and turn up the heat. Bring to the boil, then turn the heat down to medium and simmer the lentils for 15 mins till they're soft and smell aromatic. Fish out the cinnamon stick and bay leaf. Ladle the lentils into warm bowls. Top with the roast potatoes and broccoli to serve.
Tip

Spice world
You will probably have a little of all the spices left over. Tip them into a clean jar, including the remaining cinnamon stick and bay leaf. Seal and store in your spice cupboard – it's a ready made spice mix for your next curry.