Indian Asparagus Salad
Prep: 15 mins
Cook: 15 mins
Hello, yellow. Sunny turmeric and golden egg yolks make this as springy as the seasonal asparagus in this gorgeous organic salad.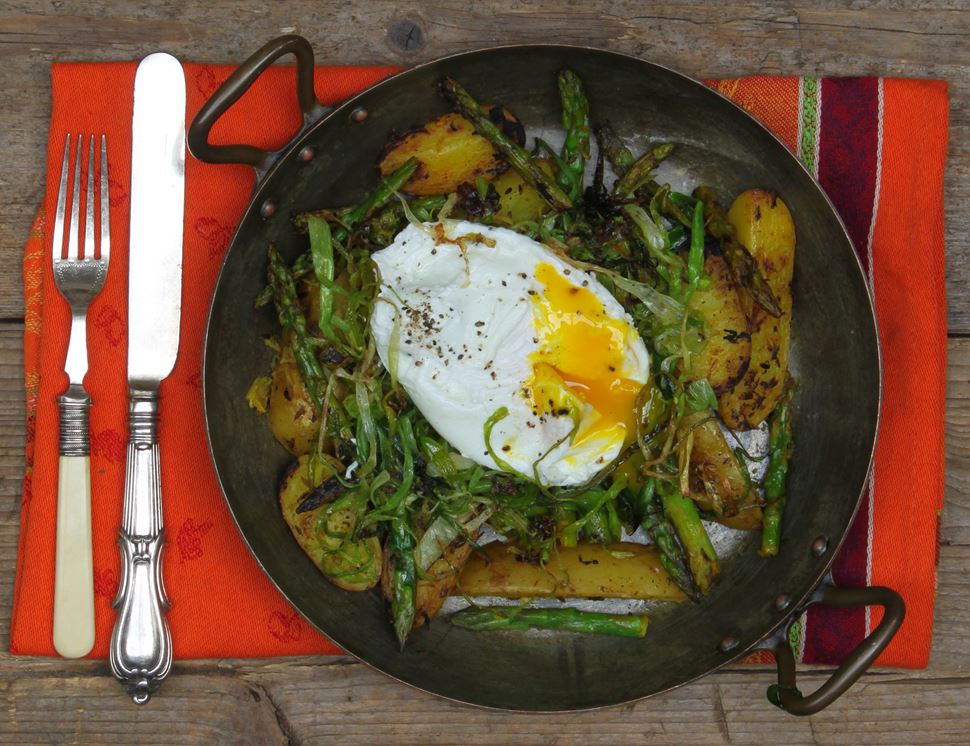 Ingredients you'll need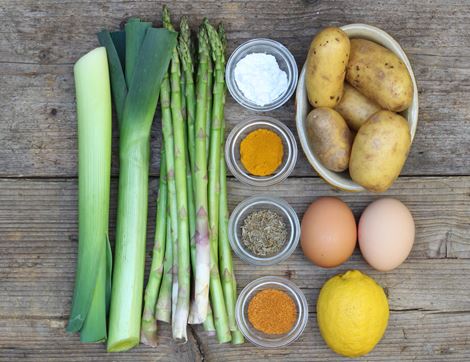 A bag of salad potatoes
A bundle of asparagus
1 lemon
2 leeks
1 tbsp cornflour
½ tsp turmeric
1 tsp cumin seeds
A pinch of chilli powder
2 eggs
From your kitchen
Sea salt
Freshly ground pepper
100ml olive oil plus 1 tbsp
You'll need
A couple of bowls
Pan with a lid
Colander
Deep frying pan or wok
Kitchen paper
Step by step this way
1.

Fill the kettle. Boil it. Halve or quarter any large potatoes. Pop them in a pan. Cover with hot water. Simmer for 10-15 mins till tender. Drain. Snap the woody ends off the asparagus. Trim into 3 cm long bits. Finely grate the zest from the lemon. Juice it.

2.

Trim the leeks. Slice a cross in the top so you can open them out. Rinse out any grit. Slice the leeks in half lengthways. Halve again so you have four long lengths per leek. Slice them into long, fine, thin shreds.

3.

Put the leeks in a bowl. Add the cornflour and a little salt and pepper. Stir to mix them together. Put to one side.

4.

Measure out ½ tsp of the turmeric, 1 tsp of the cumin seeds and a pinch of chilli powder (it's hot so don't use too much unless you like it spicy). Pop them in a small bowl. Add 1 tbsp oil and stir together. Put to one side.

5.

Warm 100ml olive oil in a deep frying pan or wok. Add the leeks. Fry for 2-3 mins till golden and crisp. Lift out the pan with a slotted spoon or tongs onto a plate lined with kitchen paper. You'll probably need to do this in 2-3 batches.

6.

Pour the oil out of the pan. Wipe clean with kitchen paper. Add the spices. Stir and fry for 1 min. Add the asparagus and boiled potatoes. Stir and fry for 5 mins till the veg are charred and tender. Take off the heat. Stir in the lemon zest and juice.

7.

Fill a pan with hot water from the kettle. Heat your grill. Crack the eggs into two cups. Bring the water to the boil. Slide the eggs into the pan. Take it off the heat. Cover. Leave for 2-3 mins to poach the eggs or cook for a little longer for set yolks.

8.

Pile the spiced asparagus and potatoes on a plate with the crisp leeks. Top them with a poached egg. Serve straight away.