Honey Stir-fried Pork & Doddle Noodles
Prep: 20 mins
Cook: 20 mins
Our pork comes from pigs that spend their lives outdoors in the Staffordshire country air. The homemade noodles here are a doddle to make.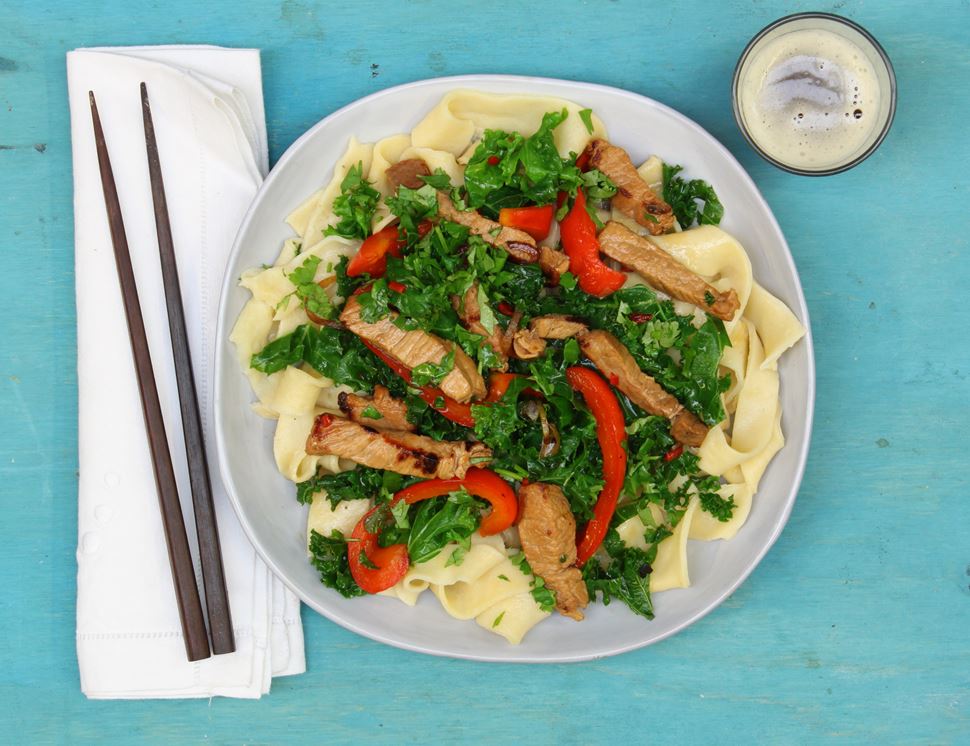 Ingredients you'll need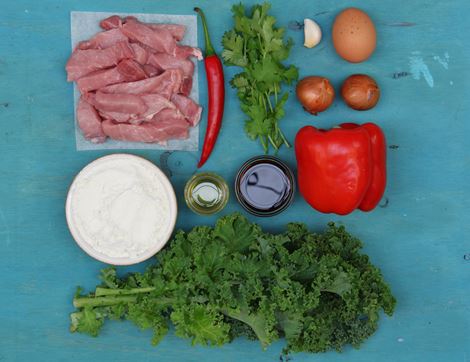 A pot of plain flour
1 egg
1 red pepper
2 shallots
1 chilli
1 garlic clove
A pack of pork stir-fry strips
1 tbsp honey
1 tbsp tamari
A bag of kale
A handful of coriander
From your kitchen
Sea salt
1-2 tbsp cold water
1 tbsp olive oil
You'll need
Sieve
Mixing bowl
Whisk
Knife
Chopping board
Garlic crusher (optional)
Deep frying pan or wok
Wooden spoon
Rolling pin
Large pan
Slotted spoon
Step by step this way
1.

Sift the flour into a bowl. Take out 1 tbsp. Add a pinch of salt. Crack in 1 egg with 1 tbsp cold water. Whisk into a soft dough. Add more water if you think it needs it. Turn out onto your work surface. Knead for 2 mins. Cover the dough with the bowl. leave to rest.

2.

Halve the pepper. Scoop out the seeds and white bits. Slice into long fingers. Peel and slice the shallots. Halve the chilli. Flick out the seeds. Finely chop it. Peel and finely chop or crush the garlic

3.

Heat a splash of olive oil in a deep frying pan or wok. Add the pork. Stir-fry for 3-4 mins till browned. Add the pepper and shallots. Stir-fry for another 5 mins. Add the chilli and garlic. Stir-fry for another 1 min.

4.

While the meat and veg cook, fill a kettle and boil it. Measure out 1 tbsp each of the honey and tamari. Add them to the wok with a splash of hot water from the kettle. Stir together. Taste. Add more honey or tamari if you think it needs it. Cover. Put to one side.

5.

Dust your work surface with the flour you saved in step 1. Roll out the noodle dough till it's ½ cm thick. Slice into long noodles.

6.

Rinse the kale. Shred the leaves. Throw away the thick cores. Fill a pan with hot water from the kettle. Add the kale. Bring to boil and simmer for 2 mins. Lift out of the pan with a slotted spoon. Stir into the pork.

7.

Bring the water back up to the boil. Add a pinch of salt. Add the noodles in batches, dropping them gently into the pan. Simmer for around 1 min till they rise to the top.

8.

While the noodles cook, put the stir-fry back onto a low heat to warm it through. Divide the noodles between two warm plates or bowls. Top with the pork stir-fry to serve.