Honey & Miso Chicken Noodle Stir-Fry
Prep: 15 mins
Cook: 15 mins
Succulent chunks of organic chicken breast stir fried till golden with meaty chestnut mushrooms and tender carrots, then tossed with Thai rice noodles. Finished off with a rich, sweet-savoury honey and miso sauce (finger licking not only excused, but encouraged).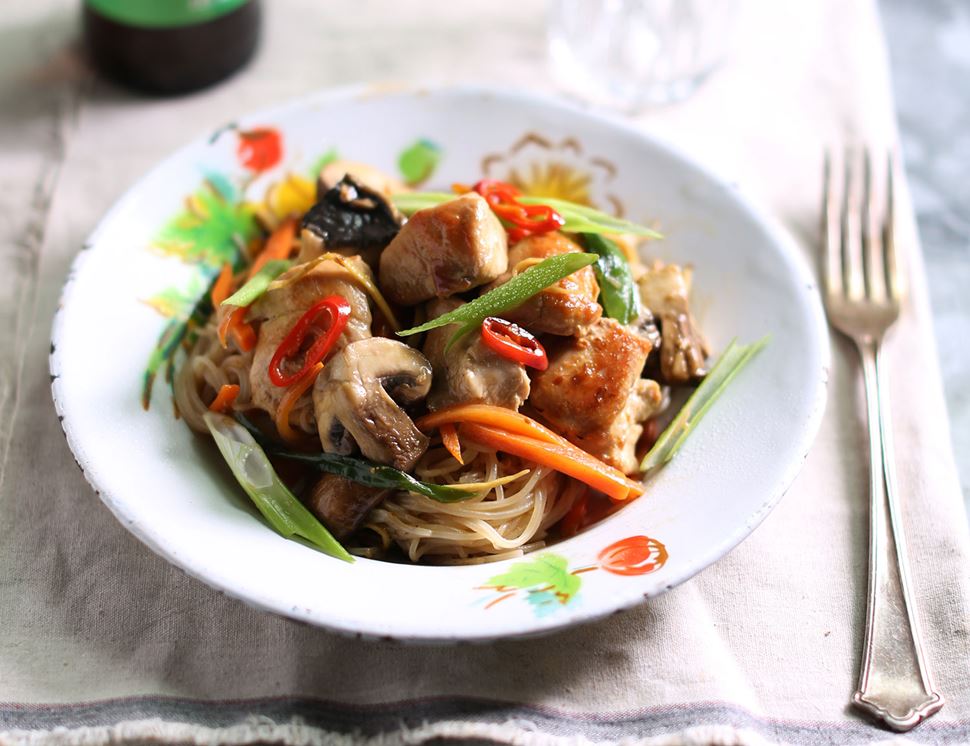 Ingredients you'll need
2 bundles of Thai rice noodles
1 cayenne chilli
2 garlic cloves
A thumb of ginger
2 tbsp brown rice miso
1 tbsp honey
200g chestnut mushrooms
2 spring onions
2 carrots
250g diced chicken breast
From your kitchen
1 tbsp olive, sunflower or coconut oil
2-3 tbsp boiling water
1 ltr cold water
Step by step this way
1.

Unwrap the noodles and place them in a large bowl. Pour over 1 ltr cold water, adding a little more if the noodles aren't fully covered, and set aside to soak for 25 mins.

2.

Halve the chilli, scooping out the seeds and white pith for less heat. Finely chop the chilli. Peel the garlic cloves and ginger and finely grate or chop both. Slide the chilli, garlic and ginger into a bowl. Spoon in 2 tbsp miso and 1 tbsp honey and stir everything together well. Set aside.

3.

Chop the mushrooms into small chunks. Trim the roots and top 3cm off the spring onions then chop each spring onion into 4 or 5 pieces. Scrub the carrots and cut them into thin batons.

4.

Pour 1 tbsp oil into a deep frying pan or wok and warm over a medium-high heat for 2 mins. When the wok is hot, slide in the chicken and stir fry for 5-6 mins till golden on all sides.

5.

Add the mushrooms, carrots and spring onions to the wok. Continue to stir fry for a further 3-4 mins. Pour in the honey and miso sauce and stir well. Warm through for 1 min.

6.

When the noodles are tender all the way through, but still with a little bite, drain and tip them into the wok. Pour in 2-3 tbsp water – enough to loosen the sauce a little. Toss everything together and warm through for a further 1-2 mins. Divide the chicken and noodles between a couple of warm plates or bowls and serve.