Herby Ricotta Poufflé
Prep: 30 mins
Cook: 45 mins
Light, zingy and herby; tonight you'll be whipping up a (drum roll please) soufflé. This one's a breeze - no chance of things falling flat in your kitchen.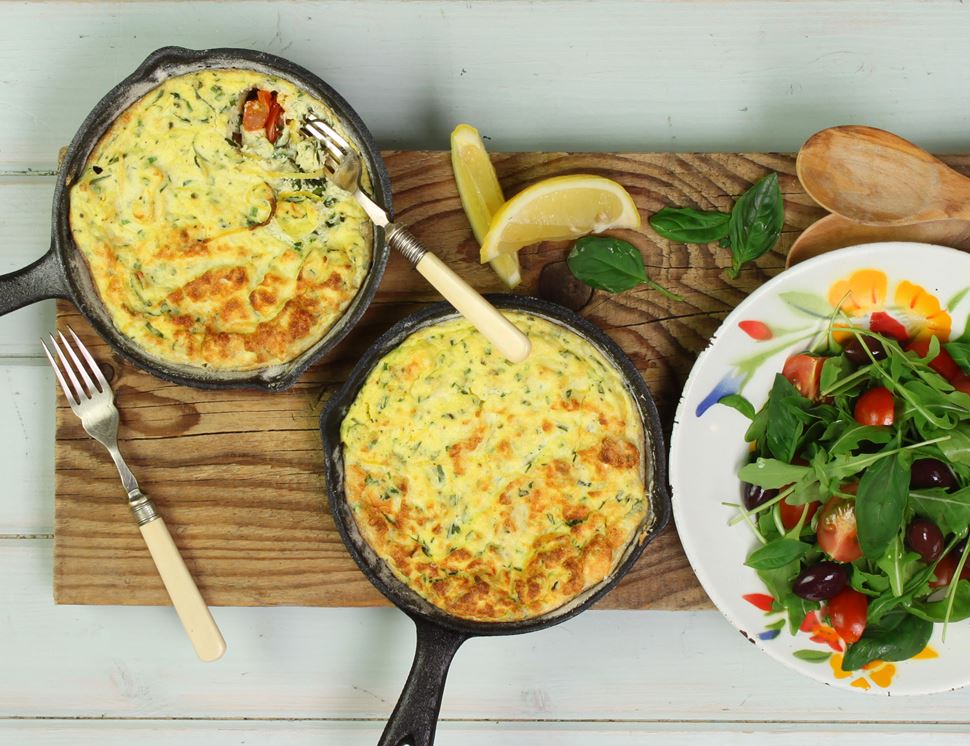 Ingredients you'll need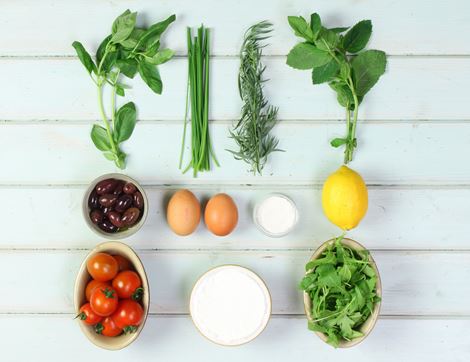 From your kitchen
1 tbsp olive oil
Sea salt and freshly ground pepper
You'll need
Small baking dish
A couple of bowls
2 large ramekins or small baking dish
Serving bowl
Step by step this way
1.

Heat your oven to 180°C/Fan 160°C/Gas 4. Cut half the tomatoes into quarters. Pop into a small baking dish with ½ tbsp oil and season. Slide into the oven and roast for 15 mins till just softened.

2.

Meanwhile, finely chop the chives, tarragon and mint leaves. Zest the lemon. Tip the ricotta into a bowl with the herbs and lemon zest. Beat together to loosen the ricotta. Taste and season.

3.

Halve your lemon and wipe it around the inside of a bowl to ensure it's clean and oil free. Carefully crack an egg and separate the yolk from the egg white. Drop the egg white into the clean bowl and the yolk into the ricotta. Repeat with the other egg.

4.

Prepare your ramekins or baking dish. Wipe the inside with ½ tsp oil. Sprinkle ½ tbsp flour into each one and move around, so the flour coats the sides. Tip out any excess flour. Put the roasted tomatoes in the bottom of the dishes.

5.

Beat the yolks into the ricotta mix. Whisk the whites into stiff peaks. They should stand up on their own when you pull the whisk out of the whites.

6.

Tip the beaten whites into the ricotta. Gently fold together. Use a rubber spatula and make T shapes to mix without overbeating. There may still be some whites that haven't been fully incorporated – don't worry, this is normal.

7.

Gently spoon the mix into the prepared ramekins or baking dish. Bake in the oven for 30 mins till they are puffed up and golden.

8.

Whilst the soufflés are cooking, juice the lemon into a mug and whisk with ½ tbsp oil. Season. Halve the olives and remaining tomatoes and chuck in a bowl. Add the basil leaves and rocket. Pour over the dressing and toss well. Serve with the soufflés.