Herby Heirloom Halloumi Salad & Tzatziki
Prep: 20 mins
Cook: 15 mins
Organic halloumi from happy Dorset sheep that eat nutritious grass all year round and our organic heirloom tomatoes that look like they've fallen from a rainbow.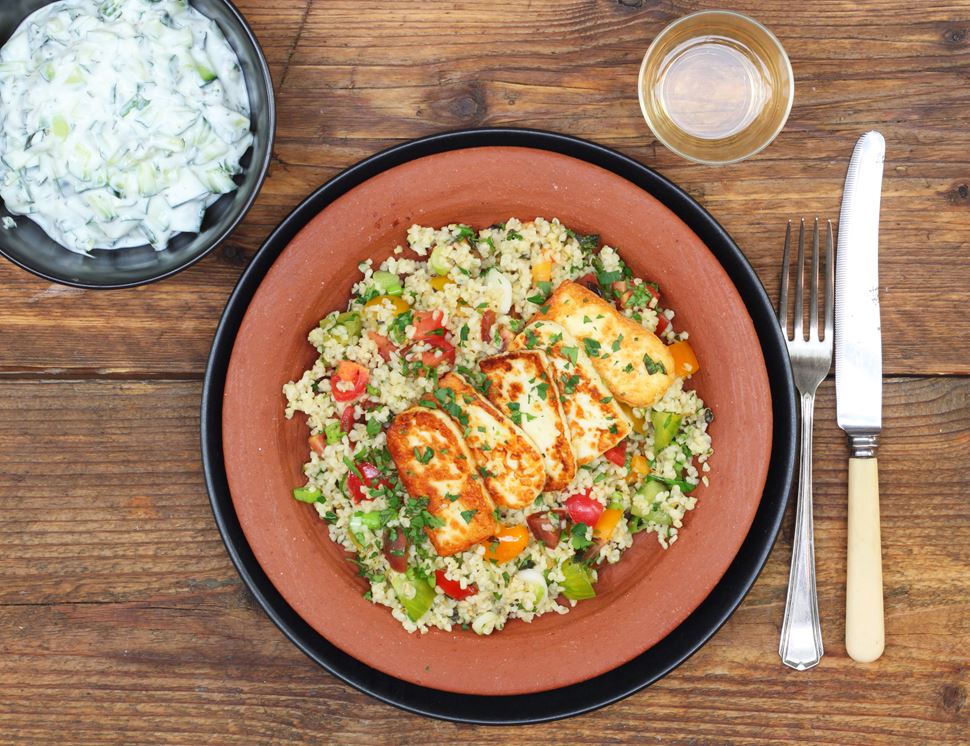 Ingredients you'll need
½ cucumber
A bag of bulgar wheat
A handful of flat leaf parsley
A handful of mint
1 garlic clove
1 pot of yogurt
2 spring onions
A punnet of heirloom tomatoes
1 lemon
1 pack of halloumi
From your kitchen
Sea salt
Freshly ground pepper
1 tbsp olive oil plus a little extra for frying
You'll need
Chopping board
Knife
Teaspoon
Colander or sieve
Saucer
Pan with a lid
Kitchen paper
Grater or garlic crusher (optional)
Bowl
Lemon zester or grater
Whisk or fork
Frying pan
Spatula or palette knife
Step by step this way
1.

Slice the cucumber open. Teaspoon out the seeds. Finely chop the cucumber. Pop in a colander or sieve. Sprinkle with some salt. Place in the sink with a saucer weighed down with a tin for 10 mins.

2.

Fill a pan with water. Add a pinch of salt. Cover. Bring to the boil. When it's boiling, add the bulgar wheat. Simmer with the lid on for around 8-10 mins till it's fluffy and tender. Drain.

3.

Strip the leaves off the parsley and mint sprigs. Finely chop the parsley stalks, parsley leaves and mint leaves. Pat the cucumber dry with kitchen paper.

4.

Peel and grate or crush the garlic. Mix the cucumber, garlic and yogurt together. Add a spoonful of the chopped mint. Season with pepper. Put to one side.

5.

Trim and finely slice the spring onions. Roughly chop the tomatoes. Finely grate or pare the zest from the lemon. Juice ½ the lemon. Tip the drained bulgar wheat into a bowl.

6.

Stir the parsley leaves, stalks, mint leaves, spring onions, tomatoes and lemon zest into the bulgar wheat. Whisk the lemon juice with 1 tbsp olive oil. Season. Stir into the salad.

7.

Slice the halloumi into pieces about 1/2 cm thick. Warm some olive oil in a frying pan. Add the halloumi. Fry for 2 mins. Flip. Fry for another 2 mins till golden. Serve with the tzatziki and salad.
Tip

Tonic boom Leftover cucumber? Sun still out? Add sticks of cucumber to tonic water and ice for a speedy refresher. Great with gin in a mojito.