Harissa Pulled Lamb
Prep: 5 mins
Cook: 3 hrs 25 mins + resting
Meltingly soft, slow-cooked lamb rubbed with a spicy mix of harissa, lemon and garlic. Whether you cook it in the oven or finish it on the barbecue for an extra smoky flavour, this tender lamb dish is guaranteed to shine.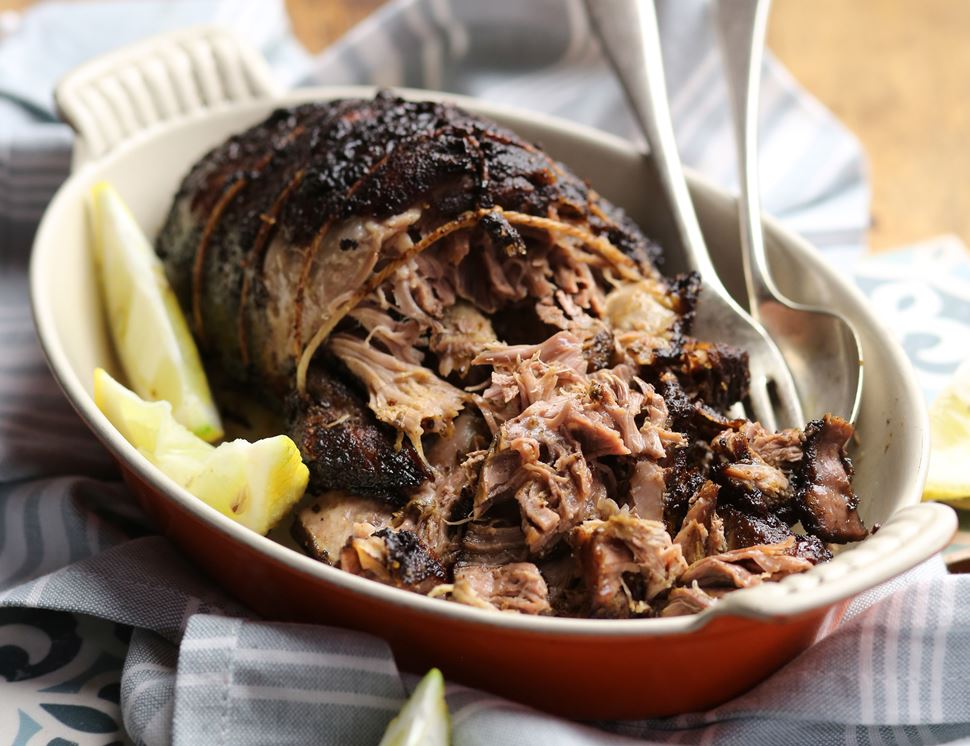 Ingredients you'll need
1 garlic clove
1 lemon
1-2 tsp harissa
1 tsp cinnamon
1kg lamb shoulder joint, boned & rolled
From your kitchen
Sea salt
Freshly ground pepper
1 tbsp olive oil
Step by step this way
1.

Get started: Preheat your oven to 160°C/Fan 140°C/Gas 3. Peel and grate the garlic into a bowl. Zest the lemon and add to the garlic, along with a good pinch of salt and pepper. Stir in 1-2 tsp harissa powder (it's spicy, so use as much or as little as you like), 1 tsp cinnamon and 1 tbsp olive oil to form a paste.

2.

Place the lamb in a roasting tin and rub all over with the spice paste. Allow to marinate and come to room temperature for 30 mins.

3.

Cooking indoors: Roast the lamb in the oven for 3 hrs 25 mins, basting occasionally, till caramelised on the outside and the flesh starts to pull away easily.

4.

Transfer the lamb to a plate, cover with foil and rest for 30 mins. Use forks to pull the soft lamb meat into pieces. Season with salt and pepper and serve with wedges of the zested lemon.

5.

Cooking outdoors: Slide the lamb into the oven and roast for 3 hrs, basting occasionally, till it's dark and caramelised on the outside.

6.

While the lamb is roasting, light the coals on your barbecue and allow them to cool to a medium temperature. When the lamb has roasted for 3 hrs in the oven, transfer out of the roasting tin and onto the coolest part of the grill. Put the lid on the barbecue and cook for 20-30 mins, turning occasionally and basting with the roasting juices from the tin.

7.

Transfer the lamb to a plate, cover with foil and rest for 30 mins.

8.

Use forks to pull the soft lamb meat into pieces. Season with salt and pepper, and serve with wedges of the lemon.

9.

Get 10% off selected summer wines with our Summer Roast Box. A cold glass of our favourite organic chardonnay would sit perfectly with next week's chicken.
Tip

Know your grill
When lighting your barbecue, lay the bulk of your coals to one side, gently sloping 3/4 of the way to the other side. This helps to regulate the heat, giving you fierce 'direct' heat to brown your meat over, and gently 'indirect' heat to slowly finish it off.

Tip

A lamb for all occasions
The joy of lamb is that it lends itself to both fast or slow cooking - pink, juicy meat or something that will fall apart when pressed with a spoon. We think that this shoulder cut really benefits from the patient approach. Should you want to make this recipe again, but a bit faster, use a butterflied leg of lamb instead of shoulder and chuck straight on the barbecue, lid on, for 30-40 mins.

Tip

Next week in the Summer Roast Box
Honey & Mustard Spatchcock Chicken. The phrase 'winner winner chicken dinner' was clearly coined after eating this barbecued beauty. Crispy, smoky chicken that is crying out for a sunny day and a picnic blanket (and if it rains, you can cook it in the oven and eat it in the dry).

Tip

Something on the side
Large portobello mushrooms are bang in season, and if you're looking to get organised, a few of these will work wonders alongside next week's chicken. Halve and sprinkle with slices of garlic and thyme before wrapping with a strip or two of pancetta.