Haddock with Creamy, Dreamy Leeks
Prep: 15 mins
Cook: 30 mins
James Brown is our leek farmer in Doncaster. Recently, his leek senses were tingling. Some science later, turns out his contain more sulphur, which makes them taste leekier.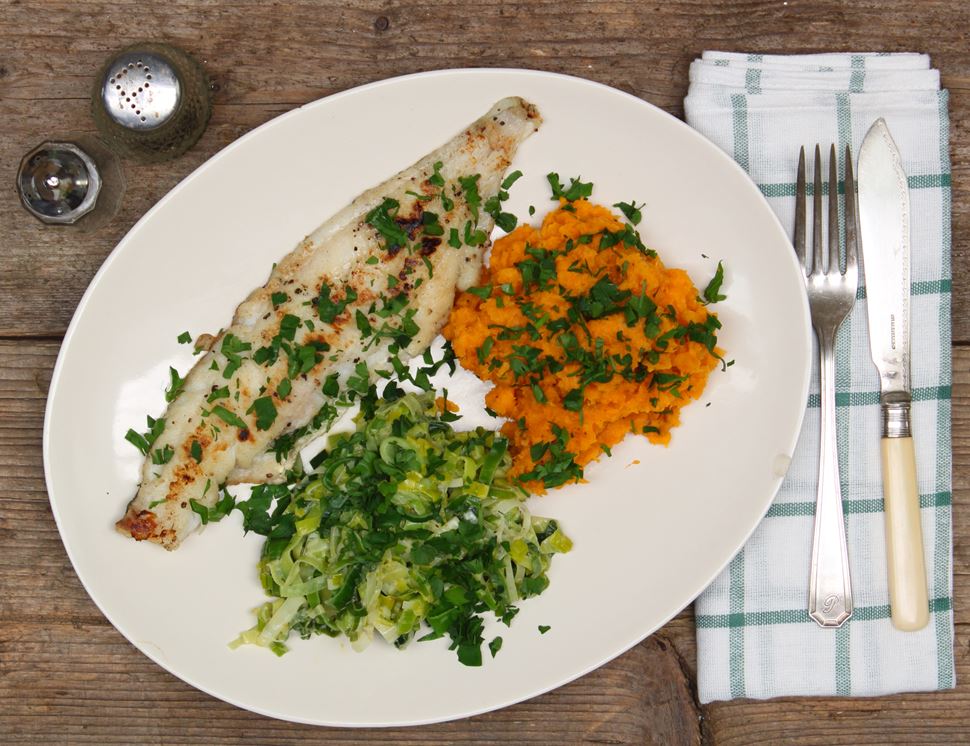 Ingredients you'll need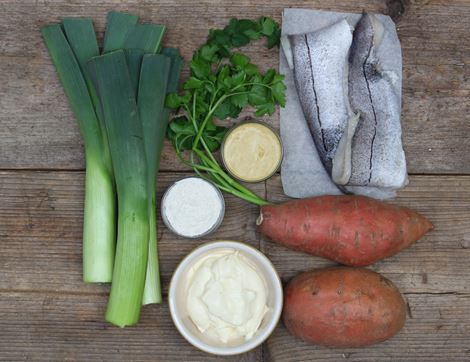 2 sweet potatoes
1 tbsp plain flour
A pack of haddock fillets
3 leeks
A handful of flat leaf parsley
A pot of half fat crème fraîche
1 tbsp Dijon mustard
From your kitchen
Sea salt
Freshly ground pepper
2 tbsp olive oil
You'll need
Pan with a lid
Deep frying pan or wok with a lid
Colander
Frying pan
Step by step this way
1.

Fill the kettle and boil it. Peel the sweet potatoes. Roughly chop them. Pop the potatoes in a pan. Add enough hot water to cover them. Pop on the lid. Simmer for 20 mins till the potatoes are soft when pressed with a fork.

2.

Sprinkle the flour on a plate. Season with salt and pepper. Dip the haddock fillets in the flour on both sides to coat them. Put to one side.

3.

Trim the leeks. Slice a cross in the top so you can open them out. Rinse out any grit. Finely slice them. Finely chop the leaves from the parsley sprigs.

4.

Warm 1 tbsp olive oil in a deep frying pan or wok. Add the leeks. Season. Fry over a low heat for 8-10 mins till the leeks are soft but not too coloured.

5.

Take 2 tbsp out of the crème fraîche and put to one side. Add the rest to the leeks with 1 tbsp Dijon mustard. Gently heat for 1-2 mins till everything is warmed through. Cover. Take off the heat.

6.

When the sweet potatoes are soft, drain them. Tip them back in their pan. Mash over a low heat till they are smooth. Stir in the crème fraîche you saved in step 5 and some seasoning. Cover. Put to one side.

7.

Warm 1 tbsp olive oil in a frying pan. Add the haddock fillets. Fry for 2-3 mins. Flip the fish over. Fry for another 2-3 mins till they are golden and cooked through.

8.

Serve the haddock with the sweet potato mash, creamy, dreamy leeks and the chopped parsley.