Grilled Trout Donburi with Sticky Rice
Prep: 10 mins
Cook: 10-15 mins
Donburi are Japanese rice bowls filled with delicious things. In this case they're filled with crisp-skinned rainbow trout, sweet and sour pickled veg, and sticky rice.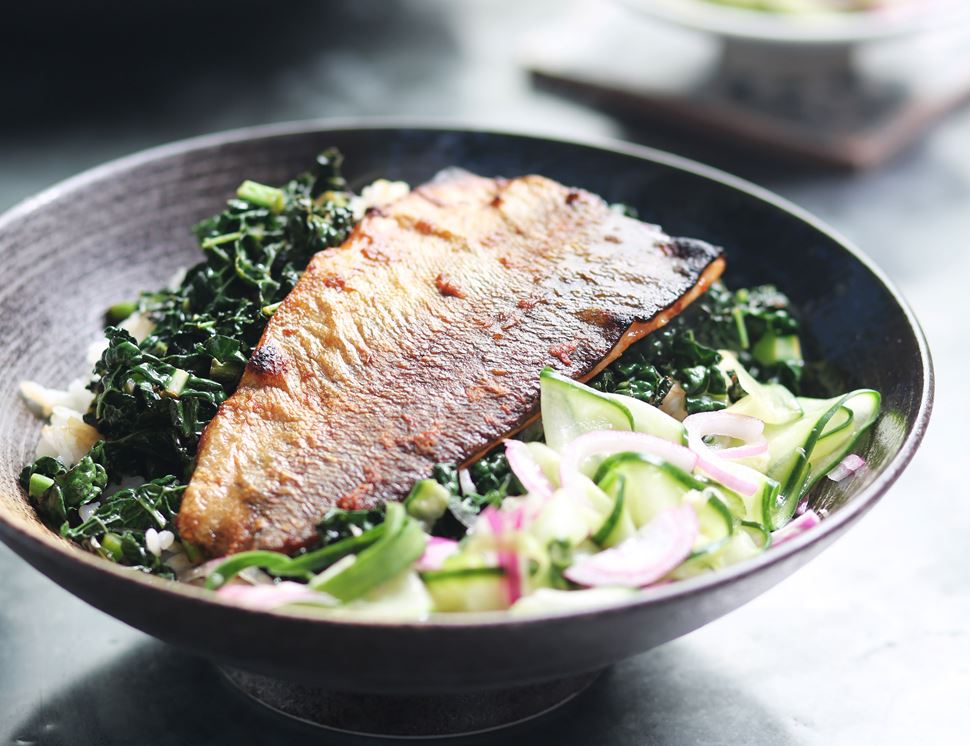 Ingredients you'll need
2 tbsp brown rice vinegar
1 tbsp caster sugar
½ cucumber
1 red onion
A thumb of ginger
2 tbsp tamari
2 rainbow trout fillets
150g risotto rice
150g cavolo nero
From your kitchen
300ml boiling water
Sea salt
You'll need
Step by step this way
1.

Measure out 1 tbsp of the vinegar and ½ tbsp of the sugar and mix in a bowl or dish. Halve the cucumber and set one half aside to use another day. Peel ribbons off one half with the peeler. Peel and very finely slice the red onion. Peel and grate the ginger.

2.

Add the cucumber ribbons, red onion and half the ginger to the sugar and vinegar mix. Stir and set aside to pickle.

3.

Mix the rest of the vinegar, sugar and ginger together. Add 2 tbsp tamari. Stir. Add the trout fillets to the marinade and turn to coat them. Leave for 15 mins to soak up the flavours.

4.

Tip the rice into a small pan. Pour in 300ml boiling water. Add a pinch of salt. Cover. Bring to the boil, then turn the heat down and gently cook for 15-20 mins till the water has been absorbed and the rice is sticky. Take off the heat.

5.

Take the lid off the pan. Lay a clean tea towel over it, then put the lid back on. Set aside. The rice will stay warm in the pan while you cook the trout.

6.

Heat your grill to high. Pop the trout fillets on a grill pan that's lined with foil, so they're skin-side up (keep the marinade). Grill for 5-8 mins till the skin is crisp and the trout is cooked through. You don't need to turn them over – they'll cook all the way through.

7.

While the trout cooks, finely slice the cavolo nero. Warm a wok or deep frying pan over a high heat. Add the cavolo nero with a splash of the trout marinade. Stir fry for 4-5 mins to just soften it a little.

8.

Divide the rice between 2 warm bowls. Spoon over a little of the pickling liquid from the pickled veg bowl. Top with the cavolo nero and trout fillets. Serve with the pickled veg.