Grilled Thai Salmon with Stir Fried Veg
Prep: 10 mins
Cook: 20 mins
Blackened spicy and sticky organic salmon fillets are served on a bed of fluffy white basmati, heaped with bright, crunchy organic seasonal veg with a tang of tamari for a simply delicious dinner that's a real catch.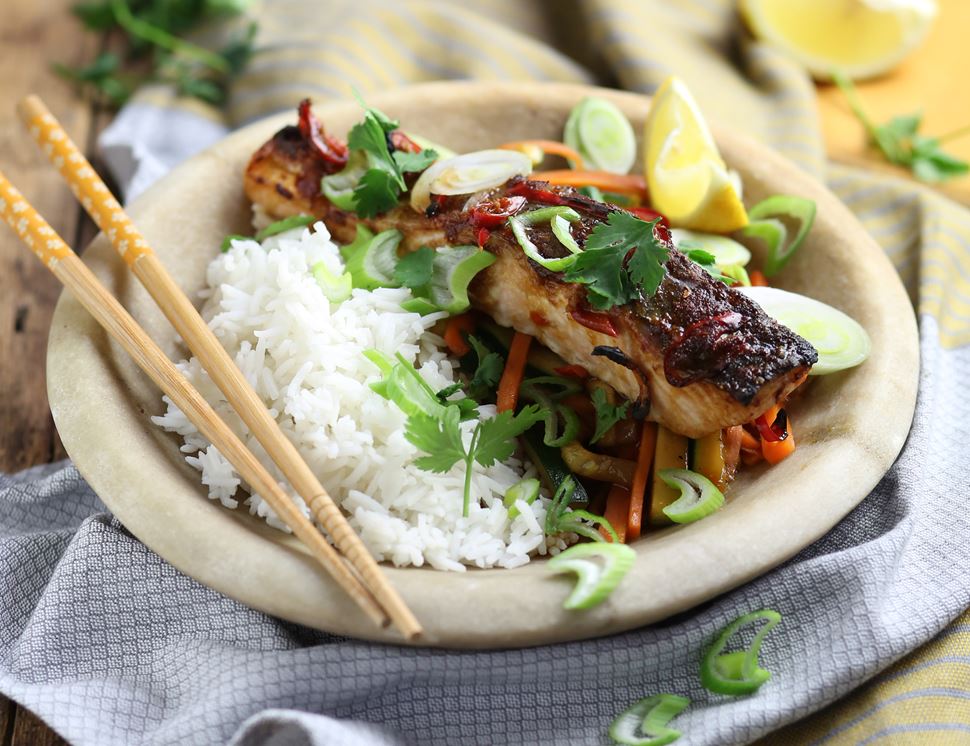 Ingredients you'll need
150g white basmati rice
1 garlic clove
A thumb of ginger
1 chilli
50g tamari
2 salmon fillets
2 carrots
1 courgette
2 salad onions
A handful fresh coriander
1 vegetable stock cube
1 lemon
From your kitchen
300ml boiling water
Sea salt
Freshly ground pepper
1 tbsp olive oil
100ml boiling water
Step by step this way
1.

Tip the rice into a large bowl. Cover with cold water and whisk for 2-3 mins (you can use a fork) till the water goes cloudy. Drain the rice, rinse it under cold water and tip it into a small pan. Pour in 300ml boiling water. Add a pinch of salt and bring to the boil.

2.

When the water is boiling, turn the heat right down to low. Gently simmer the rice for 8 mins till all the water is absorbed. Take the rice off the heat and leave it to stand, lid on, for 5 mins to finish cooking the rice. It will keep warm in the pan.

3.

While the rice cooks, peel and finely chop or grate the garlic and ginger. Slice the chilli in half and scrape out the seeds, then finely slice it. Slide everything into a bowl and stir in half the tamari. Place the salmon fillets in a large bowl and cover with the marinade, making sure they are well coated. Set aside to marinate for 10 mins.

4.

Peel the carrots and trim the courgette. Slice both into thin batons. Finely slice the salad onions and roughly chop the coriander.

5.

Crumble the stock cube into a jug and pour in 100ml boiling water. Stir with a fork till dissolved.

6.

Turn your grill to medium-high. Set a large frying pan or wok over a high heat and add 1 tbsp olive oil.

7.

Pop the salmon onto a baking tray and slide under the hot grill for 6-10 mins till cooked all the way through with a slightly charred, crispy skin.

8.

While the salmon is cooking, add the carrot and courgette to the hot pan. Stir fry for 2 mins, then pour in the stock and remaining tamari. Bring to the boil and continue to cook for a further 2 mins till the sauce has reduced a little.

9.

Fluff up the cooked rice with a fork and spoon it onto warm plates. Top with the stir-fried veg and the grilled salmon. Serve with a sprinkling of coriander leaves, sliced salad onions and wedges of lemon for squeezing over.