Grilled Plaice with Kale Salsa Verde & Mushroom Rice
Prep: 20 mins
Cook: 30 mins
Salsa verde means 'green sauce' and we've made this one with that greenest of greens, kale (with some black olives and chilli flakes – neither green, both delicious). It's perfect drizzled over fillets of sustainably caught plaice and fluffy, mushroomy rice.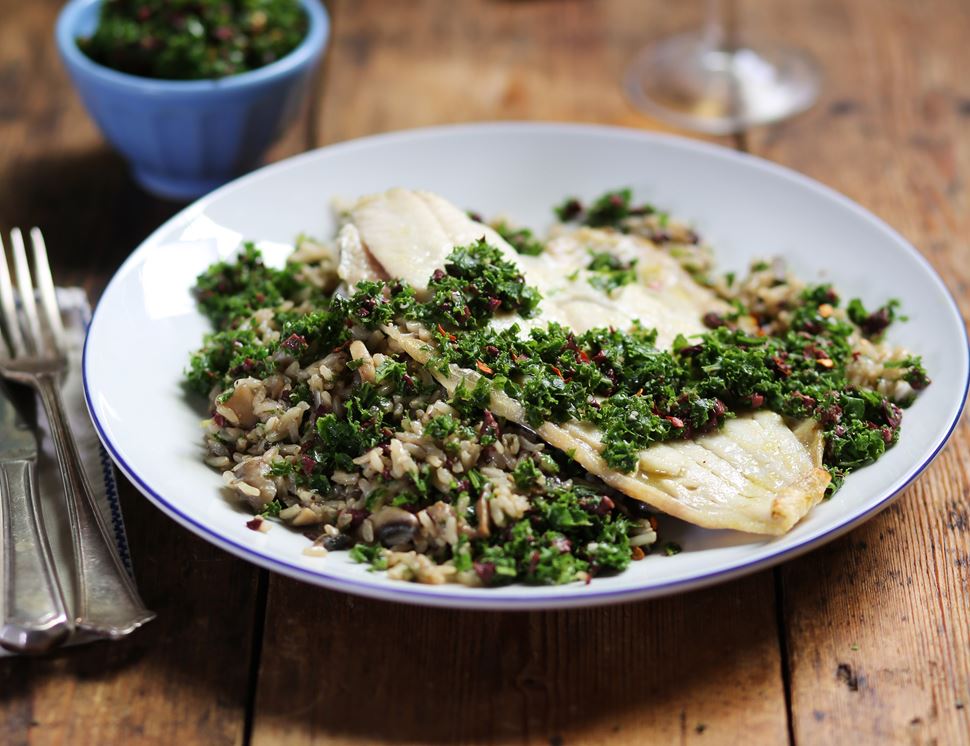 Ingredients you'll need
150g brown basmati rice
1 onion
200g white mushrooms
100g kale
80g black olives
1 garlic clove
1 lemon
A pinch of dried chilli flakes
2 plaice fillets
From your kitchen
½ tbsp olive oil
Sea salt
Freshly ground pepper
300ml boiling water
Step by step this way
1.

Tip the rice into a bowl and cover with cold water. set aside to soak for a few mins.

2.

Peel and finely chop the onion. Thickly slice the mushrooms. Warm a medium pan over a medium heat for 1 min, then add ½ tbsp oil, the onion and the mushrooms. Season with a pinch of salt and pepper. Cook and stir for 5 mins till the veg looks glossy.

3.

Drain the rice and tip it into the pan. Pour in 300ml boiling water. Cover, bring to the boil and then turn the heat right down. Very gently simmer for 25 mins till the water is absorbed and the rice is tender. Take off the heat and let the rice steam in the pan, lid on, for 5 mins to finish cooking it.

4.

While the rice cooks, make your kale salsa verde. Strip the kale leaves from their woody stalks. Wash well. Pile into a food processor or get a sharp knife at the ready. Blitz or chop to the consistency of finely chopped parsley. Tip into a bowl.

5.

Roughly chop the olives and stir them in. Peel and finely chop the garlic and add it. Grate in the lemon zest. Squeeze in the juice from half the lemon. Add a pinch of chilli flakes (they're hot, so use as much or as little as you prefer) and a pinch of ground pepper. Stir to make your green sauce. Taste and add a little more lemon juice, salt, pepper or chilli flakes. For a thinner salsa verde, add a few tbsp water.

6.

Heat your grill to high. Line a baking tray with foil. Place the plaice fillets on the tray, skin side up, and grill for 3-5 mins till the fish is white and flakes easily when pressed with a fork.

7.

Fluff the rice up with a fork and stir in 1-2 tbsp of salsa verde. Spoon onto 2 warm plates. Lay a plaice fillet on each plate and spoon over more salsa verde to serve.
Tip

Extra, extra
This recipe makes plenty of salsa verde. You can eat it all with the plaice or save some for later. It will keep in your fridge for 1-2 days. Try adding it to a bowl of hot boiled potatoes with a chunk of butter, tossing it with cooked pasta and a few spoonfuls of cream or serving it on the side of your Sunday roast. It's especially good with lamb.