Greek Fisherman's Stew & Flatbreads
Prep: 15 mins
Cook: 25-30 mins
These homemade flatbreads are a cinch to make and a great accompanist to the main event, a fishy, brothy stew using nutrient-rich baby leaf spinach.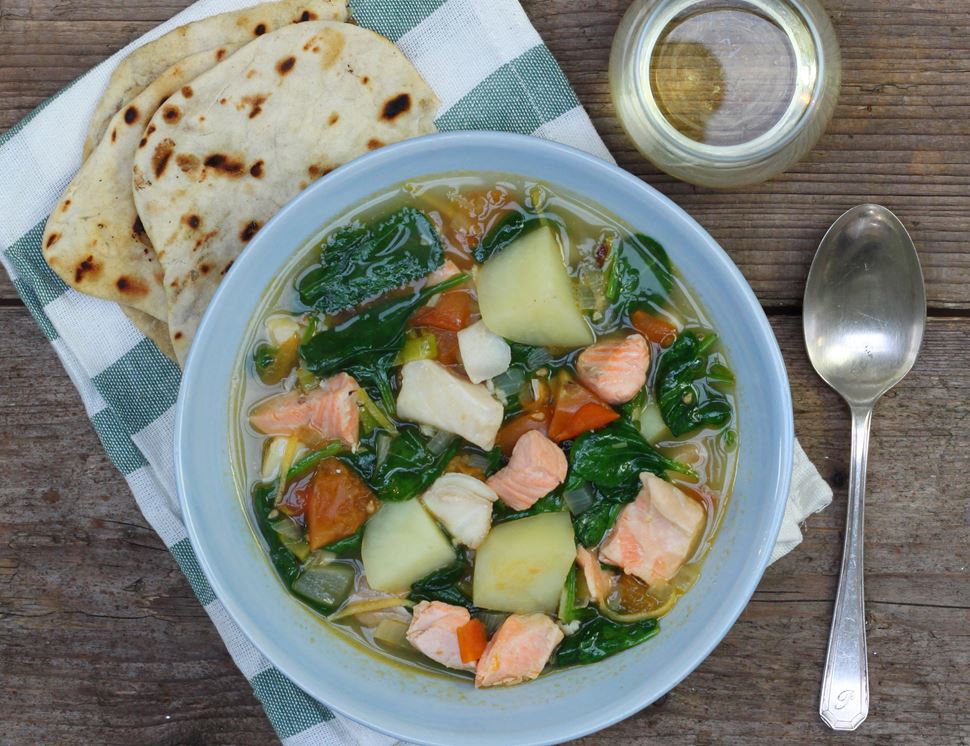 Ingredients you'll need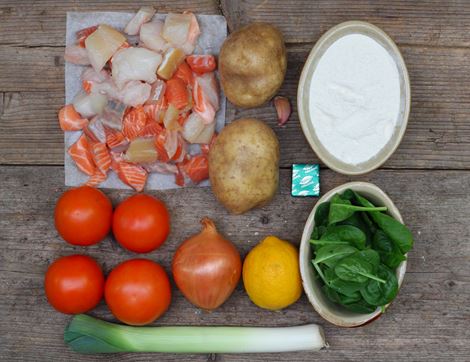 A pot of flour
1 leek
1 onion
1 garlic clove
2 large potatoes
A punnet of tomatoes
1 lemon
1 vegetable stock cube
A pack of fish pie mix
A punnet of baby leaf spinach
From your kitchen
3-5 tbsp warm water
1 ltr hot water
Freshly ground pepper
Sea salt
You'll need
Medium pan with a lid
Measuring jug
Rolling pin
Frying or griddle pan
Colander
Step by step this way
1.

Sift the flour into a bowl. Take out 1 tbsp. Add a pinch of salt. Stir in 3-5 tbsp warm water to make a soft dough. Turn out. Knead for 2-3 mins till it's smooth. Cover with the bowl. Leave to rest. Fill the kettle and boil it.

2.

Trim the leek. Slice a cross in the top to open it out. Rinse. Finely slice it. Peel and finely chop the onion. Peel and grate or crush the garlic. Peel and chop the potatoes. Rinse the tomatoes. Roughly chop them. Finely grate the zest from the lemon. Juice it.

3.

Add the leek and onion to a pan. Season. Add a splash of water. Soften over a medium heat for 5 mins, stirring till they're soft. Add the garlic and lemon zest. Cook for 1 min, stirring occasionally. Add more water if it gets a little dry.

4.

Crumble the stock cube into the pan. Add the potatoes and tomatoes. Pour in 1 ltr hot water. Stir to mix. Cover. Bring to the boil. Turn the heat down. Simmer for 15-20 mins till the potatoes are just soft when you press them with a fork.

5.

Whilst the soup simmers, sprinkle your work surface with the flour you saved in step 1. Divide the dough into four. Roll out to make rounds that are roughly the same size as a saucer.

6.

Warm a dry frying pan over a medium heat. Add a flatbread to the pan. Fry for 1-2 mins till it's browned. Flip over. Fry for another 1-2 mins. Slide onto a plate. Repeat with the remaining breads.

7.

Add the fish pie mix to the pan. Fry for 2-3 mins till it's just about cooked through. While it cooks, rinse the baby leaf spinach. Add to the stew. Simmer for 1 min to wilt the spinach.

8.

Add a splash of lemon juice to the soup. Taste and add salt, pepper or lemon juice if you think it needs it. Ladle into warm bowls. Serve with the flatbreads.