Greek Chicken Souvlaki Wraps
Prep: 20 mins
Cook: 15 mins
Souvlaki is a traditional Greek street food. Ours uses high welfare chicken marinated with garlic, lemon and cumin then grilled with chunks of juicy courgette. All wrapped up with a chunky salad and zesty yogurt.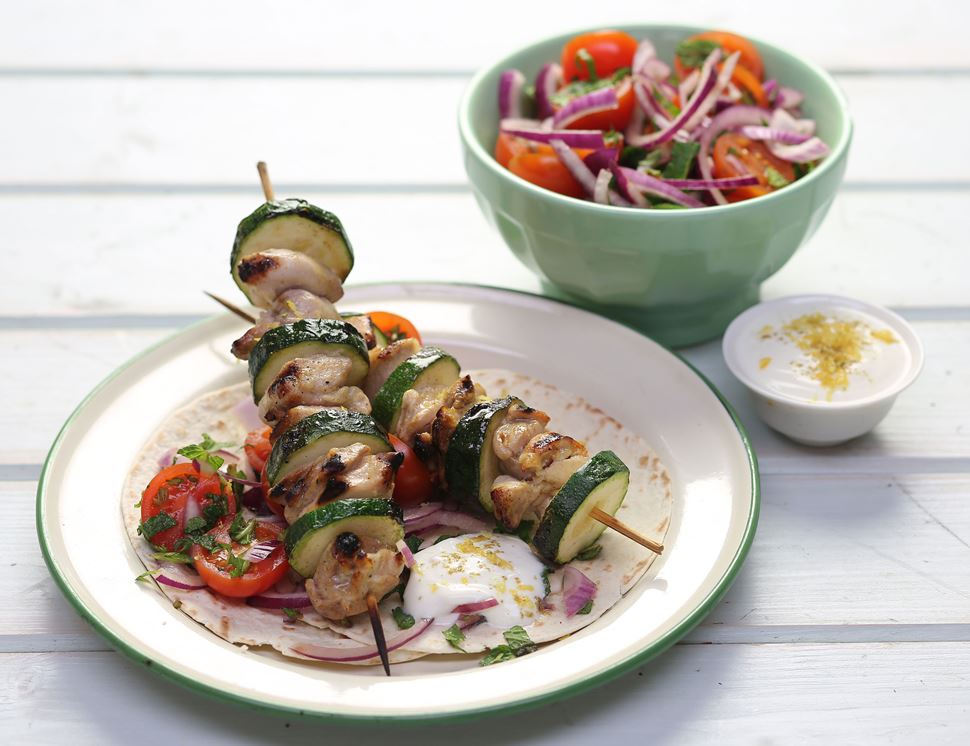 Ingredients you'll need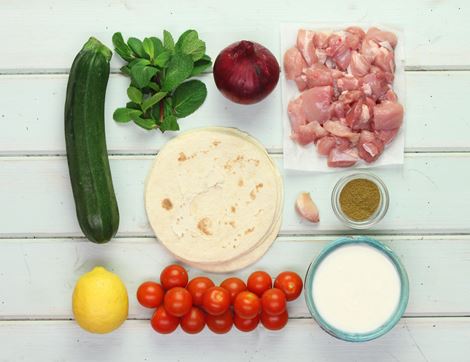 A 250g pack of diced chicken leg
1 garlic clove
1 lemon
1 tsp ground cumin
1 red onion
A 250g punnet of cherry tomatoes
1 courgette
A handful of mint, leaves only
A 150g pot of Greek style yogurt
4 white tortilla wraps
From your kitchen
2 tbsp + 2 tsp olive oil
Sea salt and freshly ground pepper
You'll need
Three bowls
Skewers (soaked in water if wooden)
Baking tray
Foil
Step by step this way
1.

Tip the chicken into a large bowl. Peel and grate the garlic. Add to the bowl. Zest the lemon and place it in a separate bowl.

2.

Cut the lemon in half and squeeze the juice of one half into the bowl with the chicken. Drizzle in 1 tbsp olive oil. Sprinkle in 1 tsp ground cumin. Season with salt and pepper and mix together. Set aside to marinate for 5 mins.

3.

Peel and thinly slice the onion. Halve the tomatoes. Add both to a small bowl. Squeeze over the remaining lemon half. Add a pinch of salt and toss together. Roughly chop the mint leaves. Add to the tomato salad. Set aside.

4.

Heat the grill to medium-high. Cut the courgette into 1 cm thick rounds. Thread the chicken onto some skewers, adding a courgette slice every now and then. Place on a baking tray lined with foil. Slide under the grill and cook for 10-12 mins till cooked through and slightly blackened. Turn once or twice to cook evenly.

5.

Tip the yogurt into the lemon zest bowl. Mix with a little salt and pepper and a pinch of cumin.

6.

Wrap the tortillas in foil. When the chicken has nearly finished cooking, place the tortillas under the grill pan and leave them there to warm for 2-3 mins.

7.

Unwrap the tortillas. Spread a little of the yogurt on each one. Add a handful of the tomato salad.Using a fork, slide the chicken and courgette from the skewers and pile on top of the salad. Wrap up and eat.
Tip

Totally tortilla
You can use all 5 tortillas if you like (this will affect the calories). Or, roughly chop the remaining tortilla and place on a baking tray. Sprinkle with a little salt, pepper and spice of your choice, such as cayenne pepper, dried oregano or paprika. Bake for 5-10 mins till crisp. Use as croutons in salads or to top soup.