Gooseberry Duck Pancakes
Prep: 30 mins
Cook 1 hr
A summer fruity spin on our takeaway favourite. We'll guide you through making your own pancakes, shredded duck and a gorgeous gooseberry sauce spiked with aromatic China 5 spice.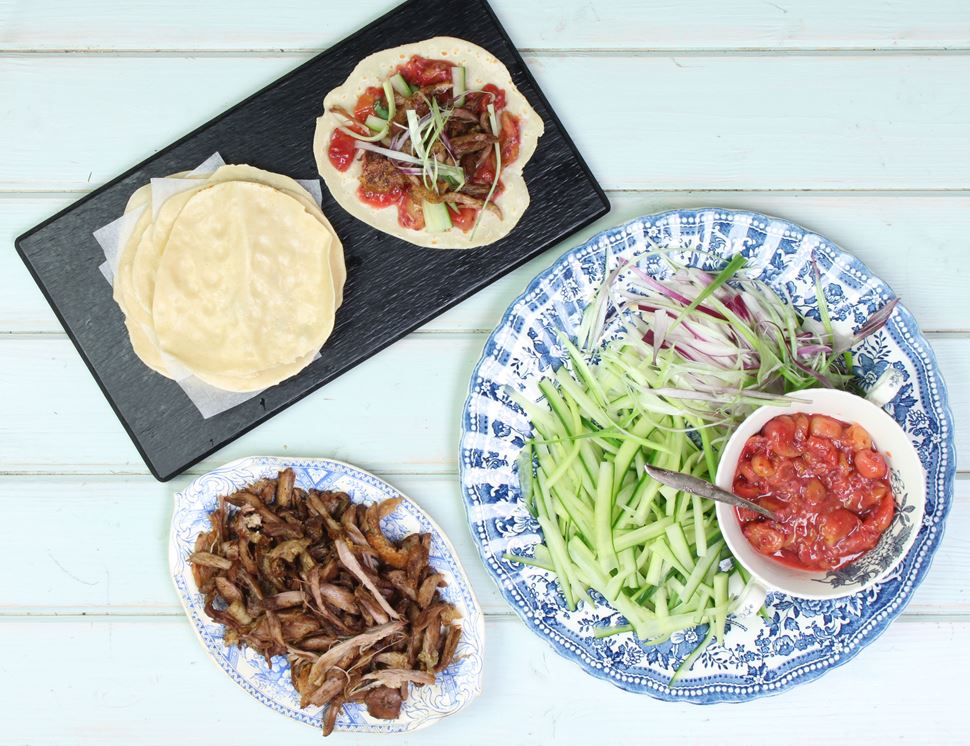 Ingredients you'll need
2 duck legs
A couple of pinches of China 5 spice
A 150g pot of plain flour
A bunch of spring onions
1 cucumber
A 200g punnet of gooseberries
1 tbsp caster sugar
From your kitchen
200ml + 1 tbsp cold water
100ml boiling water
½ tbsp olive oil
You'll need
Kitchen paper
Non-stick frying pan
Baking dish
Measuring jug
Bowl
Rolling pin
Small pan
Steamer or colander
Step by step this way
1.

Heat the oven to 180°C/160°C Fan/Gas 4. Pat the duck dry with kitchen paper. Rub a few pinches of China 5 spice into the skin. Heat a large frying pan. Place the duck legs in, skin side down, and cook for 4 mins till the skin is golden and crispy.

2.

Place the duck in a baking dish. Pour in 200 ml cold water. Roast for 40 mins till cooked through. Remove the duck from the dish. Leave to cool slightly, discarding the liquid. Shred the duck with two forks and sprinkle with more pinches of China 5 spice. Roast in the dish for 15 more mins till crispy.

3.

Meanwhile, tip the flour into a bowl. Add 100 ml boiling water. Bring together with a wooden spoon to form a dough. Add more water, if needed, 1 tsp at a time. When cool, turn out and knead for 10 mins till smooth. Leave to rest, covered, for 10 mins.

4.

Divide the dough into 10 golf ball sized pieces. Roll into saucer sized rounds as thinly as possible. Brush ½ tbsp oil onto 5 pancakes. Place an unoiled pancake onto the oiled side of another, so you have 5 pairs. Heat a clean, non-stick frying pan on a medium heat.

5.

Place a double pancake into the dry pan and cook for 1 min till light brown spots appear. Flip over and cook for 1 min. Repeat with the remaining pancakes. This steams the pancakes from the inside to make them soft and pliable. Peel the pancakes apart and fold in half, cooked side facing inwards to stop them drying out. Cover with a damp cloth.

6.

Trim the spring onions. Slice into thin strips lenthways. Cut the cucumber in half and scoop out the seeds. Cut into thin matchsticks. Set aside, under a damp cloth.

7.

Top and tail the gooseberries using your fingertips. Place in a pan with 1 tbsp water, the sugar and a few pinches of China 5 spice. Cook on medium heat for 3-5 mins till some of the berries have burst and the liquid turns syrupy.

8.

Bring a pan of water to a boil and set a steamer or colander over the top. Place a couple of folded pancakes into the steamer basket. Steam for 2 mins on each side to warm the pancakes through and finish cooking them. Repeat with the rest. Serve with the duck and all the trimmings.