Golden Roast Potatoes
Total: 90 mins
A cracking Christmas lunch deserves only the best roast potatoes. Did we mention that these spuds are crunchy on the outside, fluffy in the middle and coated in plenty of melting golden butter? Oh yes.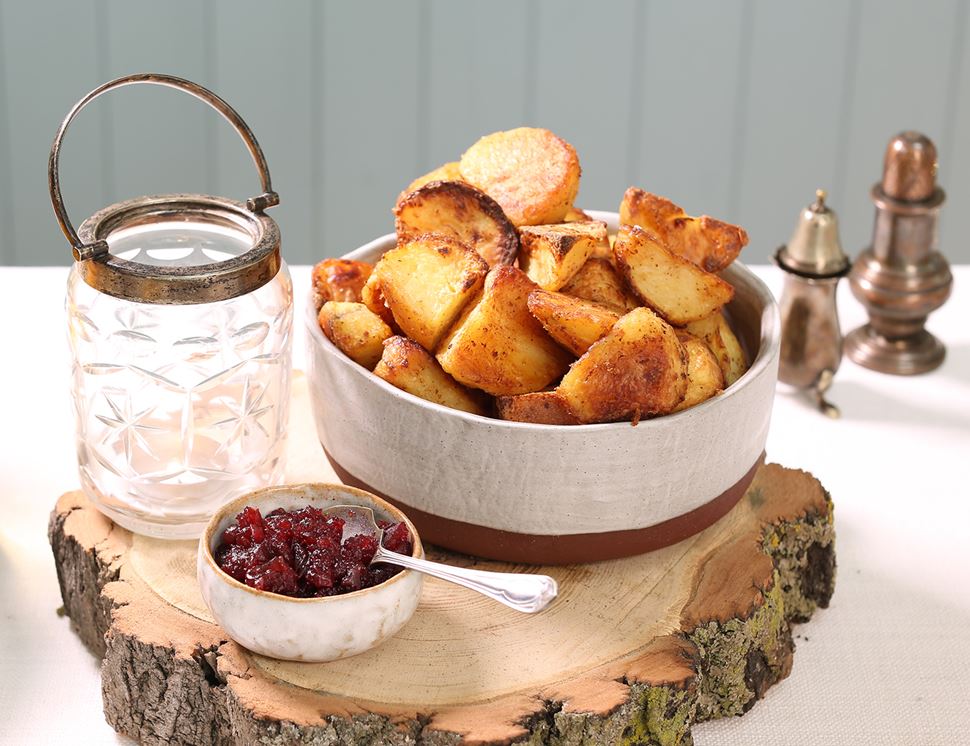 Ingredients you'll need
From your kitchen
Sea salt
1 tbsp olive oil
You'll need
Large pan with lid
Large roasting tin or 2 medium tins
Step by step this way
1.

Half-fill a large pan with water. Add a pinch of salt. Cover and put on a high heat to come to the boil. Scrub and peel the potatoes (see our tip on what to do with your potato peelings). Chop the potatoes into equal-sized chunks, around 3-4cm across. When the water is boiling, add the potatoes. Bring to a gentle bubble, and then simmer for 5-6 mins.

2.

Meanwhile, preheat your oven to 200°C/Fan 180°C/Gas 6. Add 1 tbsp olive oil to a large roasting tin or 2 medium tins. Put them in the oven for 10 mins to warm up the oil.

3.

Drain the potatoes, then tip them back into the pan. Put the lid on the pan and shake it gently a few time to rough the edges of the potatoes (be careful not to break the potatoes up too much).

4.

Take the roasting tin out of the oven. Add the butter and swirl to melt it. Add the spuds. Season with a pinch of salt. Turn them a few times to coat in the hot oil and butter. Roast for 45 mins till the potatoes are golden brown. If you're using 2 tins, swap them over halfway through cooking.

5.

When the roast potatoes are ready, transfer them to a serving bowl and serve straight away.
Tip

Low Waste, No Waste
Your potato peelings don't just make good compost, then also make great Veg Peelings Crisps (NAME TBC). Search for the recipe at www.abelandcole.co.uk and turn your potato skins into crunchy snacks.

Tip

Love Your Leftovers
Leftover roast potatoes will keep for up to 3 days in the fridge in a sealed tub. They're perfect for turning into a Spanish omelette. Finely slice them, then tip them into a frying pan with 1 finely sliced onion and a splash of oil and fry, stirring, till golden brown. Pour over enough beaten egg to cover, then fry for 1-2 mins to set the base. Transfer to a hot grill and cook till the top is set. Serve in wedges.