Golden Chicken with Spanish Rice & Caramelised Lemon
Prep: 15 mins
Cook: 35 mins
Baking our organic chicken mini fillets in a glorious heap of veg-packed paprika and saffron risotto rice keeps it meltingly moist and tender, and infuses it with warm, smoky Spanish flavours. A sweet and sour squeeze of caramelised lemon brings the whole thing together.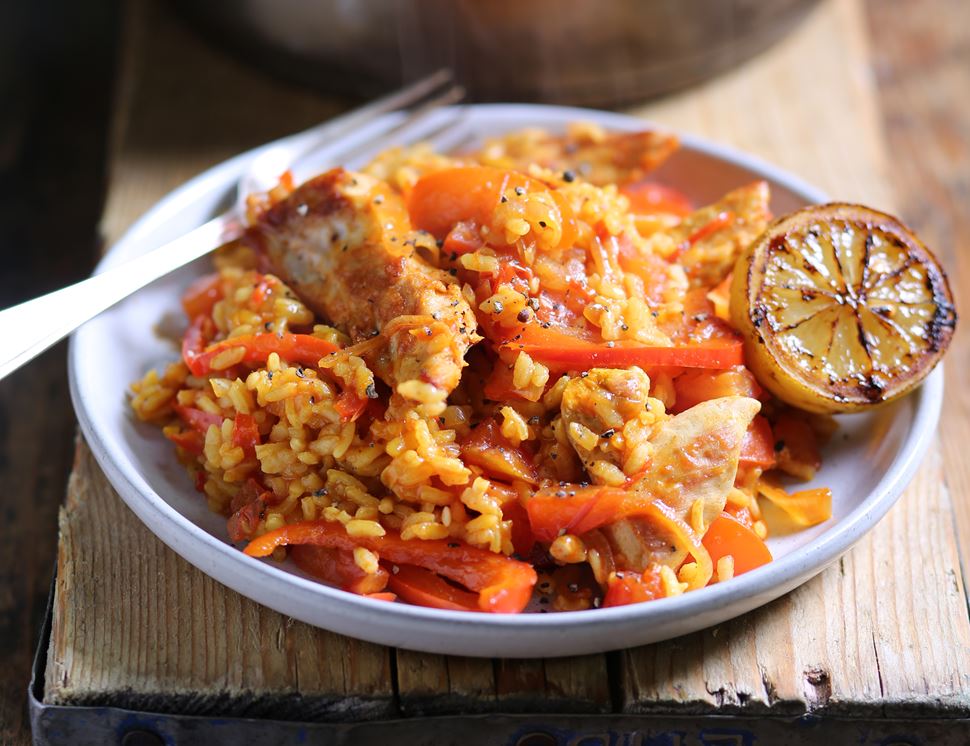 Ingredients you'll need
250g chicken breast mini fillets
2 onions
2 garlic cloves
2 red peppers
1 chilli
2 tomatoes
A pinch of saffron powder
1 chicken stock cube
1 tbsp smoked paprika
200g risotto rice
1 lemon
From your kitchen
2 tbsp + 1 tsp olive oil
Sea salt
Freshly ground pepper
600ml boiling water
Step by step this way
1.

Heat your oven to 200°C/Fan 180°C/Gas 6. Pour 1 tbsp oil into a large, ovenproof pan (if your pan isn't ovenproof see our tip at the end), and bring to a medium-high heat. Carefully add the chicken mini fillets to the hot pan and sprinkle in a good pinch of salt and pepper. Fry for 2-3 mins on each side, till golden brown. Scoop the chicken out of the pan and onto a plate.

2.

While the chicken is cooking, prep the veg. Peel the onions and finely slice them. Peel the garlic cloves and crush them. Halve the peppers and scoop out the seeds and white pith. Slice the peppers into thin strips. Halve the chilli, scraping out the seeds and white bits for less heat, and finely chop the chilli. Roughly chop the tomatoes.

3.

Reduce the heat under the pan used to cook the chicken to medium, then add an extra 1 tbsp oil. Slide in the chopped onions, peppers and chilli to the pan. Sprinkle in 1 tbsp smoked paprika and a pinch of salt and pepper. Fry for 5 mins, stirring occasionally, till the veg have just softened.

4.

Fill a jug with 600ml boiling water and crumble in the chicken stock cube. Sprinkle in the saffron powder and stir to combine.

5.

Stir the garlic into the veg in the pan and cook for a further 1 min. Scatter in the rice and stir well to combine. Cook for a further 2 mins, till the rice starts to make a popping sound. Add the tomatoes to the pan and stir to mix.

6.

Pour the saffron stock into the pan and stir well. Nestle the chicken into the rice. Pop a lid on the pan, or use foil to cover it. Slide into the oven. Cook for 25 mins, till the rice has absorbed the liquid.

7.

While the rice is cooking, halve the lemon. Pop a clean frying pan on a medium-high heat and add 1 tsp oil. When the pan is hot, add the lemon halves, cut-side down. Cook for 4-5 mins, till caramelised. Transfer to a plate.

8.

Stir the chicken and rice and add more salt or pepper if needed. Serve with the caramelised lemon squeezed over the top.
Tip

No ovenproof pan?
No problem, simply combine the vegetables, rice and stock as directed, then pour into a large casserole dish. Nestle the chicken into the rice before sliding into the oven