Goan Spiced Venison Steaks with Naan Breads
Prep: 25 mins
Cook: 25 mins
Puffy, fluffy homemade onion seed naans are topped with flash-fried wild venison steaks and a heady, creamy Goan coconut sauce is spooned over to make a fragrant supper that mops itself up.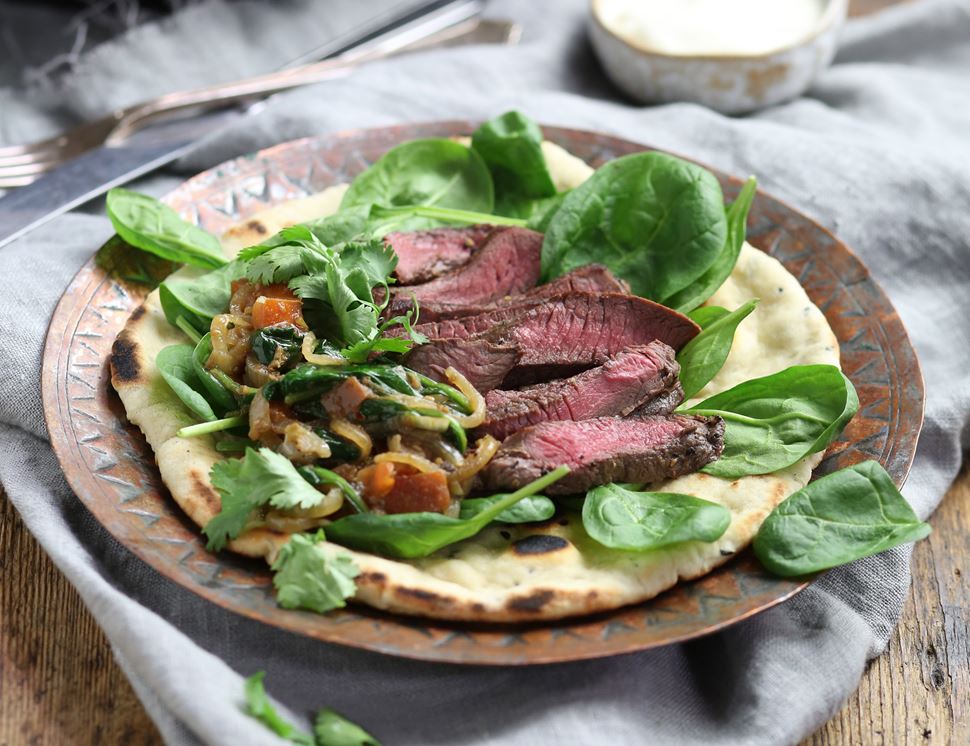 Ingredients you'll need
150g plain flour
1 tsp baking powder
2 tsp black onion seeds
150g Greek style yogurt
1 onion
1 tomato
2 garlic cloves
A handful of fresh coriander
50g coconut cream
1 tsp fennel seeds
1 tsp coriander seeds
2 wild venison minute steaks
1 tbsp Goan curry paste
50g baby leaf spinach
From your kitchen
Sea salt
1 tbsp + 8 tsp olive or coconut oil
4 tbsp cold water
250ml boiling water
Step by step this way
1.

Tip the flour and 1 tsp baking powder into a large bowl. Add 1 tsp black onion seeds. Sprinkle in a good pinch of salt and mix together. Add in half the yogurt, ½ tbsp olive oil and 4 tbsp cold water. Knead together for 2-3 mins till you have a smooth dough. Cover and set to one side to rest.

2.

Peel and thinly slice the onion. Finely dice the tomato. Peel and crush the garlic cloves. Place the coconut cream in a jug and pour in 250ml boiling water. Stir to dissolve it. Heat your oven to its lowest setting.

3.

Place a dry frying pan on a medium heat. Tip in 1 tsp each fennel and coriander seeds and toast them for 2-3 mins till aromatic. Tip into a pestle and mortar and lightly crush them.

4.

Rub 2 tsp oil into each venison steak and season. Set the frying pan on a high heat for a few mins. When warm carefully place the venison steaks in the pan. Fry for 3 mins on each side. Lift out of the pan and onto a plate. Cover with foil.

5.

Pop the pan back on the heat. When warm pour in ½ tbsp oil and add the onion. Fry it quickly for 4 mins till lightly coloured. Add the tomato, garlic, ground spices and curry paste. Fry for 2 mins. Pour in the coconut cream. Bring up to a bubble then simmer on a gentle heat, lid on, for 5 mins.

6.

While the curry sauce simmers, divide the naan dough in to 2 balls. Press in the remaining onion seeds. Roll the naans into rounds, about the same size as a side plate. Brush each side with 1 tsp oil. lace a dry frying pan on a high heat. When smoking hot, place a naan in the pan and cook for 2 mins on each side till golden and puffy. Repeat with the other naan. Wrap the cooked naans in foil and place in the oven to keep warm.

7.

Place the venison steaks in the sauce and turn them a couple of times to coat. Add half the baby leaf spinach. Cover and cook for 3 mins. Roughly chop the coriander.

8.

Place a naan on each plate. Add a handful of spinach. Lift the venison steaks out of the sauce and cut into thin slices. If the venison is too pink for your liking, place the slices back in the sauce and gently cook them for a few mins.

9.

Arrange the venison slices on top of the naan. Taste the sauce and season. Stir through the remaining yogurt to cool it if you like or serve dolloped on the side of your curry. Spoon the curried Goan sauce over the venison and scatter over the chopped coriander to serve.