Giant Carrot & Chervil Feta Fritter with Warm Orange Dressing
Prep: 30 mins
Cook: 25 mins
Just when you thought fritters couldn't get any more amazing, our Sorrel's created this giant organic carrot and chervil frying pan one just for you.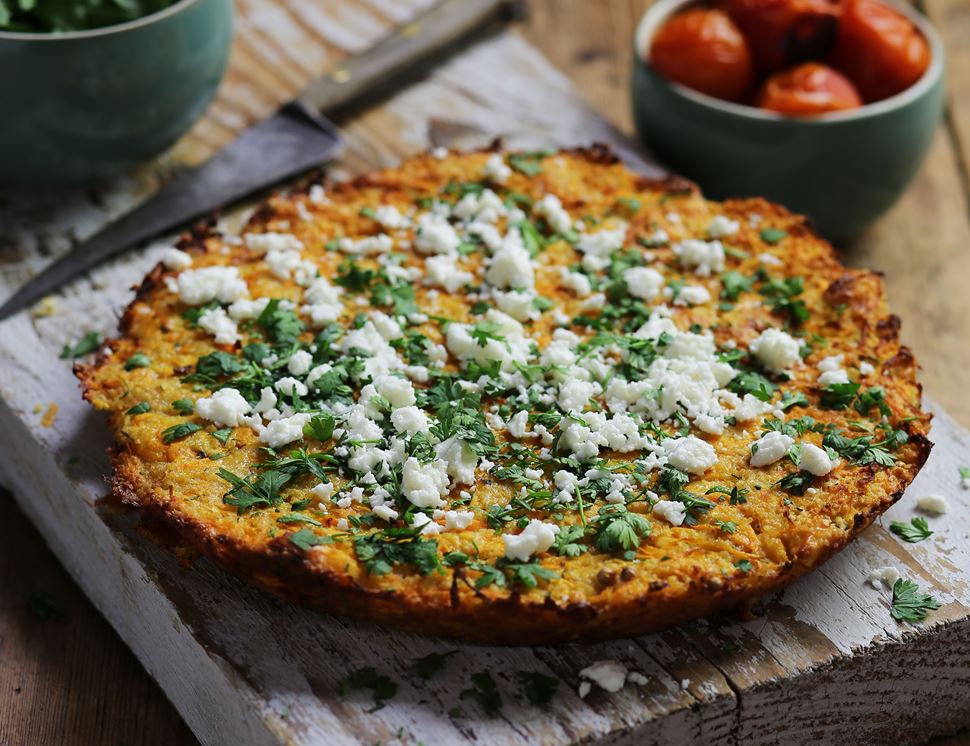 Ingredients you'll need
250g cherry tomatoes
75g couscous
1 tsp coriander seeds
4 carrots
A handful of chervil
2 eggs
100g feta
1 orange
1 tbsp Dijon mustard
40g honey
50g rocket
From your kitchen
1 tbsp + 4tsp olive oil
150ml boiling water
Sea salt and freshly ground pepper
You'll need
Baking tray
Heatproof bowl
Clingfilm or plate
Frying pan
Large bowl
Small pan
Step by step this way
1.

Heat the grill to a medium high setting. Tumble the cherry tomatoes onto a baking tray. Season and drizzle with 2 tsp oil. Slide under the grill for 5-7 mins till charred and starting to collapse. Remove from the grill.

2.

Tip the couscous into a heatproof bowl. Pour over 150 ml boiling water. Stir. Cover with cling film or a plate and set aside.

3.

Warm a frying pan (ideally ovenproof) over a medium heat. Scatter in 1 tsp coriander seeds. Toast for 2-3 mins till fragrant smelling. Tip into a large bowl. Peel and trim the carrots. Coarsley grate them into the bowl. Pick the leaves from the chervil and set aside. Finely chop the stalks and add to the bowl.

4.

Beat 2 eggs and add them to the carrots (use the other 2 for breakfast). Crumble in a quarter of the pack of feta. Add the cooked couscous. Season well and fold everything together. Pop the bowl in the fridge while you make the dressing.

5.

Zest and juice the orange into a small pan. Add the Dijon mustard, honey and 2 tsp olive oil. Place the pan on a low heat and gently heat for 5 mins. Turn off the heat.

6.

Heat the pan you used to toast the coriander seeds. Add 1 tbsp oil and swirl it around the pan to coat it. Spoon in the carrot mix, distributing it to the edges. Using the back of a spoon, press the mix down firmly. Cook the fritter for 4-5 mins on a medium heat. Heat your grill to medium high again.

7.

If your pan is ovenproof, place it under the grill for 4-5 mins to cook the top. It should be crisp and golden. If your pan isn't ovenproof, slide the fritter out of the pan onto a baking tray after it has cooked on the hob for 4-5 mins, then grill for 4-5 mins.

8.

Divide the rocket between 2 plates. Cut the fritter into wedges and place on top of the rocket. Crumble over another quarter of a pack of feta and the chervil leaves. Serve with the grilled tomatoes and a drizzle of the orange dressing.