Fried Duck Egg, Chestnut Mushrooms & Cavolo Nero
Prep: 10 mins
Cook: 15 mins
"An egg can be the making of a meal, taking a humble bowl of pulses or grains to a simple and satisfying supper. I like to cook fried eggs slowly, so that the whites are set with crisp edges and the yolks still runny."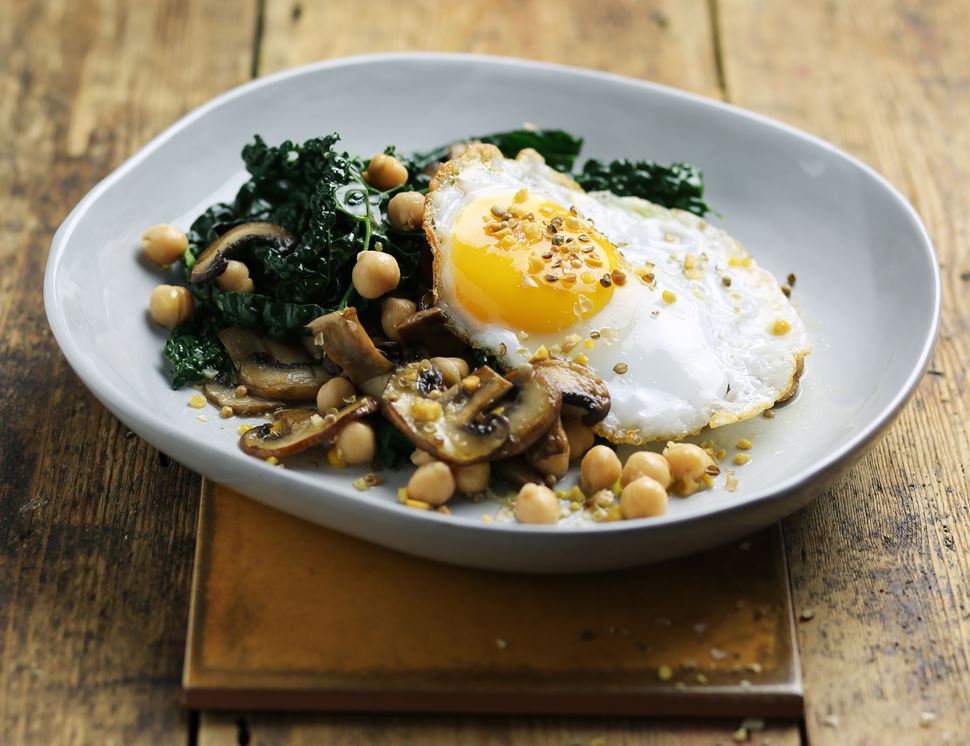 Ingredients you'll need
¾ x 200g chestnut mushrooms
1 garlic clove
45g butter
1 lemon
½ x 400g tin of chickpeas
80g cavolo nero
2 duck eggs
2 tsp dukkah
From your kitchen
5 tbsp olive oil
Sea salt
Freshly ground pepper
Step by step this way
1.

Weigh out 150g mushrooms (see the tip for what to do with the rest) and use a pastry brush to remove any excess dirt from them. Cut the mushrooms into slices a few mms thick, cutting down from the stalk to keep their natural shape.

2.

Prepare the cavolo nero by carefully cutting or tearing away the leaves from the tough stalks, trying to keep each leaf attached at its top where the stalk is only thin. Discard the tough stalks and set the leaves aside. Peel and finely grate the garlic.

3.

Drain the chickpeas into a sieve and rinse well under cold running water. Set aside half the tin to use another day.

4.

Fill a pan with 3in water and set over a high heat to come to the boil.

5.

Heat a large, heavy-bottomed pan over a medium to high heat. Add 4 tbsp olive oil, a pinch of salt and a single layer of mushrooms, making sure the pan isn't overcrowded, and cook, resisting the temptation to stir for a couple of mins.

6.

Add the cavolo nero to the boiling water and cook for 2 mins. Drain and set aside.

7.

Once the mushrooms are lightly caramelised, stir through the butter and grated garlic, then cook for 2 mins. Stir in half the tin of chickpeas and the drained cavolo nero. Squeeze over the lemon juice and spoon onto warm plates.

8.

Using the same pan, add 1 tbsp olive oil. Once the oil is hot, crack in 2 eggs to fry till the whites are set and bright with lightly golden edges and the yolk runny (see the tip below for what to do with your other eggs). Place an egg on top of the warm mushrooms, cavolo nero and chickpeas. Serve with a scattering of dukkah.
Tip

Florence's Top Tips
Your leftover eggs are the perfect partner to anchovy and Parmesan soldiers, help to enrich custard or make a particularly good scrambled egg. Your leftover mushrooms make a quick breakfast, sautéed with a little butter and garlic and heaped over toast.