Fresh Coconut & Coriander Daal
Prep: 15 mins
Cook: 30 mins
How fresh you say? You'll be making the coconut milk in your own kitchen. It's really easy to do and takes this aromatic daal to another level.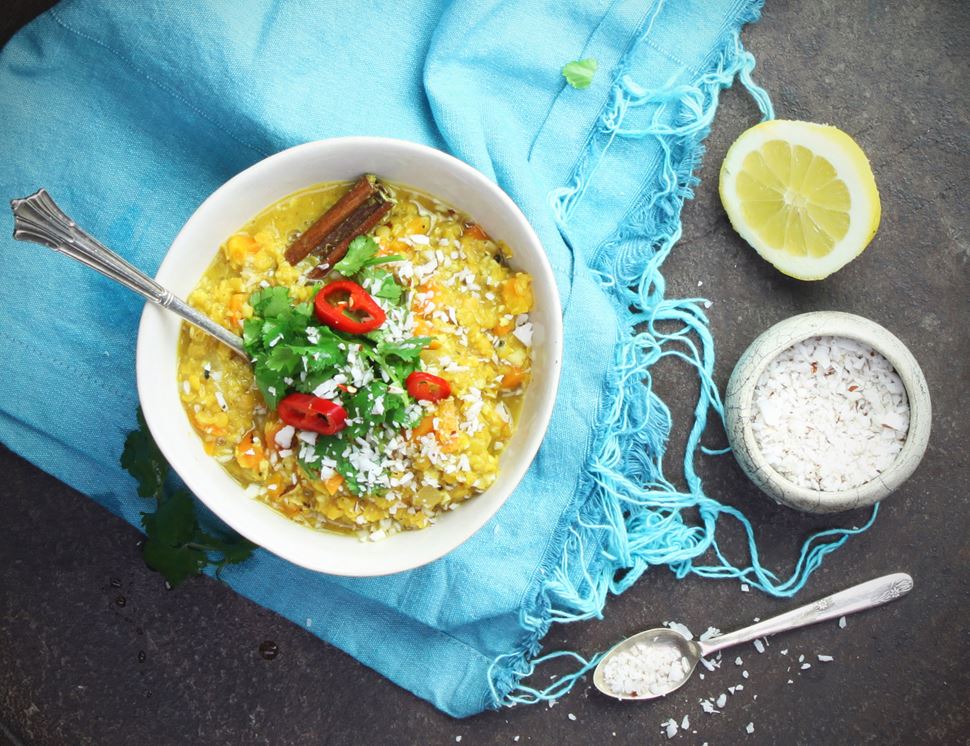 Ingredients you'll need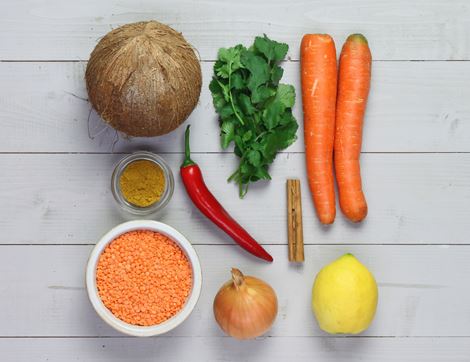 1 coconut
1 onion
1 tbsp mild curry powder
2 carrots
1 cinnamon stick
A 150g bag of red lentils
1 chilli
1 lemon
A handful of coriander
From your kitchen
400ml cold water
2 tsp olive oil
Sea salt and freshly ground pepper
200ml boiling water
You'll need
Tea towel
Rolling pin
Blender
Measuring jug
Sieve
Large pan
Step by step this way
1.

Wrap your coconut in a clean tea towel. Give it a good few whacks with a rolling pin or a hammer. (Try to catch some of the coconut water, if you can and save to drink later.) Break the coconut open. Use the tip of a butter knife to prise the white flesh away from inside of the shell.

2.

Place half of the coconut flesh into a blender (see our tip for what to do with your leftover coconut). Pulse till it's as finely chopped as possible.

3.

Add 400 ml water to your blender. Blend for around 1 min. Strain through a fine sieve, pushing out as much of the milk as possible. Set aside.

4.

Halve, peel and finely chop your onion. Finely dice your carrots. Set a large pan over a high heat. Add the onion, carrots and 2 tsp oil. Lower the heat. Season well. Simmer for 5 mins. Swirl in 1 tbsp curry powder and 1 cinnamon stick.

5.

Rinse your lentils well. Add the lentils to the pan. Pour in the fresh coconut milk and 200ml boiling water. Simmer for 20 mins or till the lentils are fully tender, adding more water as it cooks, if needed.

6.

Grate in the zest from the lemon and add a squeeze of juice. Taste. Add salt and pepper if it needs it. Divide into 2 warm bowls. Roughly chop the coriander and thinly slice the chilli.

7.

Scatter the coriander and chilli over the top of the daal. Finish with a grating of fresh coconut (just grate a chunk of the leftover coconut flesh as if it were a chunk of Parmesan). Serve straightaway.
Tip

Keeping Your Coconut
The best way to store the leftover coconut is to freeze it. Grate it or pulse in a blender, then tip into a tub and freeze for up to 3 months.