Figgy Stuffed Pork with Vichy Carrots
Prep: 25 mins
Cook: 30-40 mins
Our high welfare pork escalopes are stuffed with organic dried figs for the warming flavours of the season. It's all served up with wedges of pink fir apple spuds and carrot spears.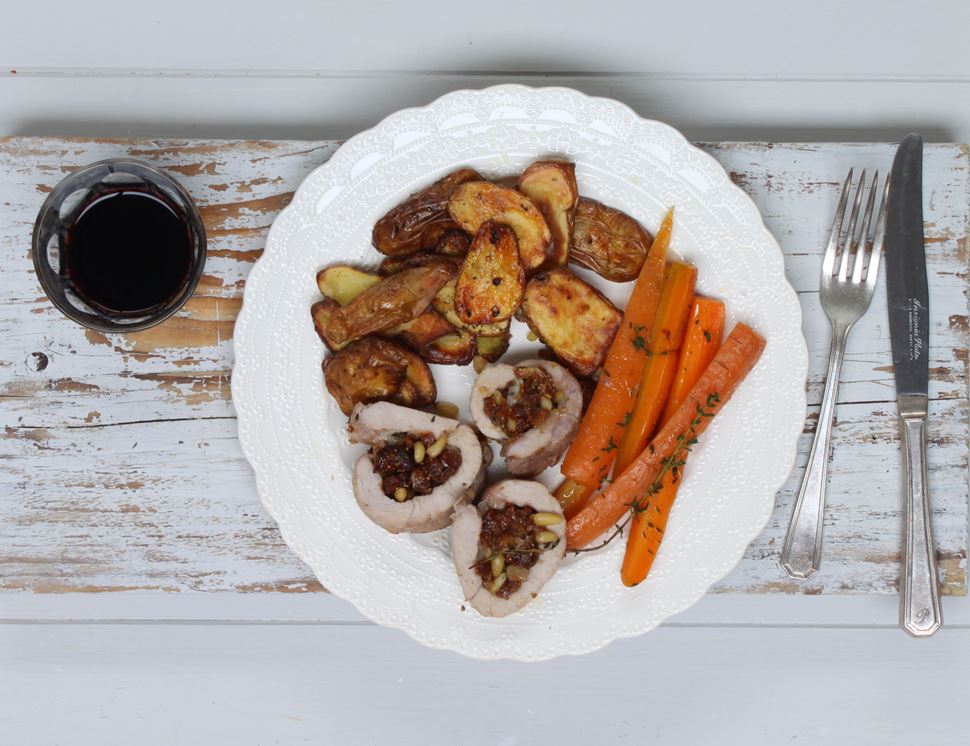 Ingredients you'll need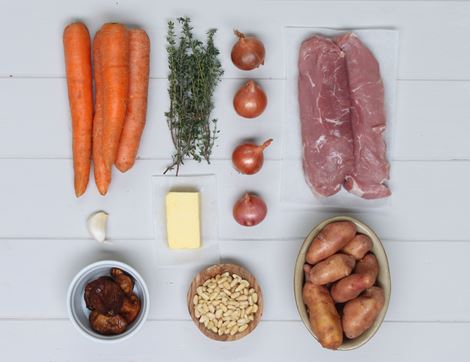 A 500g bag of pink fir potatoes
A 325g pack of pork escalopes
4 shallots
A 50g bag of dried figs
1 garlic clove
A handful of thyme
A 25g bag of pine nuts
A 45g pot of butter
4 carrots
From your kitchen
½ tbsp olive oil
Sea salt and freshly ground pepper
2 tbsp + 200ml boiling water
You'll need
Baking tray
Baking paper
Rolling pin
Frying pan
Bowl
Cocktail sticks
Baking dish
Foil
Large pan with lid
Step by step this way
1.

Heat your oven to 180°C/Fan 160°C/Gas 4. Scrub and cut the potatoes lengthways into 1cm thick slices. Toss with ½ tbsp oil and some seasoning. Tumble into a baking tray and slide into the oven. Cook for 30 mins till golden.

2.

Meanwhile, prepare your pork. Lay a pork escalope between two pieces of baking paper. Bash the pork with a rolling pin till it's the thickness of a £1 coin. Repeat with the other escalope.

3.

Peel and finely dice the shallots. Finely chop the figs. Peel and crush the garlic. Strip the leaves from two thyme sprigs. Set aside. Tip the pine nuts into a dry frying pan over a medium heat. Toast for 2-3 mins till golden. Tip into a bowl and set aside.

4.

Spoon half the butter into the frying pan and add the shallots. Cook on a gentle heat for 2 mins till translucent. Add the figs, garlic and thyme leaves. Cook for a further 3 mins till the figs are soft. Tip them into the pine nut bowl and mix.

5.

Dollop the figgy pine nut mix on the two flattened escalopes and press down firmly. Working from the end nearest to you, roll the escalope tightly, pushing any escaped filling back in. Secure with a couple of cocktail sticks. Repeat with the other escalope.

6.

Carefully lift the figgy pork rolls into a baking dish. Pour in 2 tbsp boiling water and cover with foil. Cook for 15 mins. Remove the foil and cook for a further 10 mins.

7.

Cut each carrot into quarters lengthways. Lay them in a large pan so they're more or less in a single layer. Add the remaining butter and 200ml boiling water. Throw in the remaining thyme sprigs. Cover and cook for 10 mins till the liquid is absorbed and the carrots are just tender.

8.

Serve the figgy stuffed pork with the roasted potato slices and buttery thyme Vichy carrots.