Fennel, Black Pepper & Lemon Roast Pork
Prep: 15 mins
Cook: 2 hrs 30 mins + 30 mins resting
Juicy, tender organic pork is delicious rubbed in a tingly mixture of aniseedy fennel, warming black pepper and lemon zest – and it's double-delicious with crispy, crunchy crackling on the side.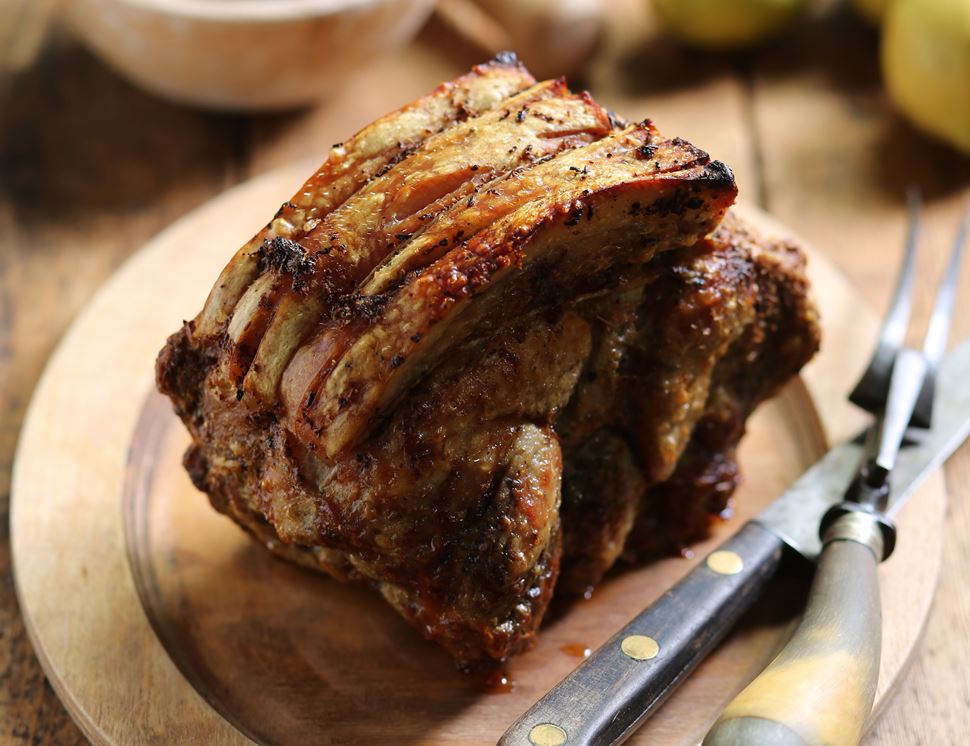 Ingredients you'll need
1.2 kg pork shoulder, boned & rolled
10 black peppercorns
2 tsp fennel seeds
1 lemon
From your kitchen
2 tbsp olive oil
Sea salt
Step by step this way
1.

Heat your oven to 240C/Fan 220C/Gas 9. Unwrap the pork and pat it dry with kitchen paper. Set it in a roasting tin, skin side up, and set aside for up to 1 hr to get it up to room temperature.

2.

Tip 10 black peppercorns and 2 tsp fennel seeds into a pestle and mortar and grind them as finely as you can. No pestle and mortar? Use a small bowl and a jam jar or the end of the rolling pin to roughly crush them.

3.

Finely grate in the zest from the lemon and stir in a good pinch of salt. Add 2 tbsp olive oil and stir to make a paste. Massage the paste all over the pork, making sure to rub it into the slits on the skin and in any gaps at the ends of the rolled pork.

4.

Slide the pork into the oven and roast for 30 mins. Baste the skin halfway through.

5.

Remove the pork from the oven and baste the skin well. Lower the oven temperature to 160°C/ Fan 140°C/Gas 3. Return the pork to the oven and gently roast for 2 hrs.

6.

Check the pork is cooked by piercing it with a metal skewer. The juices should run clear. If not, pop it back in the oven till they do.

7.

Transfer the pork to a plate or board to rest, covered loosely with foil, for at least 30 mins before carving. Serve in thick slices with the crackling.
Tip

Next week
Organic beef brisket is a beautiful cut for pot roasting with a handful of organic veg, a mix of fragrant herbs and beef stock to help keep the brisket juicy. Once everything is tucked up in the pot, you just slide it into the oven and let it slowly cook till the brisket is tender.

Tip

On the side
Buttery mash is a brilliant side dish for a hearty pot roast. Simply simmer peeled and chopped potatoes till they are tender, then drain and tip back into the pan. Gently warm over a low heat to steam dry the potatoes, then chop in plenty of butter, add a pinch of salt and pepper and mash till smooth.

Tip

That's cracking
If the crackling has not quite crackled, the slice the skin and fat off the top of the pork joint and place it on a rack. Slide the skin under a hot grill for 2 mins to crisp up.