Dukkah Roasted Carrots with Aromatic Rice
Prep: 15 mins
Cook: 40
Bring out the sweetness of seasonal carrots with a good roasting, coated in our favourite crunchy North African spice mix, dukkah, then toss through grains of mildly spiced brown rice for a dinner that needs nothing more than a tangy dollop of yogurt to become a feast.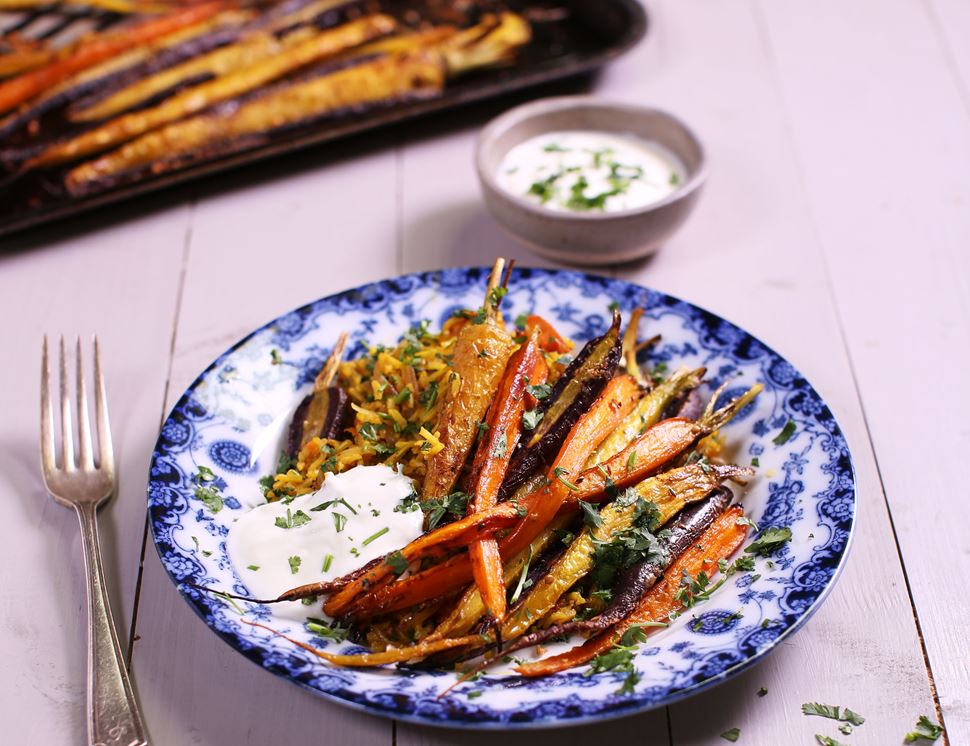 Ingredients you'll need
2 red onions
3 vine tomatoes
2 garlic cloves
A thumb of turmeric
1 tsp ground coriander
1 vegetable stock cube
150g brown basmati rice
500g bunched rainbow carrots
1 tbsp dukkah
A handful of coriander
1 orange
4 tbsp 0% fat yogurt
From your kitchen
Sea salt
Freshly ground pepper
2 tsp olive oil
300ml boiling water
Step by step this way
1.

Preheat your oven to 200°C/Fan 180°C/Gas 6. Peel the red onions and thinly slice them. Peel the garlic cloves and the turmeric, and finely grate both (turmeric stains, so you may want to do this on a plate and wear gloves to protect your hands).

2.

Pour 1 tsp oil into a large pan and warm over a medium heat. Add the onions with a pinch of salt and pepper. Fry for 5 mins, till slightly softened.

3.

While the onions fry, dice the tomatoes. Stir the garlic and turmeric into the onions. Add 1 tsp ground coriander. Cook and stir for 2 mins. Stir in the tomatoes and continue to cook for 3 mins.

4.

While the onions are cooking, pour 300ml boiling water into a jug and crumble in the stock cube. Stir till the stock cube has dissolved. Add the rice to the pan and pour in the stock. Bring to the boil then cover with a lid. Reduce to a gentle simmer and cook for 25-30 mins, till the rice is tender.

5.

Meanwhile, separate the carrots from their tops (put the tops to one side for later). Scrub the carrots and slice them into long halves or quarters. Arrange the carrots on a baking tray and dust with the dukkah and a pinch of salt and pepper. Drizzle with 1 tsp olive oil and toss to coat. Slide the carrots into the oven and roast for 20 mins.

6.

Rinse a handful of the carrot tops, then finely chop them with the coriander. When the rice is cooked, add the chopped coriander and carrot tops. Squeeze in the juice from half the orange. Taste and add more orange juice or salt and pepper if you think it needs it.

7.

Divide the rice between a couple of plates and top with the roasted carrots. Finish by dolloping each with 2 tbsp yogurt, and serve.