Dukkah Chicken Skewers with Roast Veg & Honey Dressing
Prep: 20 mins
Cook: 30 mins
Coating chunks of organic chicken breast in dukkah, an Egyptian mix of herbs, nuts and spices, is an easy way to add lots of aromatic flavours to your dinner.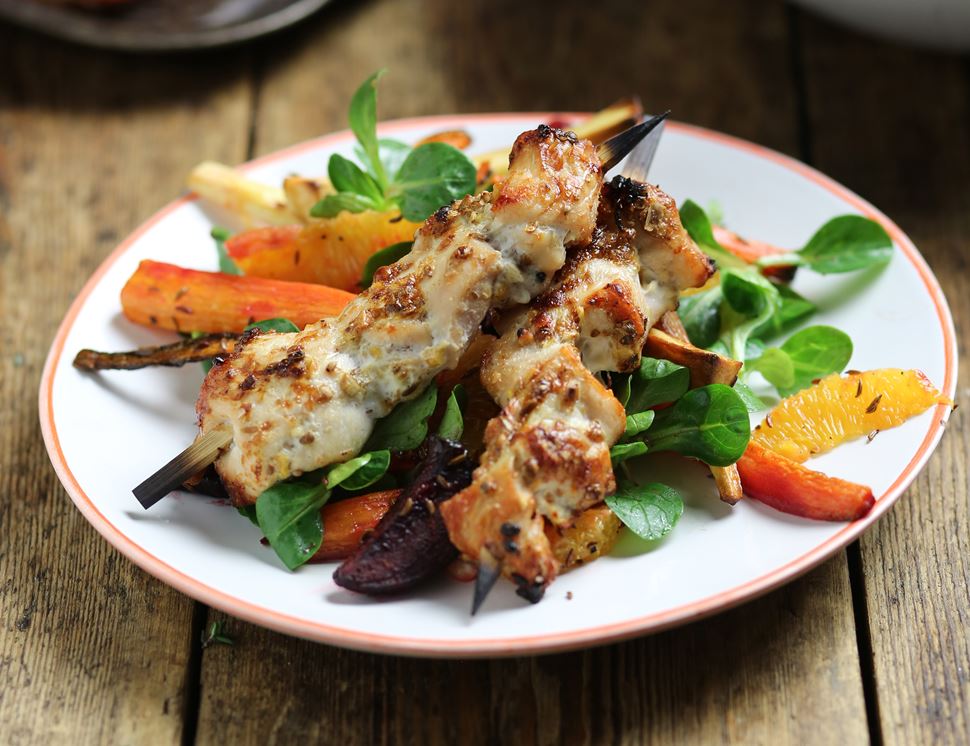 Ingredients you'll need
4 skewers
2 carrots
1 parsnip
2 beetroot
2 tsp caraway seeds
1 orange
50g lamb's lettuce
45g honey
1 tbsp balsamic vinegar
1 tbsp Dijon mustard
1 egg white
1 tbsp dukkah
250g diced chicken breast
From your kitchen
3 tsp olive oil
Sea salt
Freshly ground pepper
Step by step this way
1.

Heat your oven to 200°C/Fan 180°C/Gas 6. Put the skewers in a dish of water (this will help stop them catching and burning when you grill them). Peel and chop the carrots and parsnip into fingerlength batons. Pop in a bowl with 2 tsp oil and a pinch of salt and pepper. Toss to mix. Spread out on a baking tray.

2.

Trim and peel the beetroot. Slice into wedges around 1cm thick. Add them to the bowl and turn to coat in any remaining oil. Place the beetroot on the tray with the veg (seasoning them separately helps stop the purple colour from the beetroot bleeding onto the other veg).

3.

Sprinkle 1 tsp caraway seeds over the veg. Roast in the oven for 30 mins or until the veg are tender and lightly charred at the edges.

4.

While the veg roast, slice the peel and white pith off the orange, trying not to cut away too much of the sweet flesh. Slice the orange into segements and pop in a large bowl. Add the lamb's lettuce. Set aside.

5.

If there is any flesh on the orange peel, press it over a small bowl to squeeze out the juice. Add the honey and 1 tbsp each balsamic and Dijon with 1 tsp olive oil a pinch of salt and pepper. Whisk to make a dressing. Set aside.

6.

Crack the egg and separate the yolk and white, pouring the white into a shallow bowl or lipped plate (see our tip on what to do with the yolk). Whisk the white a little to break it up. Sprinkle 1 tbsp dukkah onto a separate plate.

7.

Dip the chicken pieces in the egg white then roll them in the dukkah to coat them. Thread them onto the skewers.

8.

Heat your grill to high (if your grill is part of your oven, wait till the veg are cooked and then take them out and set aside, covered with foil to keep warm). Line a grill pan or baking tray with foil. Place a wire rack on top and lay the chicken skewers on that. Grill for 12-15 mins, turning once, till the skewers are golden and cooked through.

9.

Whisk the honeyed dressing again to make sure it's well mixed. Toss half the dressing with the orange and lamb's lettuce and drizzle the rest over the roast veg. Serve the skewers with the dressed veg and salad.
Tip

A great yolk
There are lots of ways to use up your leftover egg yolk. Whisk it with 1 tbsp water to make an egg wash for brushing on pastry lids before baking your pies; beat it with whole eggs to go into quiche fillings and omelettes; or stir into rice pudding for extra richness. It will keep in the fridge for 1-2 days, so get cracking!