Curried Coconut Noodles
Prep: 30 mins
Cook: 15 mins
We're coconuts about these Thai curried noodles. Fresh coconut, ginger, garlic and lime all help turn this into a fresh and flavoursome meal.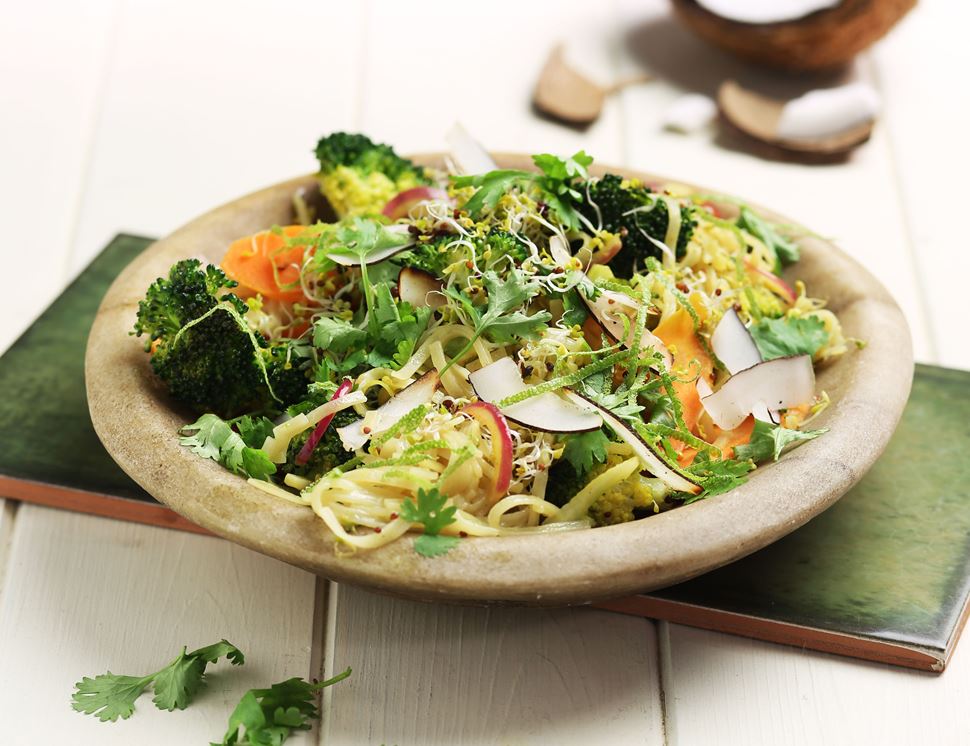 Ingredients you'll need
200ml coconut milk
2 tsp mild curry powder
A head of broccoli
3 carrots
1 red onion
1 lime
2 nests of pad Thai noodles
100g broccoli sprouts
1 garlic clove
A thumb of ginger
½ coconut
A large handful of coriander
From your kitchen
Sea salt
1 tbsp coconut oil or olive oil
Step by step this way
1.

Peel and thinly slice the onion. Scrub and trim the carrots. Cut them into thin diagonal slices. Trim the end of the broccoli stalk. Cut the stalk off and cut it into thin slices. Cut the slices into thin matchsticks. Cut the broccoli florets into small pieces.

2.

Peel and grate the garlic. Peel the ginger. Cut it into thin slices, then into thin matchsticks. Zest and juice the lime. Roughly chop the coriander leaves and stalks.

3.

Pierce a couple of the eyes of the coconut with a skewer. Shake the water into a pan, through a sieve. Wrap the coconut in a tea towel. Using a hammer, whack the coconut a couple of times. This should break it into a few pieces, separating the white flesh from the brown hairy husk.

4.

Using a veg peeler, shave strips from half the coconut (see our tip for what to do with the rest). The soft brown skin is edible. Heat a frying pan or wok. Add the coconut shavings to the dry pan and fry for 2-3 mins tll golden. Tip into a bowl.

5.

Pour the coconut milk into the pan with the coconut water. Add 1 tsp mild curry powder and a pinch of salt. Bring to a simmer. As soon as it starts to bubble, drop in the pad Thai noodles. Add enough boiling water to just cover the nests. Simmer for 4-5 mins till the noodles are tender. Turn off the heat.

6.

While the noodles are cooking, place the frying pan or wok back on a high heat. When warm, add 1 tbsp coconut or olive oil. Add in the onion, carrot and broccoli and fry for 5 mins till the veg is just starting to soften but retains a little crunch. Add the ginger and garlic. Cook for a further 1 min.

7.

Sprinkle in ½ tsp mild curry powder and the juice from half the lime. Pour in the noodles with the cooking liquid. Stir together. Add half the broccoli sprouts. Taste and season. Stir through half the chopped coriander.

8.

Lift the noodles and veg into warm shallow bowls. Top with the remaining broccoli sprouts, coriander and a good pinch of the toasted coconut. Scatter over the lime zest and add more of the juice to taste.
Tip

Coco Hut
Grate your left over coconut flesh. Stir it through rice and serve with curries, or use it to decorate homemade cakes and bakes.