Cumin & Chilli Venison Steaks with Stir-Fried Veg
Prep: 15 mins
Cook: 10 mins
In Xinjiang in Northwest China this mix of cumin and chilli is often used with lamb. We've used this flavour combination to make a spicy rub for our wild venison steaks from Hampshire, served with crisp and crunchy greens on the side.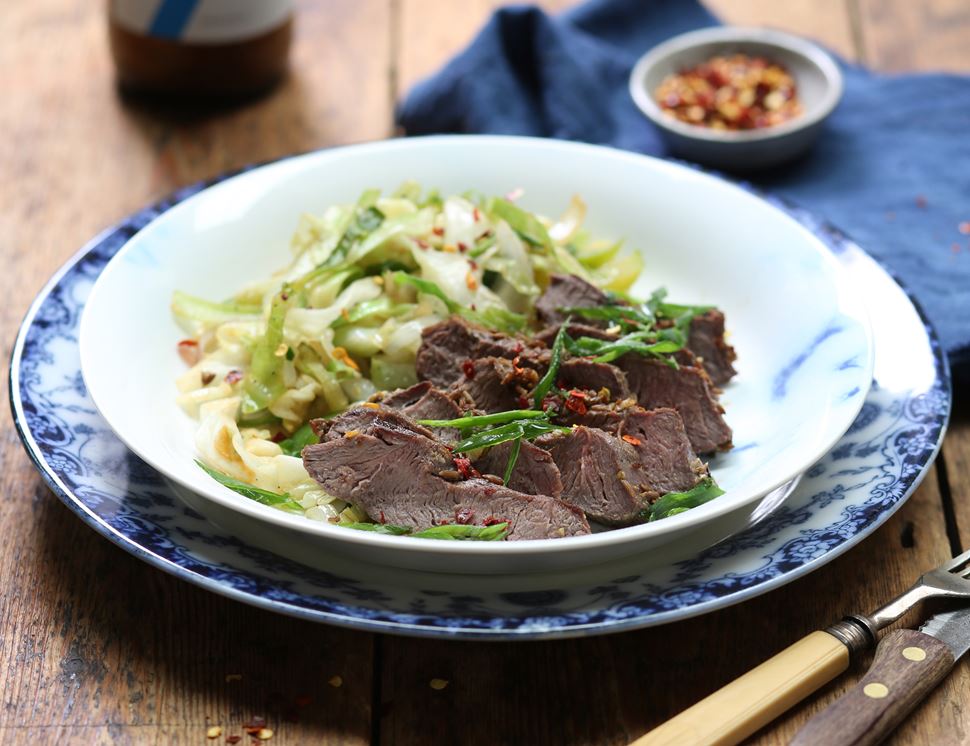 Ingredients you'll need
2 garlic cloves
1 tsp ground cumin
1 tbsp cumin seeds
A pinch of dried chilli flakes
2 wild venison steaks
1 onion
1 green pepper
½ summer cabbage
2 spring onions
50g tamari
From your kitchen
Sea salt
2 tsp olive or sunflower oil
2 tbsp water
Step by step this way
1.

Peel and crush or grate the garlic. Pop it in a dish. Add 1 tsp ground cumin, 1 tbsp cumin seeds and a pinch of chilli flakes (they're spicy, so use as much or as little as you prefer). Stir in a pinch of salt and 2 tsp oil to make a thick paste.

2.

Pierce the steaks all over with a fork (this helps to tenderise them). Add them to the dish and rub in the paste. Set aside while you prepare the veg.

3.

Peel and finely slice the onion. Halve the pepper, scoop out the seeds and white pith and finely slice it. Slice the cabbage in half, then finely slice one half (see out tip for what to with the remaining half). Trim the roots and top 3cm off the spring onions, then slice them on the diagonal (both the white and green parts).

4.

Put a griddle or frying pan over a high heat for 3 mins till smoking hot. Add the steaks. Fry for 3-5 mins on each side, depending on how well done you like your steaks, and how thick they are (the thicker the steaks, the longer they'll need).

5.

While the steaks fry, put a deep frying pan or wok over a high heat for 2 mins. Add the veg (keeping a pinch of the green spring onions to one side for garnishing) to the pan with 2 tbsp water. Stir fry for 8 mins till the veg have started to char and soften.

6.

Add half the tamari to the veg and toss to mix. Taste and add more tamari if you think it needs it.

7.

The venison steaks should be cooked by now. Pop them on a plate and let them sit for 2 mins. While they sit, divide the veg between 2 warm plates.

8.

Slice the steaks and arrange them on the plates. Serve straight away, garnished with the reserved spring onion greens.
Tip

Dial me a cabbage
Your leftover cabbage will keep for a few days in the fridge. Why not make it the centrepiece of your next meal? Slice the remaining cabbage into 2 large quarters and simmer them in a big pan of water for 4-5 mins. Drain well, then warm some oil in a large frying pan and fry the cabbages for 3-4 mins on each cut side till well browned. Serve with rice, some crumbled feta and a dressing made with tahini mixed with lemon juice, crushed garlic, olive oil and water.