Crisp Roast Tofu & Mushroom Ramen
Prep: 10 mins
Cook: 25 mins
Buckwheat is related to rhubarb, but rhubarb isn't nearly so good turned into noodles. This snuggly bowl of soup is topped with chunks of tofu roasted till they're crisp. Spoons at the ready.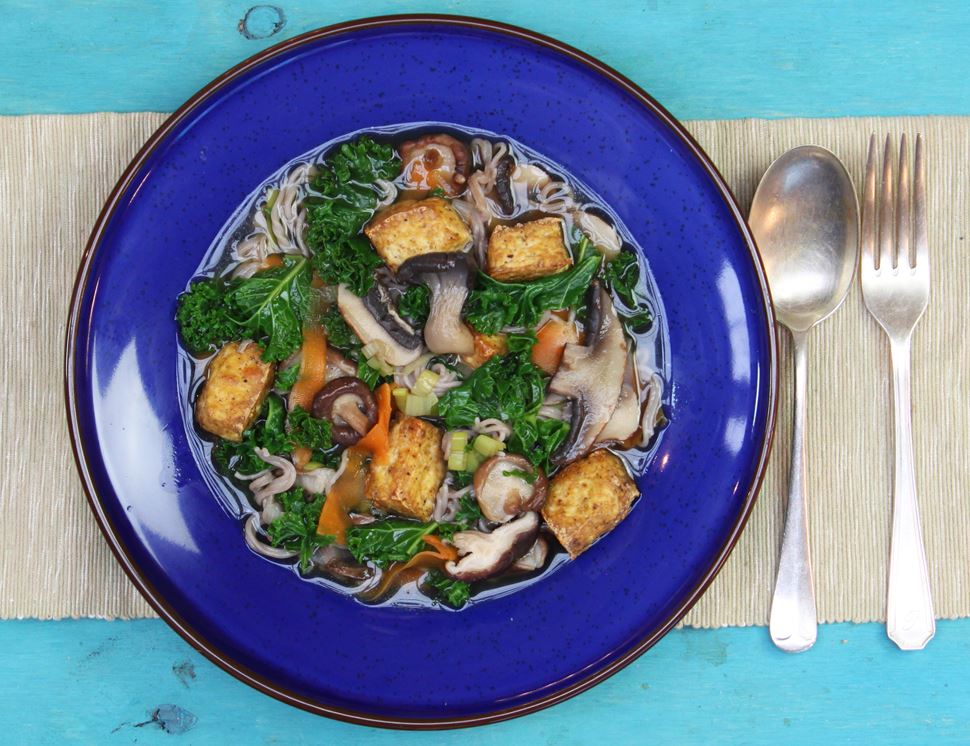 Ingredients you'll need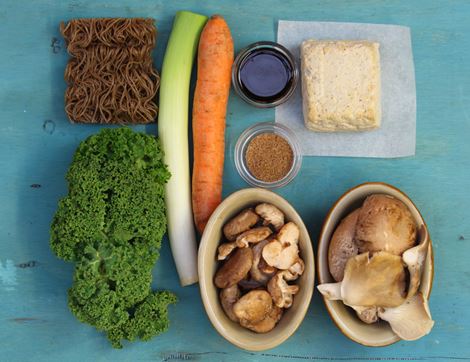 A pack of marinated tofu
1 leek
A punnet of gourmet mushrooms
A punnet of shiitake mushrooms
1 carrot
A bag of kale
1 tsp Chinese 5 spice powder
1 nest of buckwheat ramen noodles
2 tbsp tamari
From your kitchen
2 tsp olive oil
2 tbsp cold water
1.5 ltrs hot water
You'll need
Baking tray
Parchment paper
Bowl
Pan with a lid
Colander
Step by step this way
1.

Heat your oven to 180°C/Fan 160°C/Gas 4. Drain the tofu. Slice it into chunks around 2 cm across. Line a baking tray with baking parchment. Pop the tofu in a bowl. Add 2 tsp olive oil. Turn the tofu to coat it in the oil. Spread out on the baking tray. Roast for 25 mins till golden.

2.

Trim the leek. Slice a cross in the top so you can open it out. Rinse out any grit. Finely slice it. Rinse the mushrooms. Finely slice them. Peel the carrot. Make ribbons by slicing strips off with a peeler. Wash the kale. Shred it, slicing out the cores.

3.

Pop the leeks in a pan with 1 tsp of the Chinese 5 spice powder and 2 tbsp cold water. Cook over a low heat for 5 mins till the leeks are soft. Stir often. If they look like they are going to catch and burn, add a splash more water.

4.

Fill a kettle and boil it. Pop the noodles in a separate pan. Pour in enough water to cover them. Bring to the boil. Simmer for 2 mins. Drain the noodles.

5.

Add the mushrooms, kale and carrot ribbons to the leek. Pour in 1.5 ltrs hot water from the kettle. Bring to the boil. Turn the heat down. Simmer for 10 mins till the veg are all tender but not really soft.

6.

Add the noodles to the pan. Stir in 2 tbsp of the tamari. Let the ramen soup simmer for 1-2 mins to heat everything through and mix them all together.

7.

Ladle the ramen into warm bowls. Top with the crisp roast tofu and serve.
Tip

Noodle doodle Buckwheat ramen noodles are a great quick carb. Just simmer for a few mins then add to stir-fries, salads or soups. For soups, you don't have to cook them separately but it does stop your soup going too cloudy.