Creamy Leek & Mushroom Pies
Prep: 20 mins
Cook: 35-40 mins
I pie with my little eye, organic leeks in stewpendously mushroomy pies. Cavolo nero is the hero on the side, full of vit K, A and C and ridiculously handsome tasting.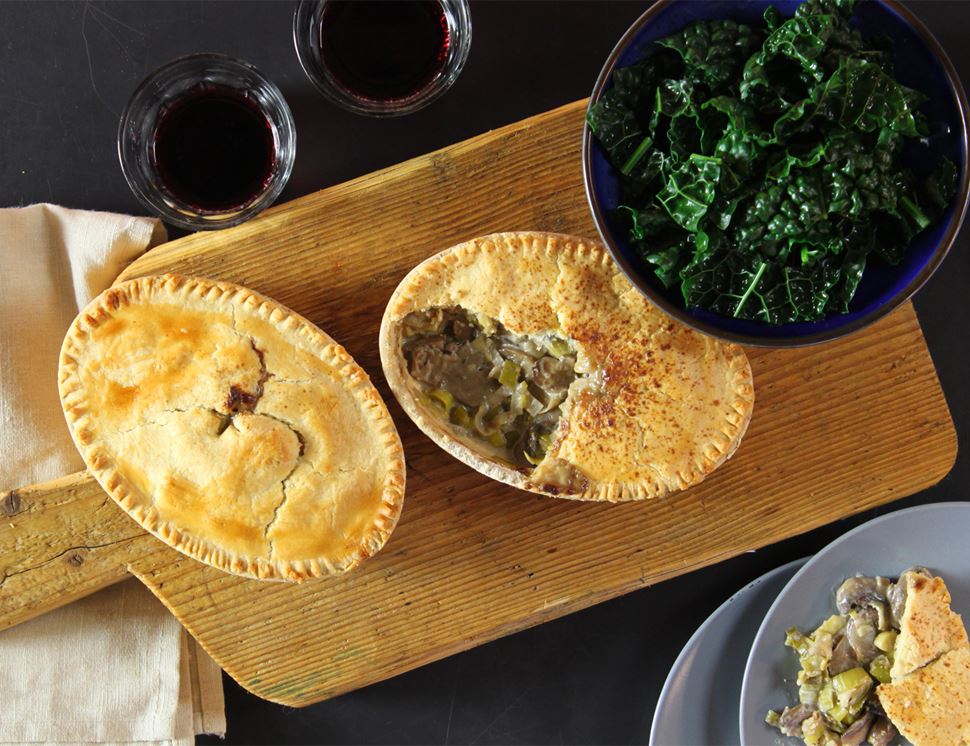 Ingredients you'll need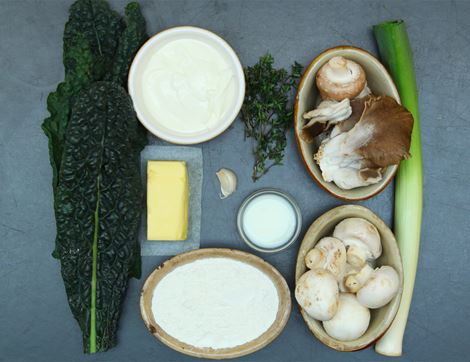 A pot of plain flour
A pot of butter
1 leek
1 garlic clove
A handful of thyme
A punnet of gourmet mushrooms
A punnet of white mushrooms
A tub of half fat crème fraîche
2 tbsp full cream milk
A bag of cavolo nero
From your kitchen
Sea salt
1 tbsp cold water
A glug of olive oil
Freshly ground pepper
You'll need
Food processor
Cling film
Chopping board
Knife
Grater or garlic crusher (optional)
Deep frying pan or wok
Wooden spoon
Two 300ml ovenproof dishes or one 500ml ovenproof dish
Rolling pin
Pastry brush
Pan
Colander
Step by step this way
1.

Take 2 level tbsp out of the flour and pop to one side. Put the rest in a food processor with the butter and a pinch of salt. Blitz till the mixture resembles crumbs. Add 1 tbsp cold water. Whizz again to form a dough. If you need to, add a splash more water. Wrap in cling film. Chill for 10 mins.

2.

Trim the leek. Slice a cross shape into the top and pull the leaves apart gently. Rinse inside to remove any grit. Shake it dry and thinly slice. Peel and grate or crush the garlic. Strip the thyme leaves from half the stalks.

3.

Rinse the mushrooms. Thickly slice them. Warm a glug of olive oil in a deep frying pan or wok. Add the leek. Fry for 5 mins till soft. Stir now and then. Add the mushrooms. Season.

4.

Fry over a high heat for about 5 mins till the mushrooms are soft and juicy. Add the garlic and thyme leaves to the pan. Stir and fry for 1 min. Add 1 tbsp of the flour you saved in step 1 to the pan. Cook and stir for 1 min.

5.

Add the crème fraîche and mix well. Gently warm for 2 mins. Divide between two 300ml ovenproof dishes (or one 500ml dish). Set aside. Heat the oven to 200°C/Fan 180°C/Gas 6.

6.

Halve the pastry. Roll out each half using the last of the saved flour you reserved in step one. Roll out to make lids a little bigger than your dishes (or just one piece if you're baking one pie). Brush the edges of the pastry with water. Lay over the top of the dishes, wet side down.

7.

Press the edges of the pastry down with a fork to crimp and seal them. Trim off any excess pastry. Lightly brush the top of the pies with the milk. Poke a small hole in the middle of each pie. Bake for 25-30 mins till golden.

8.

Fill the kettle and boil it. Shred the cavolo nero, trimming off any tough stems. Rinse it. Pop in a pan. Cover with boiling water from the kettle. Boil for 3-4 mins till tender. Drain. Drizzle with a little olive oil. Serve with the pies.