Simple - Creamy Haddock & Leek Bake
Prep: 10 mins
Cook: 45 mins
Haddock and leeks are cooked au gratin in our dreamy organic cream. Almonds bring the crunch and roast potatoes...well, need we say more?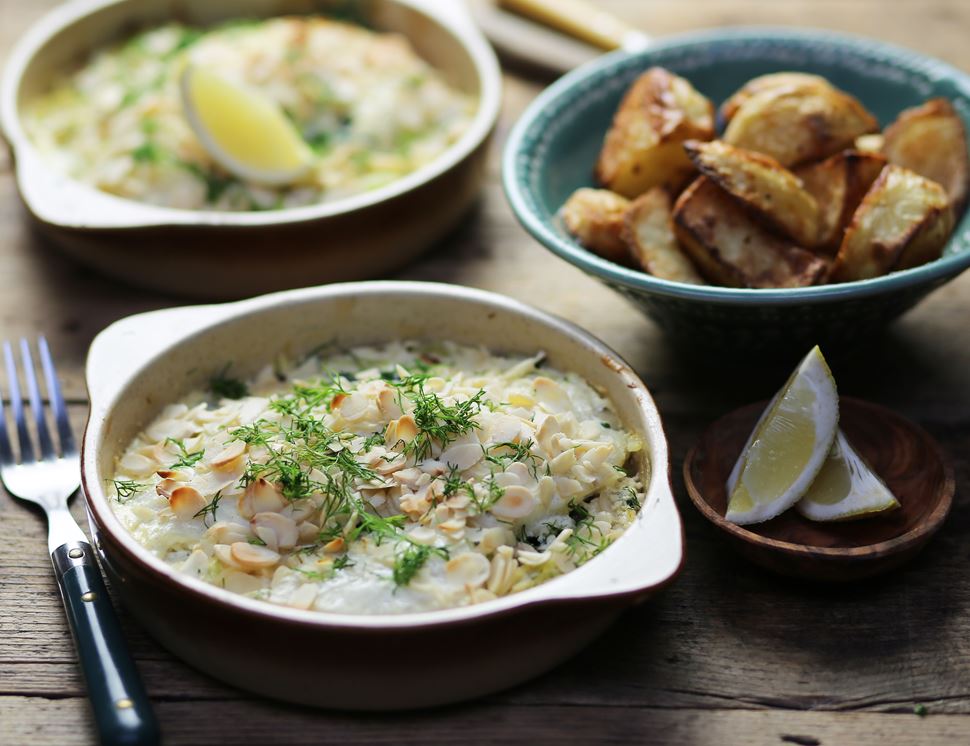 Ingredients you'll need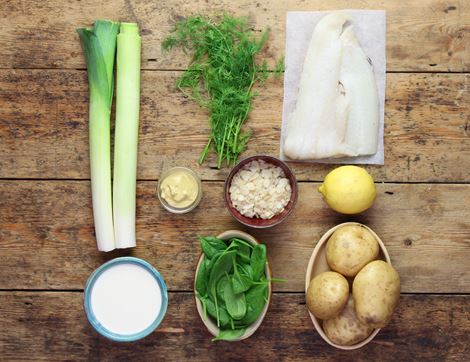 A 500g bag of potatoes
2 leeks
2 large handfuls of baby leaf spinach
1 lemon
A handful of dill
2 haddock fillets
A 227g pot of single cream
2 tsp Dijon mustard
A 35g bag of flaked almonds
From your kitchen
1 tbsp olive oil
Sea salt and freshly ground pepper
You'll need
Roasting tin
Large frying pan
Ovenproof dish
Colander or sieve
Step by step this way
1.

Heat your oven to 200C/Fan 180C/Gas 6. Add 1 tbsp oil to a roasting tin and slide it into the oven to heat up for 5 mins. Peel the potatoes. Chop into chunks. Tumble into the tin. Season with salt and pepper. Turn a few times to coat in the oil. Roast for 45 mins till golden and crisp.

2.

Trim the very top and bottom off the leeks. Halve them and rinse out any grit. Finely slice them. Warm a large frying pan for 1 min. Add the leeks with a splash of water. Season. Cover. Cook for 5-8 mins till the leeks have softened, stirring now and then. Tip them into an ovenproof dish.

3.

Add the spinach to the pan. Cook and stir for 2-3 mins to wilt the spinach. Tip into a colander and press down with the back of the spoon to squeeze out any excess water. Add to the leeks.

4.

Zest the lemon and add that to the dish. Finely chop the dill stalks (keep the leaves for later). Add to the dish. Season with salt and pepper and stir to mix the veg all together. Lay the haddock fillets on the veg.

5.

Stir the cream and 2 tsp mustard together. Pour over the haddock. Loosely cover the dish with foil. Slide into the oven and bake for 15 mins on the shelf below the potatoes.

6.

Take the foil off the haddock dish. Scatter the almonds over the top of the haddock. Bake for another 4-5 mins till the almonds are browned and the haddock fillets are cooked through.

7.

Serve the creamy haddock bake with the veg and roast potatoes. Garnish with the dill leaves and serve with wedges of the zested lemon for squeezing.
Tip

You say potato…
For quicker cook potatoes, chop in to small cubes. Boil for 5 mins till just soft. Drain and tumble into the hot oil. Roast in a very hot oven for 20 mins, tossing halfway through.