Crab & Saffron Risotto
Prep: 10 mins
Cook: 35-40 mins
I tried to find the words to describe that distinct flavour of saffron. I couldn't. If you do, let me know. Fantastic seasonal Seafood & Eat It crab makes a subtly winning combo, I know that.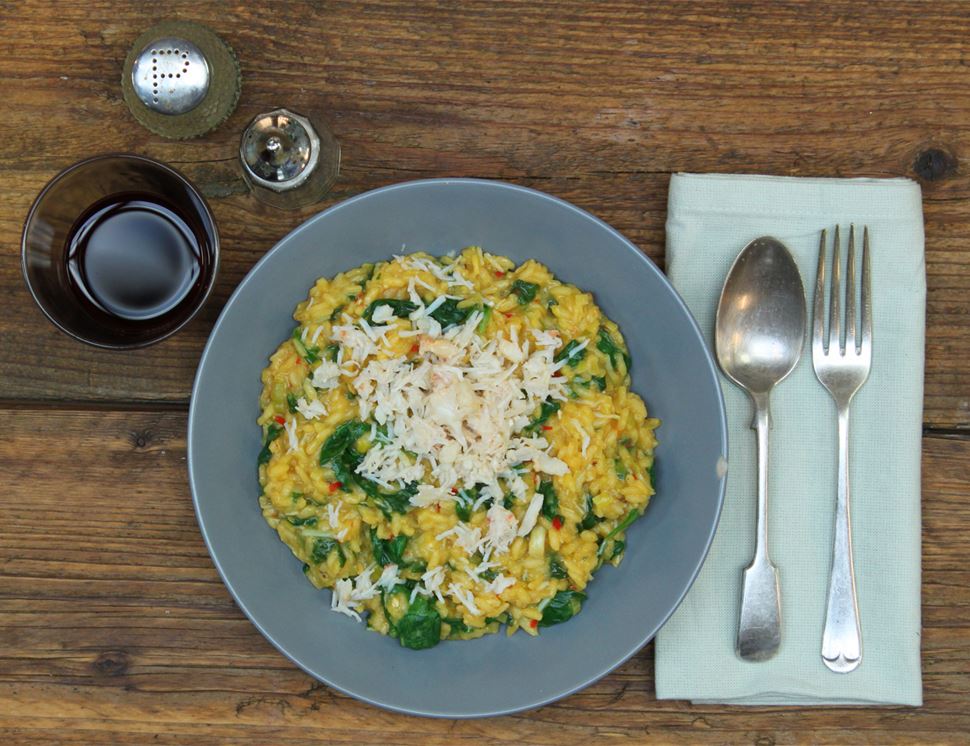 Ingredients you'll need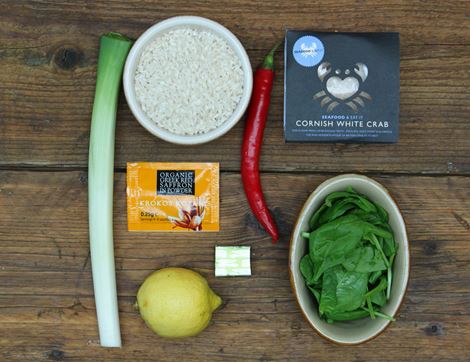 1 leek
1 lemon
1 red chilli
1 vegetable stock cube
A pinch of saffron powder
A bag of risotto rice
A punnet of baby leaf spinach
A pot of white crab meat
From your kitchen
A splash of olive oil
Sea salt
Freshly ground pepper
650ml hot water
You'll need
Chopping board
Knife
Grater or zester
Lemon juicer or fork
Pan
Wooden spoon
Measuring jug
Ladle (optional)
Colander
Step by step this way
1.

Fill the kettle and boil it. Trim the leek. Slice a cross shape into the top of it. Pull the leaves apart slightly so you can give it a good rinse inside. Shake it dry and thinly slice. Grate or pare the zest from the lemon. Juice it.

2.

Halve the chilli and scoop out the seeds and white bits. Finely chop it. Warm a splash of olive oil in a large pan. Add the leek. Season with salt and pepper. Cook over a medium heat for 5 mins till soft. Stir now and then.

3.

While the leek cooks, crumble the stock cube into a measuring jug. Add the saffron powder. Pour in 650ml hot water from the kettle. Stir till the stock cube dissolves.

4.

Add the chilli, lemon zest and rice to the leek. Stir till the grains are coated in oil. Add a ladleful of the hot stock. Cook over a medium heat, stirring occasionally, till the liquid has been absorbed.

5.

Repeat, adding the stock one ladleful at a time (or just pour in splashes straight from the jug) till the stock has been used up. The rice should be creamy and cooked through – this takes about 25-30 mins.

6.

Make sure the heat under the pan is turned to the lowest possible setting. Rinse the spinach leaves. Stir the spinach into the risotto till it wilts.

7.

Stir in two-thirds of the crab meat. Taste the risotto. Add a splash of the lemon juice and seasoning to taste. Divide the risotto between two warm plates. Top with the remaining crab meat. Serve straight away.
Tip

No time for stirring?
Cook up to the end of step 4, adding all the stock in one go. Simmer for 5 mins. Spoon into an ovenproof dish. Cover with a lid or foil. Bake for 30 mins at 180°C/Fan 160°C/Gas 4. Add the spinach and crabmeat and serve.