Crab Risotto with Braised Fennel
Prep: 10 mins
Cook: 35 mins
This recipe is part of our partnership with The Sunday Times and Florence Knight. Florence says: "White crab meat is a British delicacy. It can easily be overpowered and is best paired with subtle, light ingredients, which can provide relief from the robust and powerful flavours of autumn."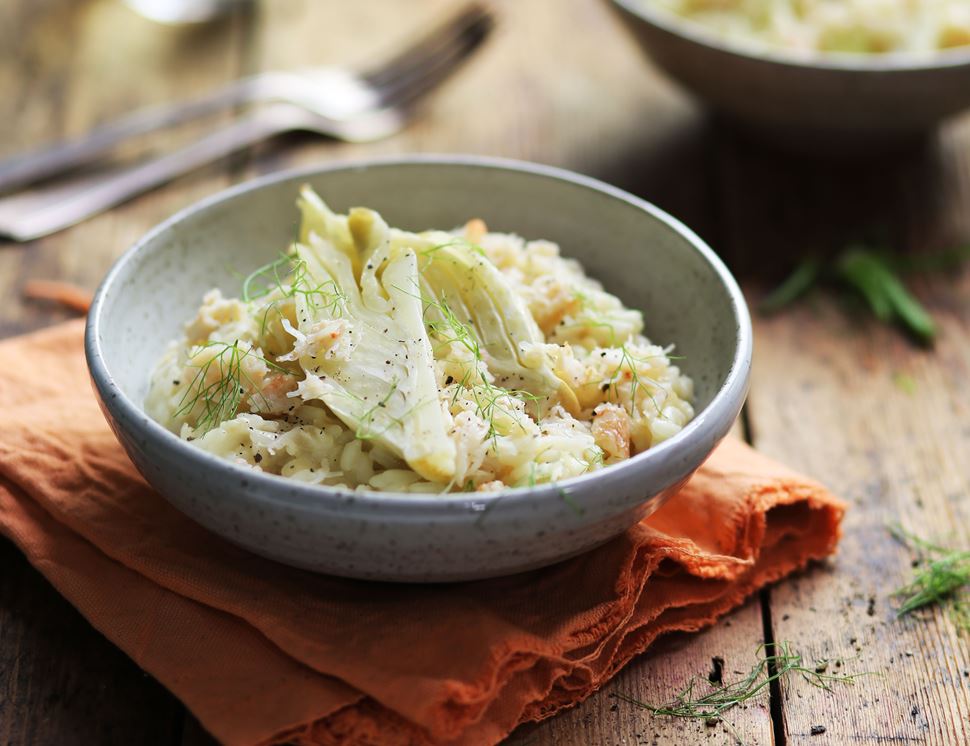 Ingredients you'll need
1 fennel bulb
1 lemon
1 garlic clove
45g butter
4 shallots
200g risotto rice
1 vegetable stock cube
½ x 200g pot of crème fraîche
100g white crab meat
From your kitchen
100ml water
Pinch of salt + 1/2 tsp
2 tbsp olive oil
650ml boiling water
Step by step this way
1.

Heat your oven to 220C/Fan 200C/Gas 8.

2.

Cut the fennel in half, from top to bottom. Peel off the tough outer layer. Lay the halves flat and cut out the root, leaving enough to keep the fennel intact, then cut each half into four wedges lengthways. Keep any fronds.

3.

Place six wedges of fennel in a roasting tin 100ml water, a pinch of salt and 2 tbsp olive oil. Quarter half the lemon and add to the tin. Bash the garlic clove and add that too. Cover with tin foil and bake for 15 mins. Turn the fennel pieces over and cook for a further 10-15 mins or until tender and cooked through.

4.

Meanwhile, finely dice the remaining two pieces of the fennel. Peel and finely dice the shallots. Set a heavy-bottomed medium pan over a low heat and add the butter, shallots, diced fennel and 1/2 tsp salt. Stir together, cover and cook for 15 mins or until the vegetables are soft and without colour.

5.

Dissolve the stock cube in 650ml boiling water.

6.

Stir the rice into the pan with the veg, coating it in the butter, for 5-8 mins until each grain starts to become slightly translucent. Stir constantly over a low heat and add a ladle of hot stock, adding another as the rice absorbs it. Continue until the rice is creamy and cooked al dente. Remove from the heat and stir through the crème fraîche. Season to taste.

7.

Spoon the risotto into shallow bowls, top with the braised fennel and fronds and the white crab meat.