Courtly Lamb Chops with Thyme Butter
Prep: 20 mins
Cook: 15-20 mins
Knights in the middle ages would give gifts of thyme, believing it brought about courage. Courageously, make your own thyme and garlic butter, before jousting in to these chops.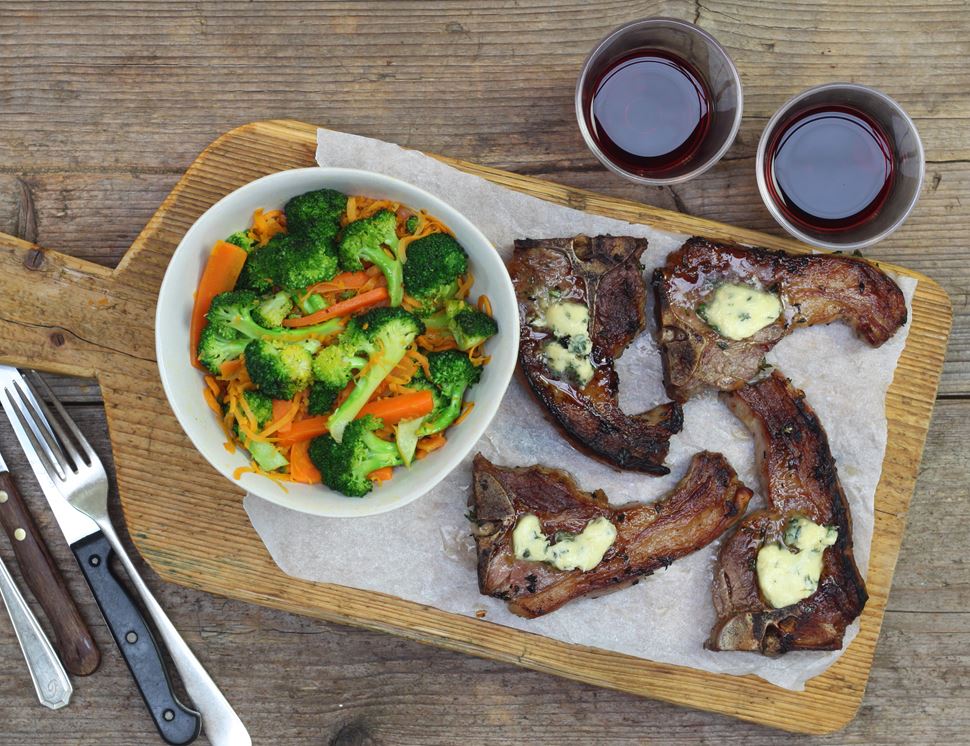 Ingredients you'll need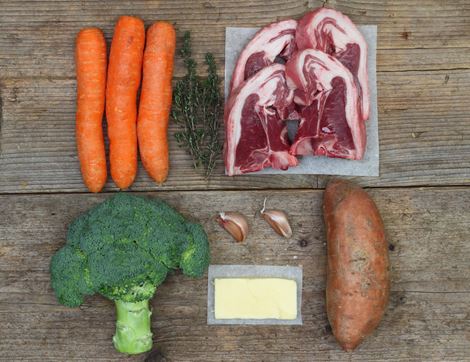 A pot of butter (at room temperature)
2 garlic cloves
A handful of thyme
4 lamb loin chops
1 sweet potato
A head of broccoli
3 carrots
From your kitchen
2 tsp olive oil
Sea salt
Freshly ground pepper
You'll need
A couple of bowls
Cling film
Spiraliser, julienne peeler or vegetable peeler
Colander
Griddle or frying pan
Foil
Wok (optional)
Step by step this way
1.

Pop 1 tbsp of the butter in a bowl. Peel and grate or crush the garlic cloves. Rinse the thyme. Pat dry. Pick the leaves off 4 sprigs. Add half the garlic and thyme to the butter. Mash together with a fork. Shape into a log. Wrap in cling film. Put to one side.

2.

Put the rest of the garlic and thyme leaves in a bowl. Add 1 tsp olive oil and some seasoning. Add the lamb chops. Turn them over to make sure they're well coated. Put to one side to marinate for 10 mins.

3.

Scrub the sweet potato. Peel it. If you have a spiraliser, use it to make noodles out of the sweet potatoes. If not, use a julienne peeler or a vegetable peeler to shave thin ribbons off it.

4.

Break the broccoli into small florets. Rinse them in a colander. Trim and peel the carrots. Slice them into matchsticks. Pop to one side.

5.

Warm a griddle or frying pan. When it's hot, add the lamb chops. Fry for 5-6 mins. Flip them over. Fry for another 4-5 mins. Pop them on a board or plate. Cover with foil. Let them rest for 10 mins.

6.

Warm 1 tsp olive oil in a wok, or use the frying pan you cooked the lamb in. Add the sweet potato, broccoli and carrot. Stir fry for 5-8 mins till the veg are just soft. Add a splash of water if they start to stick.

7.

Season the veg with salt and pepper. Serve the lamb chops topped with the thyme and garlic butter, with the stir-fried veg on the side.
Tip

Butter me up You can add a little of your leftover butter to the stir-fried veg once they've finished cooking. Just a spoonful to the pan once it is off the heat. Toss the veg to gloss them with the butter.