Cornish Crab with Saffron Risotto
Prep: 10 mins
Cook: 40 mins
Set sail for Italy, with a pit stop in Cornwall along the way. This golden risotto gets its colour from a pinch of aromatic saffron. Delicious mixed with white Cornish crabmeat.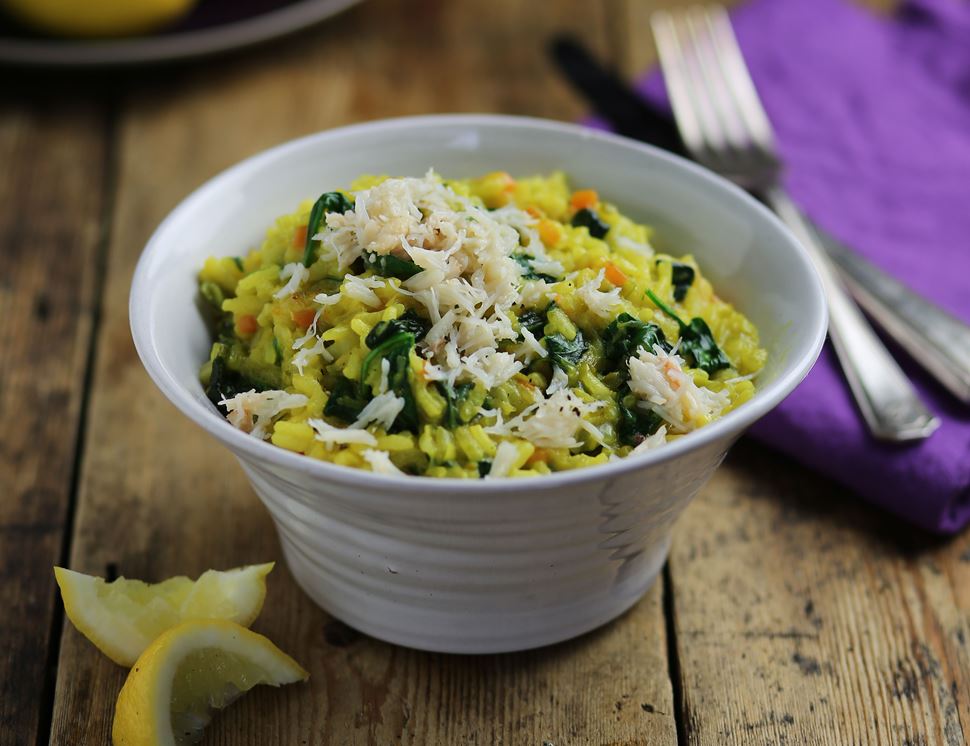 Ingredients you'll need
1 onion
1 leek
1 carrot
1 garlic clove
1 vegetable stock cube
A pinch of saffron powder
45g butter
200g risotto rice
100g baby leaf spinach
100g white crab
1 lemon
From your kitchen
850ml boiling water
Sea salt and freshly ground pepper
You'll need
Step by step this way
1.

Peel and finely chop the onion. Slice a cross into the top of the leek so you can open it out. Rinse out any dirt or grit. Slice the leek. Peel and dice the carrot. Peel and grate or crush the garlic.

2.

Crumble the stock cube into a measuring jug. Add the saffron powder. Pour in 850ml boiling water. Stir to dissolve the stock cube.

3.

Melt the butter in a medium pan over a medium-low heat. Add the onion, leek and carrot. Season with salt and pepper. Cook and stir for 5 mins till the veg start to soften.

4.

Stir in the garlic and the risotto rice. Cook and stir for 2 mins. Add a splash of the saffron stock. Cook and stir over for a few mins till the stock is absorbed.

5.

Add another splash of stock. Cook and stir a few times till it's absorbed. Add stock and stir till all your stock is added. It'll take around 30 mins.

6.

Stir the baby leaf into the risotto with most of the pot of crab. Stir for 2-3 mins to wilt the spinach and warm the crab through. Taste and add more salt and pepper if you think it needs it.

7.

Ladle the risotto into two warm bowls. Top with the last of the crab. Serve straight away with lemon wedges for squeezing.

8.