Chop Chop Chicken & Barley Salad
Prep: 15 mins
Cook: 25 mins
This super salad is packed with deliciously good things to eat: creamy avocado, French beans, nutty pearl barley and griddled chicken breast.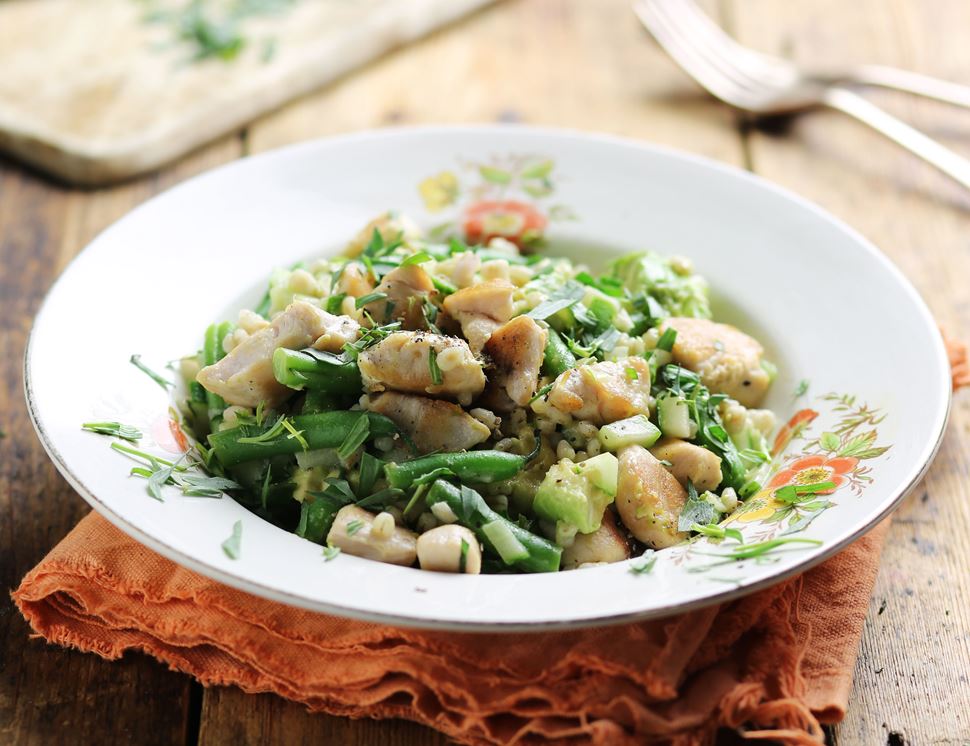 Ingredients you'll need
75g pearl barley
250g French beans
1 shallot
½ cucumber
1 avocado
A handful of tarragon, leaves only
250g chicken breast mini fillets
1 tbsp Dijon mustard
1 tbsp red wine vinegar
From your kitchen
2 tbsp olive oil
Sea salt
Freshly ground pepper
Step by step this way
1.

Tip the pearl barley into a sieve and give it a good rinse. Tip it into a pan. Pour in enough boiling water to cover it by about 3cm. Cover. Bring to the boil, then turn the heat down and simmer for 20 mins.

2.

While the barley simmers, trim the beans into chunks around 1cm across. Set aside.

3.

Peel and finely slice the shallot and add it to a large bowl. Finely chop 1/2 the cucumber (see our tip for what to do with the rest) and add it to the shallot.

4.

Halve the avocado. Scoop out the stone. Scoop the flesh out of the skins. Dice and add to the bowl. Finely chop the tarragon leaves and add them to the bowl.

5.

When the barley has simmered for 20 mins, add the beans. Simmer, without the lid on the pan, for 5 mins. Drain and rinse under cold water to stop them cooking. Drain again and add to the bowl.

6.

Chop the chicken into small, bite-size chunks. Warm ½ tbsp oil in a frying pan. Add the chicken. Fry over a medium heat for 10-12 mins, turning a few times, till golden all over and cooked through.

7.

While the chicken fries, whisk 1 tbsp mustard and 1 tbsp vinegar with 1½ tbsp olive oil and a pinch of salt and pepper. Taste and add more salt or pepper if you think it needs it. Add to the bowl and toss everything to coat it in the dressing.

8.

Heap the salad up on two serving plates. Top with the chicken and serve.
Tip

Half and half
Your leftover cucumber half will keep for a few days in the fridge. Try dicing it and mixing it with diced chilli, grated fresh coconut, chopped coriander, toasted peanuts, cumin seeds, a pinch of sugar and a squeeze of lemon juice. Great with curries.