Chickpea & Wild Garlic Dumplings in Simple Tomato Sauce
Prep: 15 mins
Cook: 20 mins
Homewood Ewe's Cheese is super seasonal as ewe's only make milk for a couple of months a year. (Who ewe? Ahem, knew.) You'll team it with spring-time wild garlic, so it's a seasonal flash in the pan.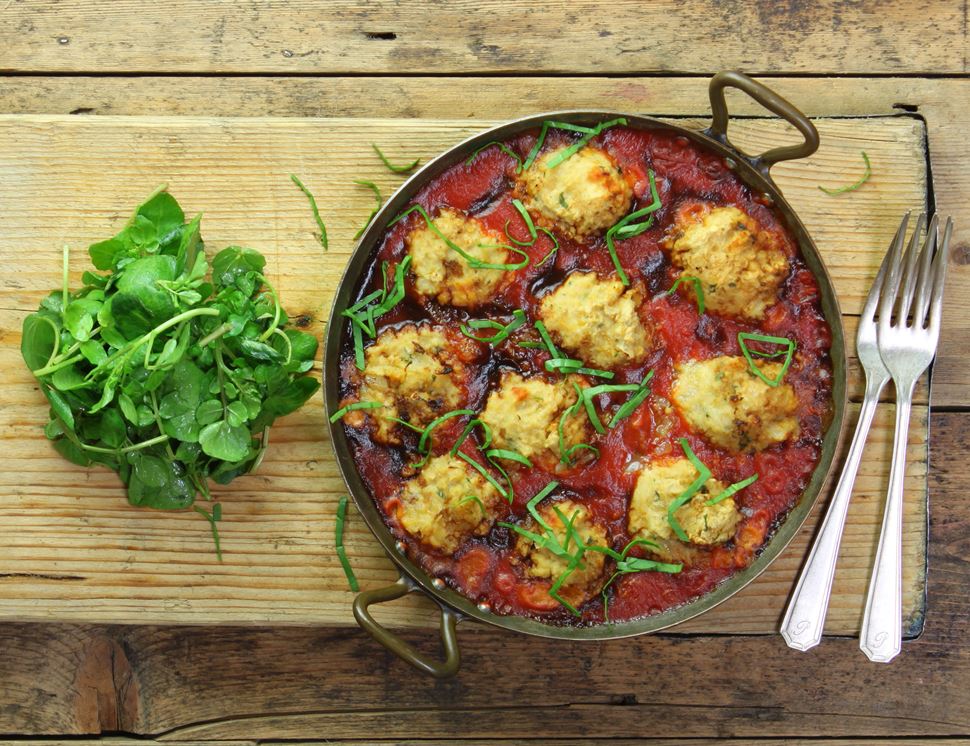 Ingredients you'll need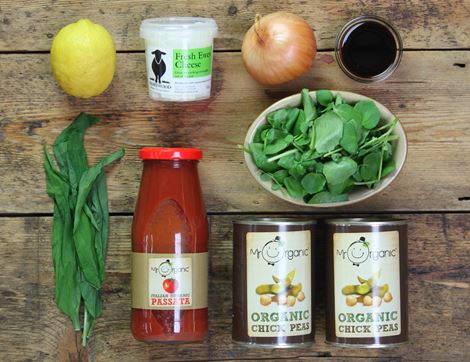 2 tins of chickpeas
A handful of wild garlic
A pot of Homewood fresh ewe's cheese
1 lemon
1 onion
A jar of passata
A sachet of balsamic vinegar
2 large handfuls of watercress
From your kitchen
Sea salt
Freshly ground pepper
3-4 tbsp olive oil
You'll need
Sieve
Food processor or blender
Cling film
Deep, ovenproof frying pan
Bowl
Step by step this way
1.

Preheat your oven to 220°C/Fan 200°/Gas 7.

2.

Drain the chickpeas. Rinse. Pop into a food processor or blender.Give your wild garlic a good wash. Roughly chop two-thirds of your wild garlic. Add it to the chickpeas along with a good pinch of salt and pepper. Blitz till the mix comes together.

3.

Fold the ewe's cheese into the chickpea mix. Grate or pare the zest from your lemon. Juice it. Pop the juice to one side. Add the zest to the chickpea mix. Taste. Add more seasoning, if needed.

4.

Roll the chickpea mix into 10-12 small balls. Place the dumplings on a plate. Cover with cling film. Pop into the freezer for 10 mins to firm up.

5.

Peel and finely chop your onion. Heat 1 tbsp olive oil in an oven-proof frying pan. Swirl in your onion. Cook over medium-low heat till tender and glossy.

6.

Add your chickpea dumplings to the pan. Add another 1 tbsp of oil, if needed. Turn the dumplings through the oil till they are just starting to pick up a little colour. Don't worry if they break up a bit, just use a spoon to shape them back together.

7.

Pour the passata over the dumplings. Sprinkle the balsamic vinegar over the top. Pop into the oven, on the top shelf. Cook for 10-15 mins or till you have a nice golden colour on top.

8.

In a bowl, whisk 2 tbsp lemon juice with 2 tbsp olive oil. Add a pinch of salt. Remove any woody stems from your watercress. Pop the leaves into a bowl. Drizzle over the dressing. Serve alongside your saucy dumplings. Finely chop the remaining wild garlic. Scatter over the top.