Chicken & Sweetcorn Chowder
Prep: 10 mins
Cook: 35 mins
Our high welfare chicken from Peter Coleman's farm near Crediton in Devon is absolutely fantastic in this sweetcorny soup. How swede it is to be souped with you.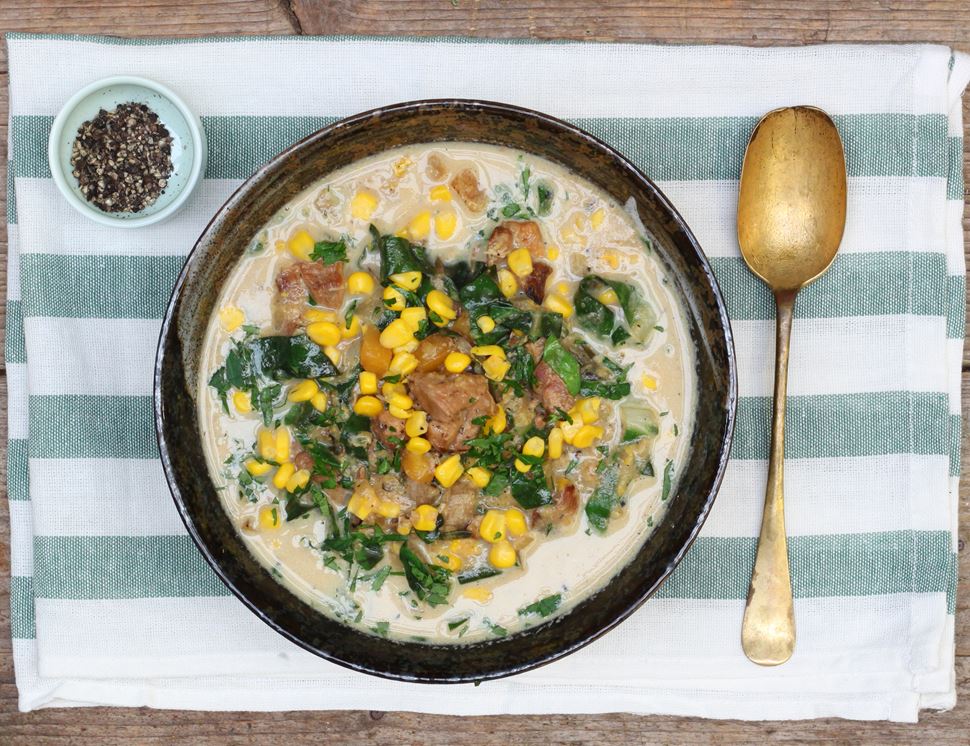 Ingredients you'll need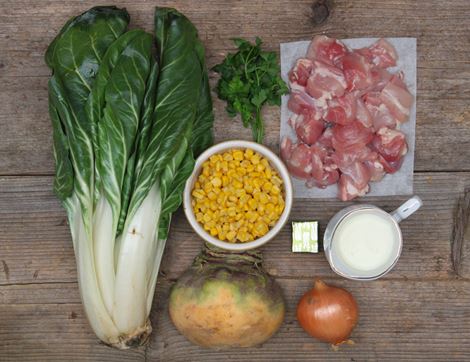 1 onion
½ a swede
A head of chard
A pack of diced chicken leg
1 vegetable stock cube
6 tbsp of sweetcorn
250ml skimmed milk
A handful of flat leaf parsley
From your kitchen
2 tsp olive oil
600ml hot water plus an extra splash for cooking
Sea salt
Freshly ground pepper
You'll need
Medium pan with lid
Greaseproof paper
Measuring jug
Blender or food processor (optional)
Step by step this way
1.

Peel and finely chop the onion. Halve the swede. Peel one half. Finely chop the swede into a small dice, around 1 cm across. Trim the bottom off the chard. Rinse the leaves. Finely slice the stems and leaves.

2.

Warm 2 tsp olive oil in a pan over a medium heat. Add the chicken. Fry for 5 mins till the chicken is golden. Turn every so often till it's evenly coloured. Lift the chicken out of the pan. Pop on a plate. Put to one side.

3.

Add the onion, swede and chard stems to the pan. Season and add a splash of water. Cover the veg with greaseproof paper. Pop on the lid. Sweat the veg over a very low heat for 10 mins till they are soft.

4.

Fill the kettle and boil it. Crumble the stock cube into the pan. Pour in 600ml hot water from the kettle. Return the chicken to the pan. Cover. Bring to the boil. Boil for 10 mins till the chicken is cooked through.

5.

Measure out 3 tbsp of the sweetcorn and add to the pan. Pour in 250ml of the milk. Gently heat for 2-3 mins to warm through.

6.

Ladle half the soup into a blender or food processor. Blitz till smooth. Pour back into the pan. Or leave the soup chunky if you don't have a blender or processor.

7.

Measure out another 3 tbsp of the sweetcorn and add to the pan. Add the chard leaves to the pan. Gently heat for 2-3 mins to warm everything through.

8.

Rinse the parsley. Pat dry with kitchen paper. Roughly chop the leaves. Ladle the chowder into bowls. Top with the chopped parsley to serve.