Chicken & Spring Greens Tabbouleh
Prep: 20 mins
Cook: 15 mins
High welfare chook from Peter Coleman's farm (with loads of space for the chickens to roam free) on a bed of seasonal wondrousness. Is there a simpler, lovelier dish to make?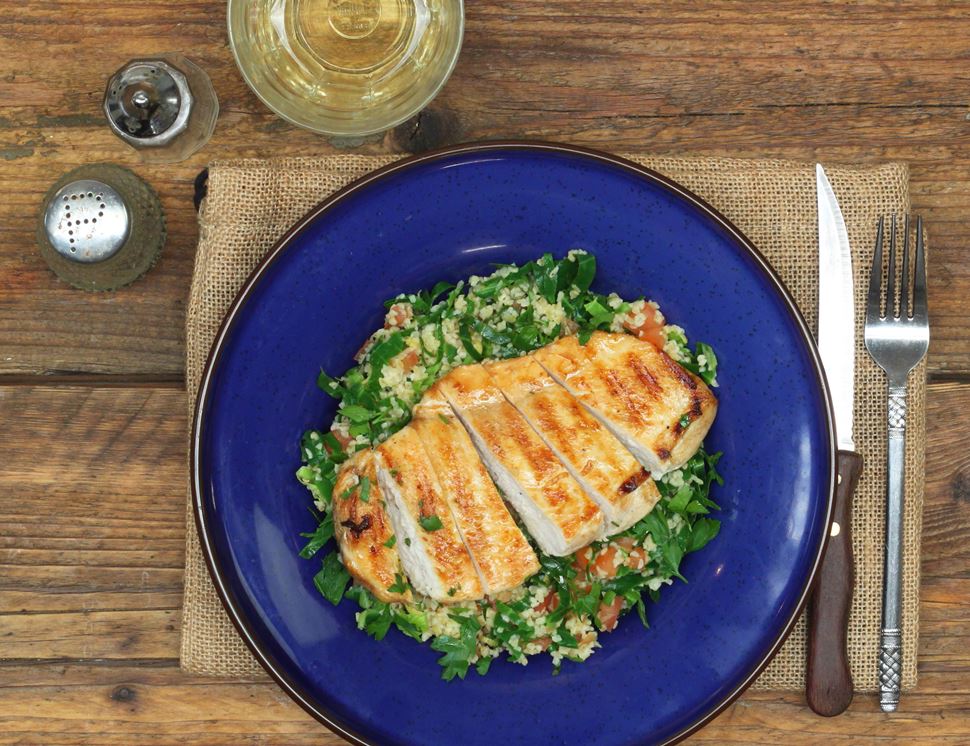 Ingredients you'll need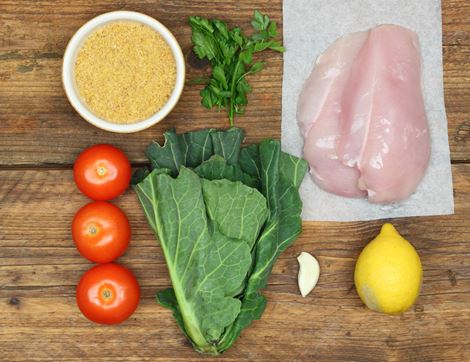 A bag of bulgar wheat
A punnet of tomatoes
A bag of spring greens
A handful of flat leaf parsley
1 garlic clove
1 lemon
2 skinless, boneless chicken breasts
From your kitchen
300ml hot water
1½ tbsp olive oil
Sea salt
Freshly ground pepper
You'll need
Heatproof bowl
Sieve
Measuring jug
Pan
Colander (optional)
Cling film
Rolling pin
Griddle or frying pan
Step by step this way
1.

Fill the kettle and boil it. Rinse the bulgar wheat under cold running water. Tip into a heatproof bowl. Pour in 300ml hot water from the kettle. Cover with a saucer. Put to one side for 15 mins to soak.

2.

Quarter the tomatoes. Scoop out the seeds with a teaspoon. Finely chop the tomatoes. Pop them in a large bowl.

3.

Finely slice the spring greens. Throw away the thick cores. Put the leaves in a pan. Cover with hot water. Bring to the boil. Simmer for 3-5 mins till tender but not too soft. Drain. Rinse with cold water.

4.

Add the spring greens to the bowl with the tomatoes. Finely chop the parsley leaves and stalks. Add to the tomatoes and spring greens.

5.

Peel and grate or crush the garlic clove. Finely grate or pare the zest from the lemon. Juice it. Stir together the garlic, lemon zest, juice and 1 tbsp olive oil. Season with salt and pepper.

6.

When the bulgar wheat has soaked up all the water, give it a stir with a fork to loosen it up then add it to the veg with the dressing. Stir everything together. Taste. Adjust the seasoning.

7.

Pop the chicken breasts on a piece of cling film. Cover with another layer of cling film. Bash with a rolling pin till around 1 cm thick.

8.

Brush the chicken breasts with ½ tbsp olive oil each. Season. Warm a griddle or frying pan. Add the chicken. Fry for 3-4 mins on each side till they're cooked through. Serve with the tabbouleh.