Chicken Soup For The Soul
Prep: 10 mins
Cook: 25 mins
A lovely light and breezy dish with an aftertaste of home. The chicken's high welfare, too, from Devon. Brought to you by a nice farmer called Peter, so even better.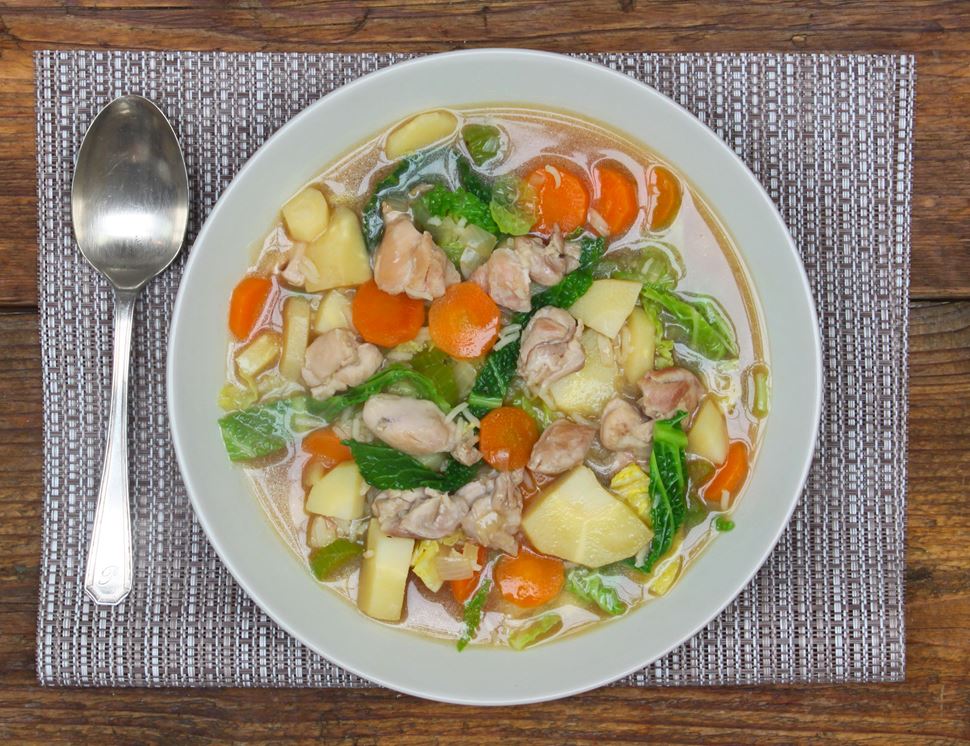 Ingredients you'll need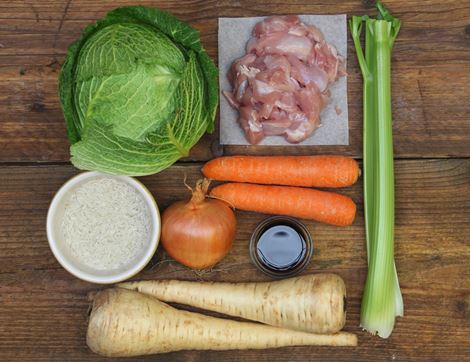 1 onion
2 carrots
2 parsnips
2 sticks of celery
½ a green cabbage
A pack of diced chicken leg
A bag of white basmati rice
A sachet of tamari
From your kitchen
1 tbsp olive oil
Freshly ground pepper
1ltr hot water
You'll need
Colander
Medium pan with a lid
Greaseproof paper
Step by step this way
1.

Peel and finely dice the onions, carrots and parsnips. Rinse and trim the celery sticks. Finely slice them into crescents. Halve the cabbage. Slice the thick core out of one half. Finely slice that half. Give it a good rinse.

2.

Warm 1 tbsp of olive oil in a pan. Add the chicken. Fry for 5 mins. Turn once or twice while it cooks so it browns evenly.

3.

Add the onion, carrots, parsnips and celery to the pan. Season with plenty of freshly ground pepper. Cover with a sheet of greaseproof paper.

4.

Pop the lid on the pan. Turn the heat down to low. Sweat the veg for 10 mins till they are soft. Stir a couple of times to make sure it isn't sticking. If it is, add a splash of water.

5.

Fill the kettle and boil it. Stir the rice into the pan. Measure out 1 tbsp of the tamari and add it. Pour in 1 ltr of hot water from the kettle. Pop on the lid. Turn up the heat. Bring to the boil.

6.

Turn the heat down. Simmer the soup for 5 mins. Take off the lid. Add the cabbage. Simmer, with the lid off, for 3-5 mins till the cabbage is tender.

7.

Taste the soup. Add more tamari and pepper if you think it needs it. Ladle into warm bowls and serve straight away.
Tip

Tamari, tamari, we love you tamari
Tamari adds saltiness and the fifth taste 'umami' (aka deliciousness) to the soup. Add a dash of tamari to begin with. If you think it needs more, add it at the end.