Chicken Schnitzel & Slaw
Prep: 15 mins
Cook: 5-10 mins
This is so satisfying to make. I mean just look at it. Plus you'll learn how to butterfly a chicken breast, you skillful schnitzel. Schnitz and slaw to your heart's content.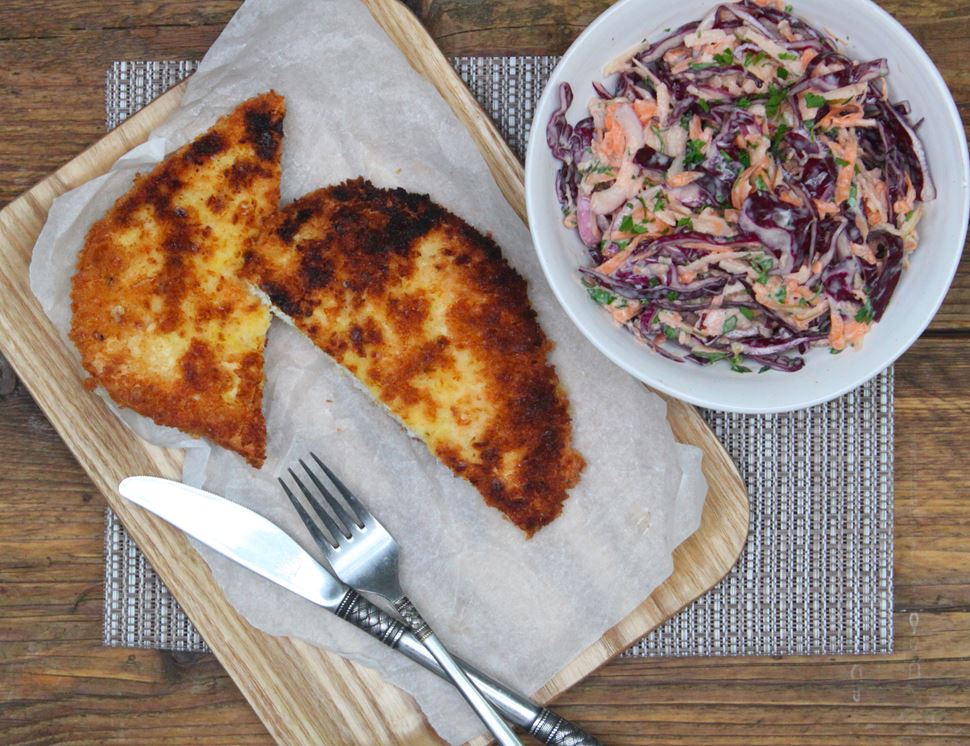 Ingredients you'll need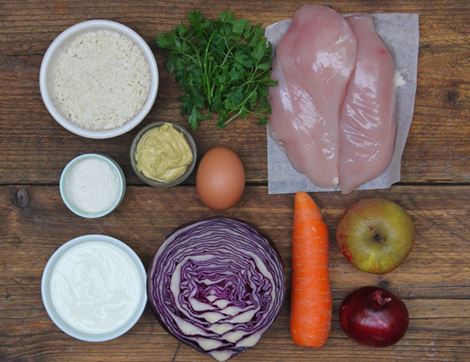 A pot of yogurt
1 tbsp Dijon mustard
A handful of flat leaf parsley
½ a red cabbage
1 carrot
1 red onion
1 tbsp plain flour
1 egg
A bag of breadcrumbs
2 boneless skinless chicken breasts
1 apple
From your kitchen
Sea salt
Freshly ground pepper
2 tbsp olive oil
You'll need
Large bowl
Colander
Kitchen paper
Cling film
Rolling pin
Large frying pan
Step by step this way
1.

Put the yogurt and mustard in a large bowl. Rinse the parsley. Chop roughly. Add to the bowl. Stir to make the dressing for the slaw.

2.

Pull any damaged outer leaves off and finely slice the cabbage. Rinse it. Pat dry. Peel the carrot. Coarsley grate it. Peel the onion. Halve it, then thinly slice it. Add the veg to the bowl. Season. Stir to coat in the yogurt dressing.

3.

Sprinkle 1 tbsp of the flour on a plate and season well with salt and pepper. Break the egg into a shallow plate and lightly beat. Sprinkle the breadcrumbs on a separate plate.

4.

Press a chicken fillet down with your palm. Slice into the side with a sharp knife. Don't cut all the way to the other side. Open out like a butterfly. Repeat with the other fillet. Cover them with cling film. Bash them flat so they're about ½ cm thick.

5.

Take a butterflied chicken fillet and dip both sides in the seasoned flour to coat. Then dip it in the beaten egg. Sit the fillet on the breadcrumbs and turn to coat. Repeat with the second fillet. Put to one side.

6.

Just before you fry the chicken, wash the apple and coarsely grate it – you don't need to peel it, just grate down to the core. Add to the slaw. Stir.

7.

Heat 2 tbsp oil in a frying pan. When hot, add a breaded chicken fillet. Fry for 2-3 mins on each side till crisp and golden, turning with tongs. Pop on a warm serving plate and repeat with the other fillet. Serve with the slaw.
Tip

Seeing red
Your leftover cabbage will keep for a few days. Shred it then stir-fry it with star anise and spring onions till just soft. Add a splash of orange juice and serve with grilled fish.