Chicken & Rosemary Spaghetti
Prep: 10 mins
Cook: 20-25 mins
Beautifully tender high welfare Devonshire chicken schmoozes with organic toms and 'shrooms on top of rosemary sprinkled spaghetti.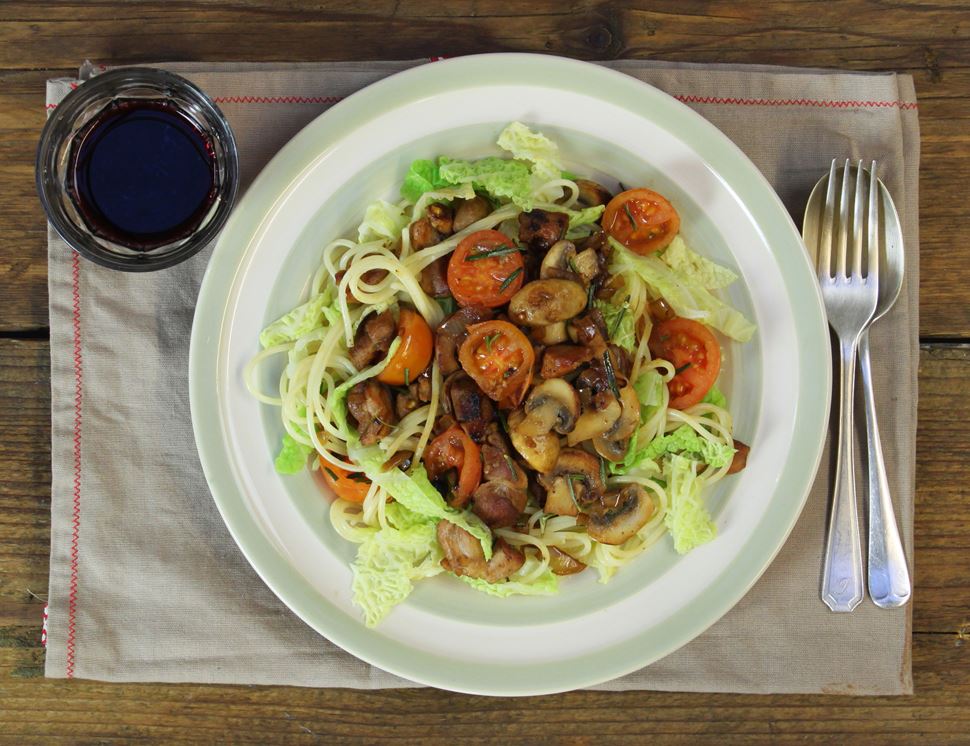 Ingredients you'll need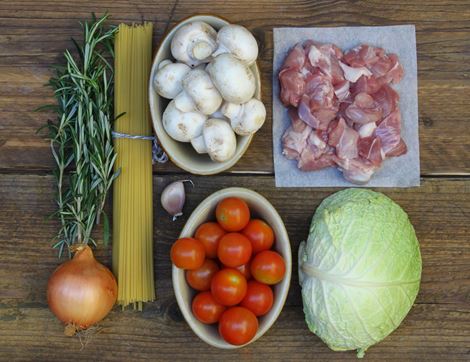 1 onion
A punnet of white mushrooms
A punnet of cherry tomatoes
½ a green cabbage
1 garlic clove
A handful of rosemary
A pack of diced chicken leg
A bag of spaghetti
From your kitchen
1 tbsp olive oil
Sea salt
Freshly ground pepper
You'll need
Colander
Large frying pan or wok
Pan with a lid
Step by step this way
1.

Peel and finely chop the onion. Rinse and slice the mushrooms. Rinse and halve the cherry tomatoes. Halve the cabbage. Finely shred one of the halves. Rinse well.

2.

Peel and grate or crush the garlic. Rinse half the rosemary sprigs. Pat dry. Pick off the leaves. Finely chop them. Put a pinch of the chopped leaves to one side. Fill and boil the kettle.

3.

Warm 1 tbsp olive oil in a large frying pan or wok. Add the chicken. Fry for 5 mins till browned. Stir every so often so it browns evenly.

4.

Add the onion and mushrooms to the chicken. Season with salt and pepper. Fry for 8-10 mins over a medium heat till the veg is soft and lightly golden. Stir often while they cook.

5.

Fill a pan with hot water from the kettle. Bring to the boil. Add the spaghetti. Pop on the lid. Gently boil for 5 mins till the spaghetti is almost cooked.

6.

Take the lid off the spaghetti. Add the shredded cabbage. Simmer, without the lid, for 5 mins till the spaghetti and cabbage are tender but not too soft.

7.

Whilst the spaghetti cooks, add the garlic and rosemary to the chicken. Stir and fry for 1 min. Add the tomatoes. Fry for 2-3 mins to soften them.

8.

Quickly drain the spaghetti and cabbage (it doesn't matter if they're a bit wet). Divide between two warm plates. Top with the chicken and vegetables. Garnish with the chopped rosemary you saved in step 2.